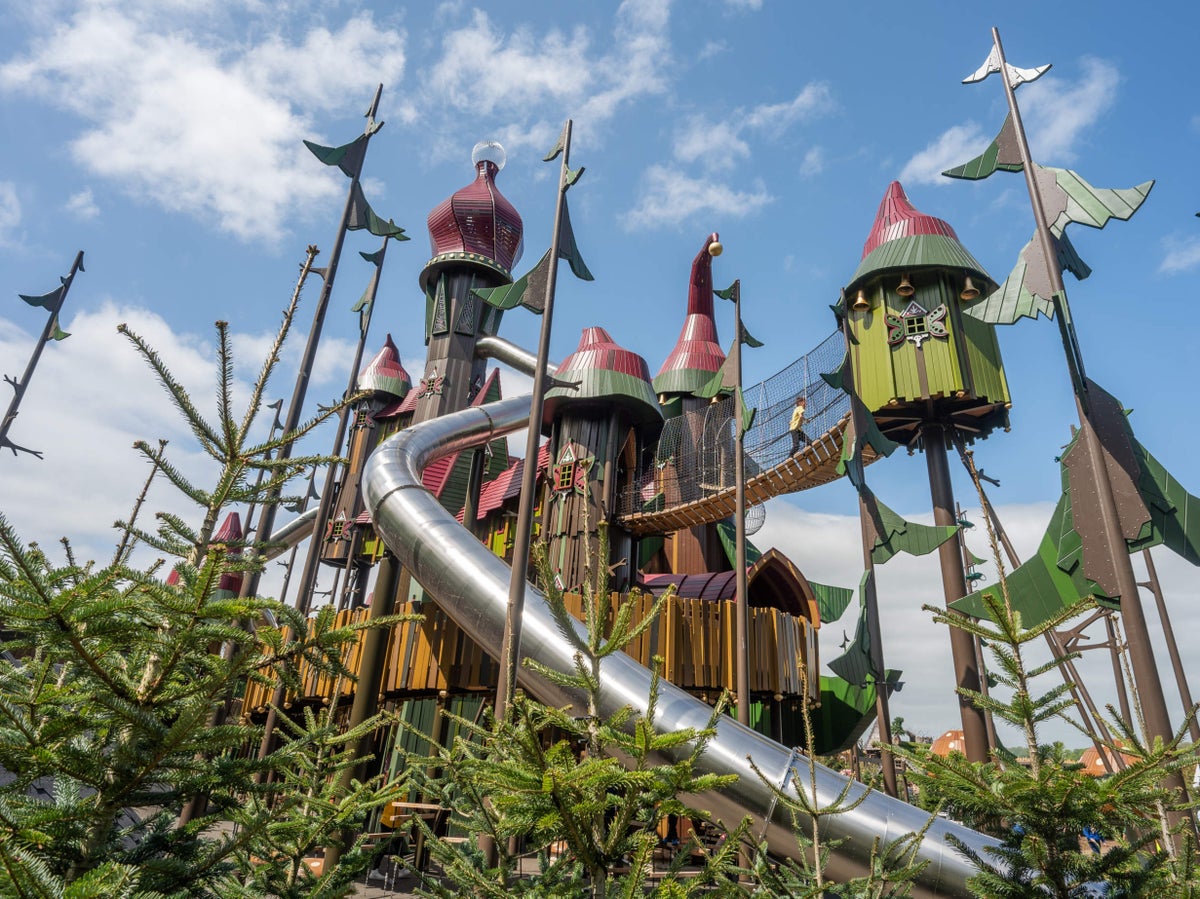 With its unspoilt sandy beaches, multiple castles, proximity to both coast and countryside, Northumberland is a UK travel gem loved by holidaymakers. In fact, its tiny picturesque village of Bamburgh was recently crowned the UK's best seaside town for the third year running.
Half an hour south of Bamburgh is Alnwick, a market town famous for a castle which can be seen in the Harry Potter franchise and the new Dungeons and Dragons: Honor Among Thieves movie.
Right next to Alnwick Castle, and incredibly popular with visitors, is the beautiful Alnwick Garden. This attraction is known for its Poison Garden – where, behind black iron gates, there are 100 "intoxicating and narcotic" plants – plus the Grand Cascade waterfall, Cherry Orchard and other floricultural highlights.
Visitors flock to the Alnwick Garden, which is a registered charity and has a history dating to the 18th century, all year round. But it's a new addition, in the form of the world's largest play structure, that has caused ripples of excitement among tourists and locals.
Read more on UK travel:
Lilidorei is a magical play village with an otherworldly theme, a £15.5 million project developed by the Duchess of Northumberland, who led the rival of the gardens in the mid-1990s after they'd fallen into disrepair.
Within the village – pronounced to rhyme with story – is the play structure itself, alongside elf, troll, fairy and goblin houses, designed to appeal to both children and adults. The entire area has been constructed using natural materials and is completely plastic-free, while over 1,300 Nordic Christmas trees surround the area.
Ahead of the official public opening today, I visited to see if this brand-new attraction could live up to its growing hype.
Following a winding path down the side of The Treehouse restaurant to reach Lilidorei's entrance with my two children, we soaked up the woodland setting. While it's easy to get to the play village within the gardens, Lilidorei is cleverly obscured from the road and feels hidden away (which adds some magical charm). There's a medieval-style gate signaling its entrance, and once inside the village, we noticed the footpaths feature specks of gold glitter sparkling in the sunshine. This was to be our first taste of the magical details inside.
The play structure is 26m tall and looks spectacular. In the village's story arc, the structure is Elfwin Drin castle, home to King of Lilidorei. It's suitable for children aged 11 and under, but during our visit older kids and adults were encouraged to explore, too. There are six slides, and these include four tube slides, a sliding rail and a fireman's pole.
The multiple slides run from different heights, and the visitors we saw were all enjoying whooshing down them and climbing straight back onto the structure again. Plus, the adventure play site boasts a whopping 170m of rope bridges. I spotted children gleefully climbing into wire domes overlooking the ground below, and these elements mirror suspended cages.
The wooden design is red, brown, and green, with cute finishing touches such as tower tops designed to look like elf hats, and butterfly shapes framing some of the windows. Its overall aesthetic is reminiscent of an enchanted castle set deep within the forest.
Read our reviews of the best Northumberland hotels
My children were happy on the structure for hours and have been raving about all the fun elements ever since. Many parents took a pew on benches scattered around a grassy area in front, and I can see this being a busy picnic spot – so bringing a blanket would be a practical move. While sitting there I heard a few parents say how refreshing it was to simply watch kids playing, and this escape from modern technology was part of the Duchess of Northumberland's inspiration for Lilidorei.
Next, we headed towards the village's clan house trail. Here, you can walk past the abodes of all nine clans at Lilidorei, including sprite house, troll house, squiffle house, elf house and hobgoblin house. There are thatched and grassy roofs, gingerbread-style houses, colorful decorations, giant mushrooms, and festive nods throughout as the clans are always busy preparing for Christmas.
Expect to see a fairy-tale combination of sugar sweet details like seashells and daisies and spookier, darker elements such as a graveyard. While walking around, it's clear how much this area will come to life during both Halloween and Christmas celebrations.
The clan houses are complete with functional doorbells triggering everything from giggles and belches to shrieks, while the magic continues when peeping through each windowpane. Staff members called 'secret keepers' are on hand to explain each clan's origins and there's lots to take in as you walk around.
Near these little houses are food and drink lodges with dishes to tuck into from the caterers at The Treehouse, as well as ice creams and drinks. Lilidorei is a completely self-contained part of the Alnwick Garden, so you can visit the village either on its own or during a trip to both. On the way out, you'll notice a cozy woodland lodge gift shop filled with Christmas tree decorations, and Lilidorei-themed mementoes, should you fancy taking home a souvenir.
Select a 9am-11:45am, 12:30pm-3:15pm or 4pm-7pm time slot at Lilidorei at the Alnwick Garden. Tickets cost £12 for a child and £15 for an adult. A combined Lilidorei and Alnwick Garden pass costs £15 for a child and £24 for an adult. lilidoreialnwick.co.uk