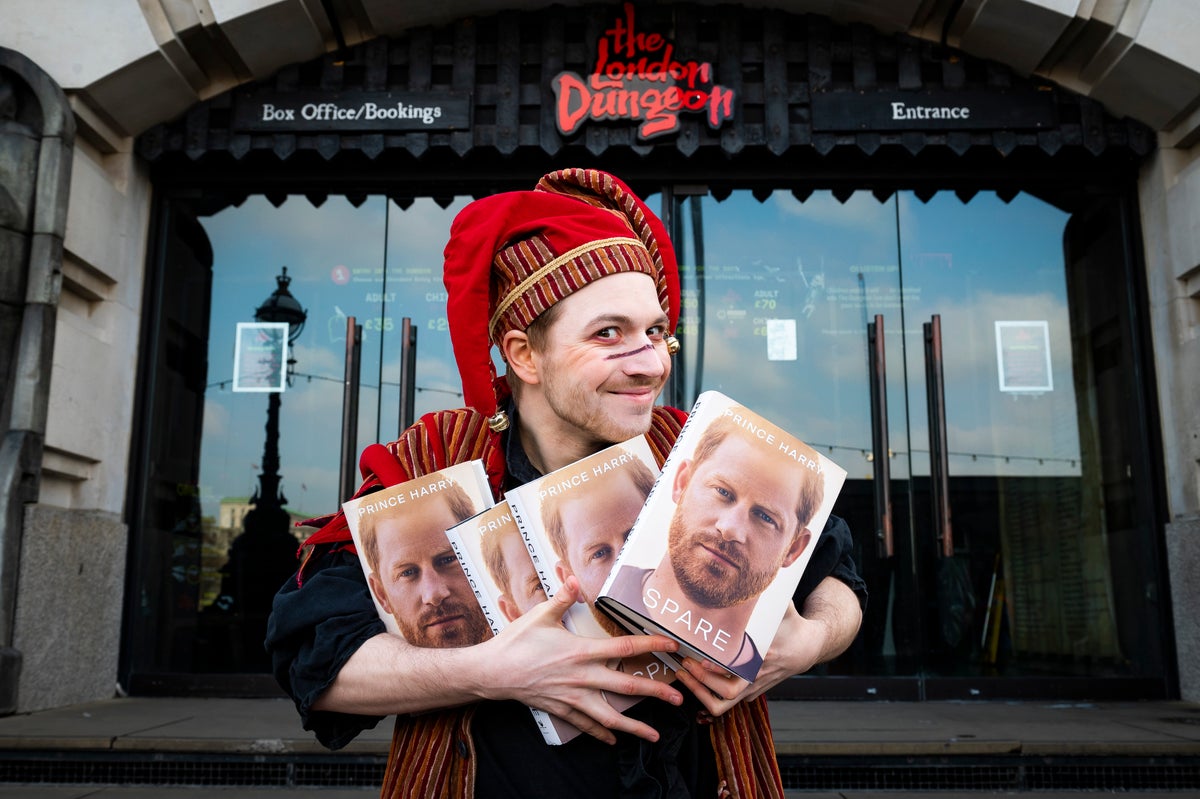 Visitors can access the London Dungeon, Edinburgh Dungeon and york Dungeon attractions this Saturday (6 May) for a one-off special entry fee: trading in their copy of Sparethe memoir by Prince Harry.
As the UK gears up for the coronation on King Charles IIIthe first 75 people at each location who hand over Spare at the ticket office will get in for free. After coronation day, the books will be distributed to charity shops.
Merlin Entertainments, which owns the tourists attractions, described the move as a "noble gesture" to "clear the nation's streets of copies of the questionable literature."
A Dungeons spokesperson said: "The royal family and its colorful history has always been part of our attraction's narrative, so it was important for us to honor His Majesty on the occasion of his coronation. And what better way than by removing all controversial and unwanted literature, keeping the streets fit for our new king."
Prince Harry's autobiography – ghostwritten by Pulitzer Prize winner JR Moehringer – caused a sensation when it was published in January, with revelations about his time in the army and details of a physical altercation with his brother, Prince William. According to Transworld Penguin Random House, the title sold more than 1.4 million copies on its release day.
In her review for The IndependentLucy Pavia said "this book doesn't so much lift the curtain on private royal life than rip it off and shake out its contents", adding: "if Harry is going to set fire to his family, he has at least done it with some style."
For those making their way down to the capital's Dungeon on the long coronation weekend, the latest travel information for coronation day is here.
Tickets on the door at London Dungeon are usually £33 for an adult and £27 for children – though you can save 20 per cent by booking in advance online. Edinburgh tickets, if booked through the website, are available from £18.50; York advance tickets cost from £21.
Inside the London Dungeon, on the city's South Bank, there are 16 shows and two rides, with the experience described as bringing "the city's deepest and darkest history to life, delivering ample scream-drenched stories and fear-inducing shock". There's also a Guy Fawkes-inspired escape room.
In Scotland, the Edinburgh Dungeon is an award-winning 70-minute immersive underground walk-through, while York Dungeon is a 75-minute experience covering 2,000 years of the city's history, from Vikings and Saxons to local witch Isabella Billington.