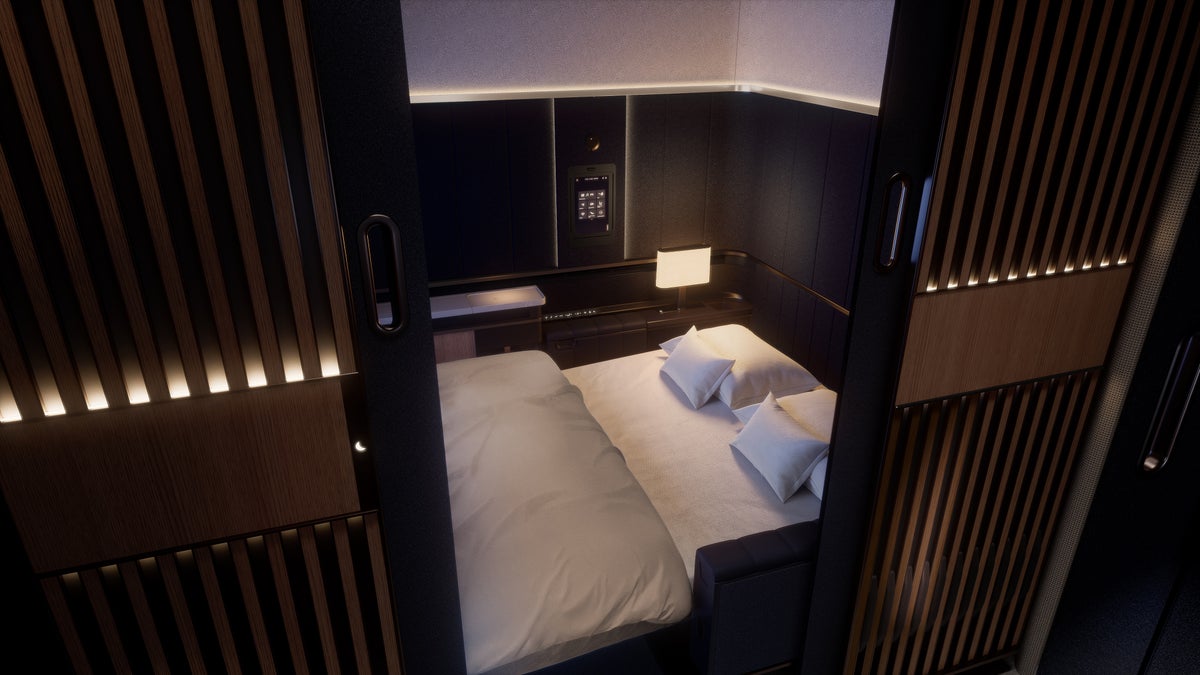 Lufthansa has unveiled a new first-class "Suite Plus" that includes a spacious double bed for two.
The luxury new double suite forms part of a new long-haul cabin called Allegris.
Suite Plus passengers can enjoy ceiling-high walls, an entirely closable door, large table and two wide seats that can be transformed into a comfortable double bed.
Seats can also be operated individually, enabling one person to remain seated while the other reclines.
A gourmet menu will be served at the large First Class table at a time selected by the passenger, an experience which Lufthansa claims will be "similar to a restaurant".
Over in Business Class, Allegris passengers can look forward to suites featuring their own wardrobe and personal minibar, a 27-inch monitor, noise-cancelling headphones, Bluetooth connectivity, temperature control, ample storage and extended personal space.
It is also possible to connect the two suites, with fliers able to select from six seat options, including an extra-long bed, extra work space, a seat with a baby bassinet, or "an exclusive seat directly by the window".
The German flag carrier says the new series represents "a new standard in comfort and individuality".
Jens Ritter, CEO Lufthansa Airlines, said: "Every guest has their own understanding of premium, which is why we focus on maximum individuality and exclusivity.
"The First Class Suite Plus conveys the feeling of privacy and individuality similar to a hotel room – only at an altitude of 11km.
"The Allegris range promises individuality, exclusivity, and premium service along the entire travel chain."
The Allegris range, which is part of the largest product and service overhaul in the group's history, with a total investment of €2.5bn, is set to launch in 2024 on the newly delivered Airbus A350s.
The news comes days after a promotional Lufthansa poster which claimed that the airline was "protecting" the planet was banned for making misleading claims about its environmental impact.
The advert, seen in June last year, featured a picture of a plane in flight with the underside represented by an image of Earth from space, followed by the slogan: "Lufthansa Group. Connecting the world. Protecting its future. #MakeChangeFly."
Lufthansa said the advert's purpose was to make consumers aware of how the airline was addressing the need to reduce the impact of flying on the environment.
In response, the Advertising Standards Authority (ASA) said: "We told Lufthansa to ensure that the basis of future environmental claims was made clear and did not give a misleading impression of the impact caused by traveling with the airline and that robust substantiation was held to support them."