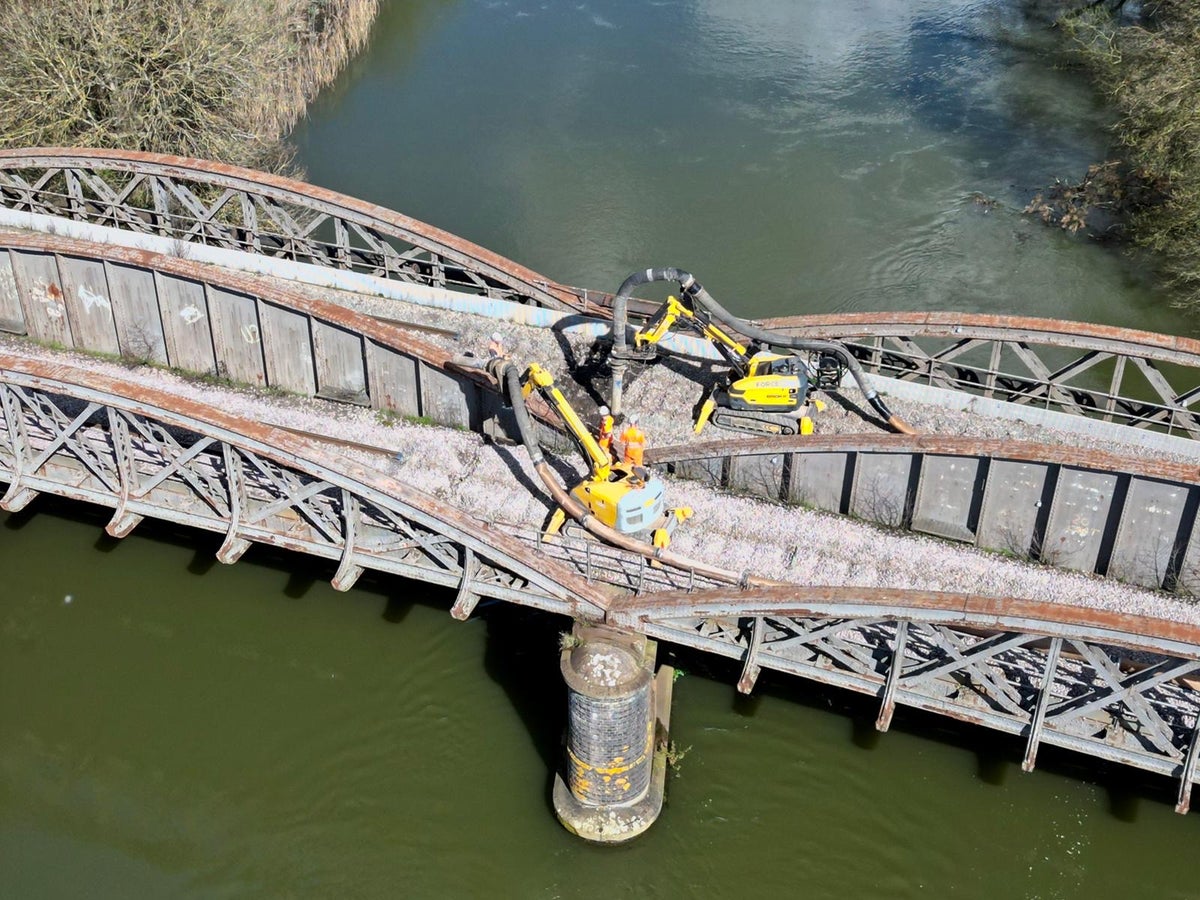 Millions of rail journeys will be disrupted over the next seven weeks by the closure of a key rail link in Oxfordshire due to a wobbly bridge.
The main line connecting the Midlands and northern England with the South Coast is closed at Nuneham Viaduct. The bridge across the River Thames a few miles south of Oxford needs emergency repairs because of "a lot of movement in the structure".
The line linking Oxford with Didcot and Reading also serves commuter passengers from the Cotswolds and Oxfordshire to London.
Engineers have spent the weekend examining the structure and, on Easter Monday morning, Network Rail announced: "Disruption between Reading and Oxford is expected until at least the end of the day on Wednesday 31 May."
In a video made earlierNicky Hughes, communications director for Network Rail Western, said: "We're really sorry for passengers and freight users that we've had to close this critical stretch of line between Didcot and Oxford.
"That's because the bridge that you can see behind me is starting to move and it's moving now to the extent that we don't consider it safe to run trains over.
"We've been monitoring this bridge for a number of months now and we've been taking measures to try and make the foundations of the bridge more secure, but unfortunately, those measures don't appear to be working. And of course, we've had some significant rainfall in the last month as well.
"In the last weekend, we've seen a lot of movement of the structure.
"Because the structure is not safe, we cannot run passenger and freight trains over it. That's why we've had to close it."
When the closure first happened, it put pressure on the alternative link from Oxford to London, which serves Marylebone station in the capital on a separate route through the Chilterns. Thousands of passengers who were planning to travel on GWR's Oxford-Reading-London Paddington services switched to the Marylebone route.
This is now likely to continue until June.
For Cross country passengers, National Rail said: "Trains will be revised to run in two portions; between Bournemouth and Didcot Parkway and between Oxford and Manchester Piccadilly.
"Limited replacement road transport is in operation between Didcot Parkway and Oxford.
"Customers traveling between Bournemouth/Reading and Banbury/Birmingham/Manchester are advised to travel via London stations or Bristol stations. This is due to limited availability of road transport at Didcot Parkway."
Journeys are likely to be extended by many miles and several hours.
Paul Clifton, transport correspondent for BBC South, tweeted: "Hugely disruptive for passengers on @CrossCountryUK and puts rail freight in an intolerable situation: more lorries on A34."