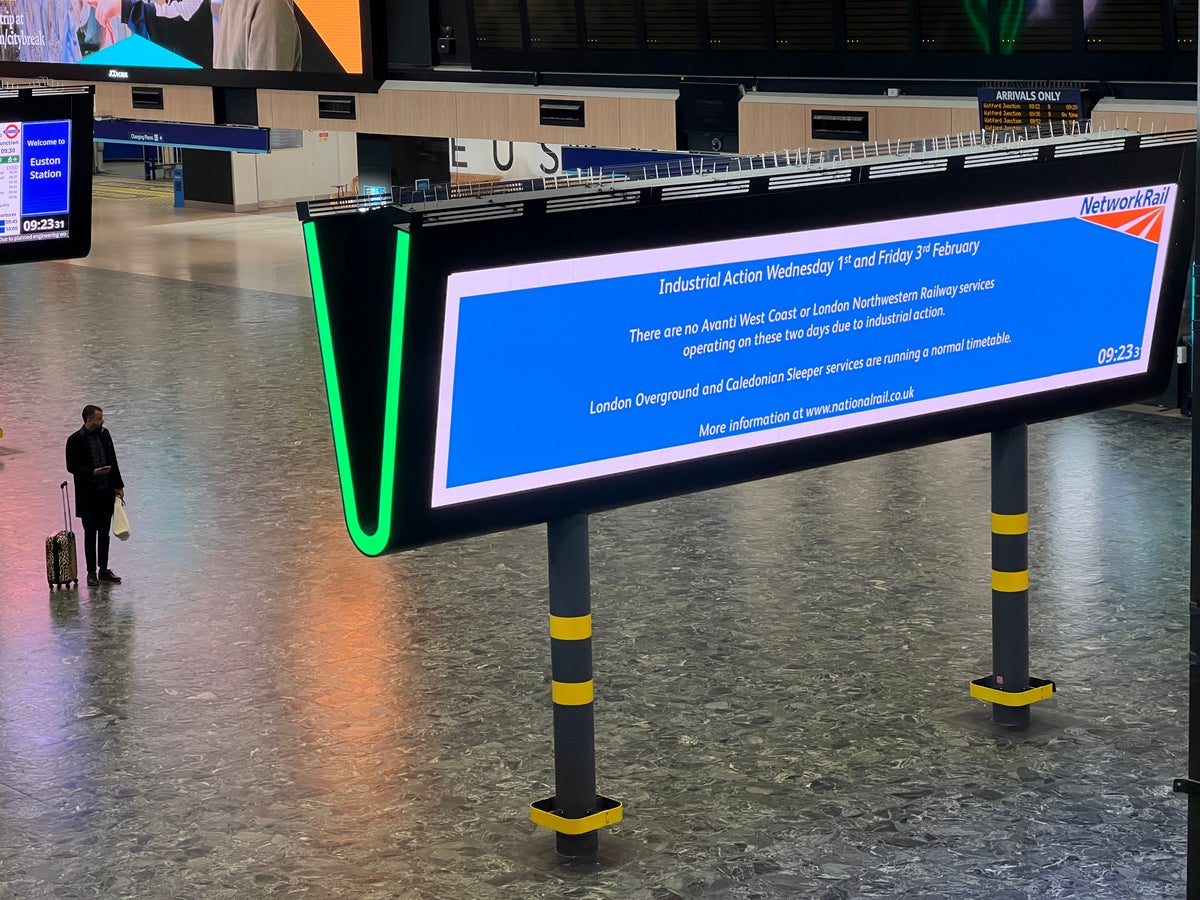 Members of the RMT union working for Network Rail and 14 train operators are staging more walk-outs and overtime bans in the current round of strikes.
Since June 2022, national rail strikes in a tangle of disputes about pay, job security and working arrangements have caused problems for tens of millions of train passengers.
Since then, stoppages causing massive disruption for passengers have been called frequently.
These are the key questions and answers.
Who is striking when?
The main rail union, the RMT, has instructed all its members working for Network Rail and 14 train operators to strike on Thursday 16 March.
In addition, those working for train operators will also walk out on Saturday 18 March, Thursday 30 March and Saturday 1 April.
The train firms are those contracted by the Department for Transport. They include the leading intercity operators:
Avanti West Coast
Cross country
East Midlands Railway
Great Western Railway
LNER
Trans Pennine Express
All the London commuter operators will also be hit:
c2c
Greater Anglia
GTR (Gatwick Express, Great Northern, Southern, Thameslink)
southeastern
South Western Railway
Operators focusing on the Midlands and north of England will be affected:
Chiltern Railways
Northern Trains
West Midlands Trains
What will the effect be?
On 16 March the national strike includes workers at both Network Rail and the train operators.
The intention is to knock out most services across Great Britain. Crucially, signaling staff working for Network Rail will walk out, reducing the nation's railway to a rump of some intercity lines and commuter routes. Even in Scotland and Wales, where the national operators – ScotRail and Transport for Wales – are not involved, most trains will be cancelled.
There will also be some effect on the evening of Wednesday 15 March and the morning of Friday 17 March.
The strikes on 18 and 30 March plus 1 April will have significantly less impact, as signallers should work normally. Train operators not involved in the dispute should be able to run services as scheduled.
On all but the first day of the next round of strikes – 16 March – passengers can expect normal service on:
Caledonian Sleeper
Grand Central
Heathrow Express
Hull Trains
London Overground
Lumo
merseyraila
ScotRail
Transport for Wales
Trains run by these companies are likely to be more crowded than normal on routes usually shared with train operators whose staff are striking, such as London-York-Newcastle-Edinburgh and Swansea-Cardiff-Newport.
The effects of the Network Rail overtime ban are less easy to quantify.
Will Eurostar be affected?
On Thursday 16 March early and late trains linking London with Paris, Brussels and Amsterdam are likely to be curtailed because of the strike by Network Rail signallers.
On the remaining three days there should be no impact – but connections to and from London St Pancras International will be difficult because union members working for all three train operators (East Midlands Railway, Southeastern and Thameslink) will walk out.
Why are they taking industrial action?
Workers for both Network Rail and the train operators have been offered a minimum pay rise of 5 per cent for 2022 and 4 per cent for this year (with additional increases for lower-paid staff).
But these are contingent on the union accepting a wide range of changes to working arrangements. They have been described as the "best and final offers".
The RMT is demanding "an unconditional pay offer, a job security agreement and no detrimental changes being imposed on members terms, conditions and working practices".
The union also describes Network Rail's plans for maintenance as "unsafe, unhealthy for our members and unworkable".
The general secretary, Mick Lynchsaid that after "an in-depth consultation of our 40,000 members" the overwhelming view was reject "these dreadful offers".
He said: "Our members cannot accept the ripping up of their terms and conditions or to have safety standards on the railway put into jeopardy under the guise of so-called modernization.
"If our union did accept these offers, we would see a severe reduction in scheduled maintenance tasks, making the railways less safe, the closure of all ticket offices and thousands of jobs stripped out of the industry when the railways need more investment not less. "
"Our industrial campaign will continue for as long as it takes to get a negotiated settlement that meets our members' reasonable expectations on jobs, pay and working conditions."
What do the employers say?
They are furious that union members were not given the opportunity to vote on the offers and that the RMT is now demanding an unconditional pay rise.
A spokesperson for the Rail Delivery Group (RDG), representing train operators, said: "The RMT agreed from the outset that the industry needed modernization and understood that was how a pay rise could be funded.
"The leadership have now reneged on that position and say they not accept any reforms. They know that no employer who has lost 20 per cent of its revenue could accept those terms."
Tim Shoveller, Network Rail's chief negotiator, said: "Instead of offering members a democratic vote with a referendum, the RMT leadership is hiding behind a sham 'consultation'.
"Further strikes will disrupt passengers and cost employees money – while changing nothing as our package of very modest reforms continues.
"The RMT is well aware of the precarious position of the railway's finances, with no more money to offer more."
Network Rail also flatly rejects the assertion that reforms will increase risk, and says in fact they should make passengers and staff safer.
Surely the government can offer more cash?
In theory it could, and perhaps will; ministers will sign off the eventual deals. But the transport secretary, Mark Harper, says: "Modernising working practices must be part of reform."
On the current offers to members working for Network Rail and the train operators, he says: "Best and final means what it says." The railway, he says, is financially unsustainable.
Have the train drivers settled, at least?
Far from it. Train drivers belonging to the Aslef union staging their eighth walk-out earlier this month in a similar dispute about pay. They too are demanding a no-strings offer.