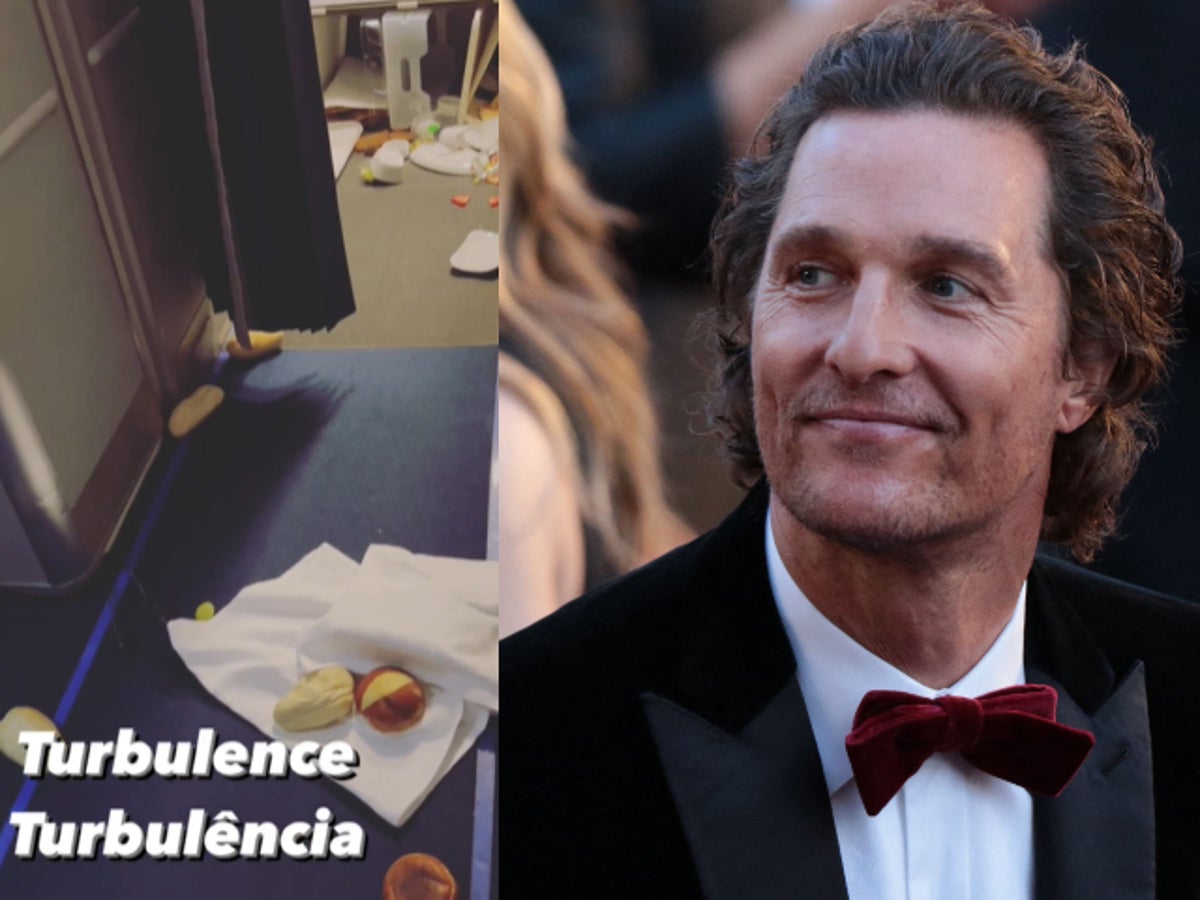 Matthew McConaughey has talked about the feeling of "suspended disbelief" he and his wife experienced last month when their plane suddenly dropped 4,000ft mid-flight.
The Oscar-winning actor can be heard describing the "zero gravity" occurrence on an episode of Let's Talk Off CameraKelly Ripa's SiriusXM podcast, reports FoxNews.
He said: "Your red wine, and the glass and the plates that your food was on are all suspended, floating, still just in the air. And to look at it for that long, which wasn't that long – one, two, three, four – and then everything just comes crashing down."
It was a "hell of a scare", he added: "A 100 per cent feeling of knowing you have no way to get control of this situation in the moment."
Tea Lufthansa flight was flying to Frankfurt, Germanyhaving taken off from Austin, Texas. The plane was rerouted to Washington DC following the incident.
The 53-year-old, known for his roles in Dazed and Confused and Dallas Buyers Clubeventually made it to Vietnam, which was his final destination. The flight was the "hairiest" he'd ever experienced, and he said his tray table held him in his seat since he wasn't wearing a seatbelt when the plane dropped.
His wife, Brazilian model and designer Camila Alves, had previously shared a video on Instagram that showed food and other items strewn across the cabin floor.
She wrote as a caption to the video: "On flight last night, plane dropped almost 4,000ft, seven people went to the hospital, everything was flying everywhere. To respect the privacy of those around me that's all I am showing but the plane was a CHAOS and the turbulence kept on coming."
McConaughey said: "There was not a seatbelt warning right before it happened. I just immediately reached over, made sure Camila had her seatbelt on."
He said that they held hands wondering if another drop was coming.
"Another one did come. It was odd. You hear people's reactions. Some people were ghost silent. Some people had big bursts of laughter. And it was not like, 'Oh, this is fun'. It was like, 'I'm in shock'.
"And then, you know how it is on a plane – you see the flight attendant not looking extremely confident, and you're like, 'Uh oh'."
Lufthansa told The Independent that the plane "encountered brief but severe turbulence about 90 minutes after take-off. The Lufthansa flight made an unscheduled landing at Washington Dulles Airport as a precautionary measure".
"Lufthansa regrets the inconvenience caused to passengers. The safety and wellbeing of passengers and crew members is Lufthansa's top priority at all times," the airline added.