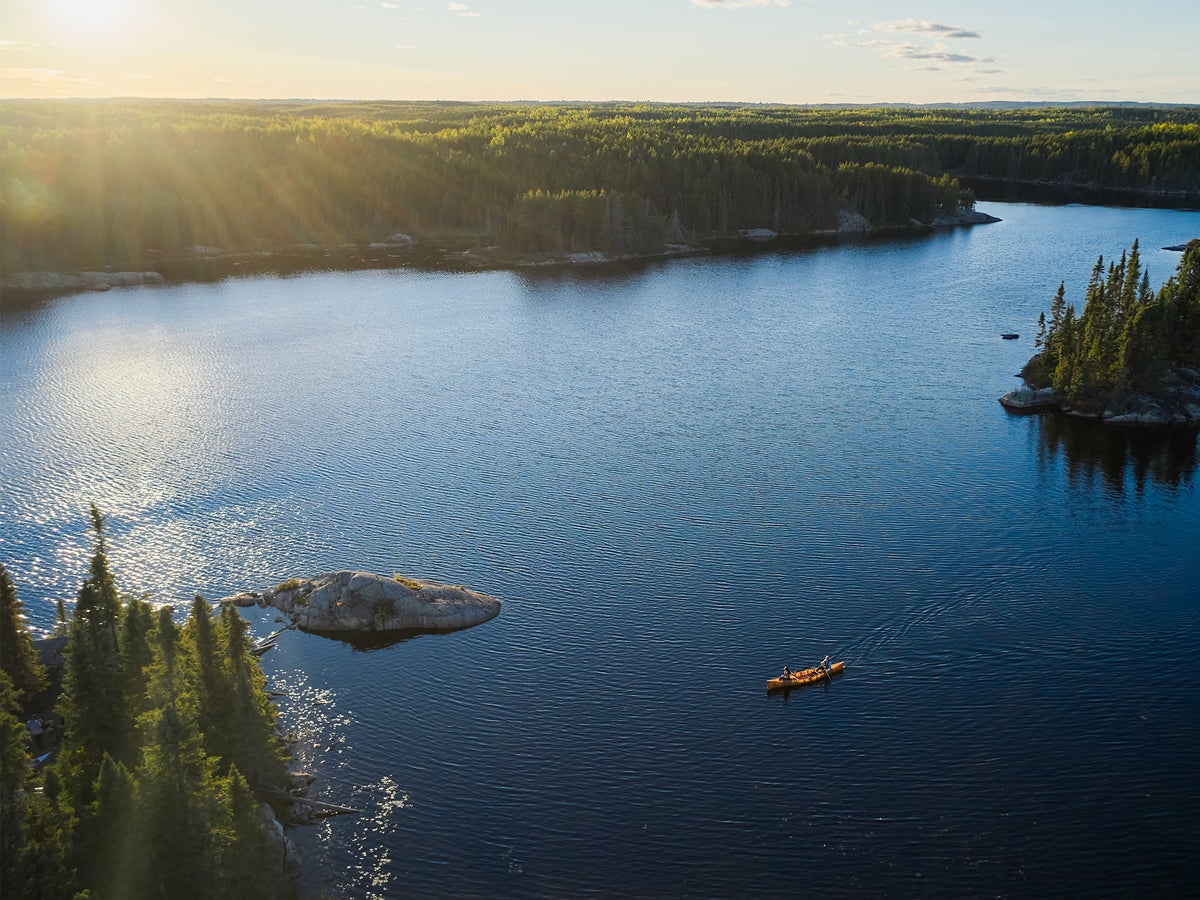 When you think of travel destinations in the US, the Midwest may not immediately spring to mind. But that's about to change. In June, British Airways (BA) is launching its new route from Heathrow to Cincinnati, making it a whole lot easier to explore the region.
This is a place that should definitely be on your radar. Made up of 12 states in the north-central region, including sprawling Chicago and comeback city Detroitthe Midwest has the kind of wide-open landscapes that encapsulate the best of American scenery, from glacial lakes and mountain ranges to canyons and wild forests.
Move into the cities, and you'll find laid-back, friendly towns with buckets of Midwest charm and hospitality. Even better, they often offer better value than the big-ticket destinations on the west and east coasts.
If you do decide to lay your head in Detroit, Chicago or 'Queen City' Cincinnati, be sure to read our Midwest cities travel guides, which also have you covered when it comes to the best hotels to stay in during your visit.
Here are some of the best Midwestern spots to whet your appetite…
Read more on USA travel:
Cincinnati, Ohio
With the launch of the new BA route, Cincinnati is set to have a bit of a moment in the spotlight. And rightly so – this friendly riverside city has a charming mix of heritage buildings and skyscrapers; a burgeoning food scene, and even a world-famous hippo called Fiona. Born prematurely in Cincinnati ZooFiona quickly became a social media star, with people flocking from all over the globe to see her.
To get a taste of the city, stroll around Findlay Market, a historic building with a mix of produce stalls and street food, like Colombian arepas, mac and cheese and loaded hot dogs. For a taste of old-school Americana, the American Sign Museum displays 100 years of classic signs from all over the US, from neon motel signs to hand-painted billboards. Make the most of the waterside location by walking or cycling the Ohio River Trail, a waterside park that hugs the edge of the river for 10 miles. If you fancy swapping states, you can nip over the Roebling Suspension Bridge just to say you were in Kentucky – the state border is right on the bridge.
How to get there: Fly from Heathrow to Cincinnati with British Airways.
Chicago, Ill.
Despite its sprawling size, Chicago has got a strong neighborhood vibe – there are 77 village-like districts within the city, all with their own sense of character. Once you've explored the big hitters downtown – such as the Art InstituteMillennium Park and the American Writers Museum – make your way to Lakeview, where you'll find cool, artsy boutiques, microbreweries and the Music Box Theater, a retro cinema that shows classic movies. Or take the L train to Andersonville for vintage shopping, a strong LGBT+ scene and great bakeries, such as Lost Larson. No visit to Chicago is complete without a trip to the Second City – this comedy club was the training ground for familiar faces such as Amy Poehler, Tina Fey and Steve Carell.
How to get there: Fly from Heathrow to Chicago with American Airlines.
Read our hotel reviews in chicago
Great Lakes
The largest series of freshwater lakes in the world, the Great Lakes technically extend beyond the Midwest borders into New York, Pennsylvania and even Ontario. But the bulk of the basin is in the Midwest, including Lakes Michigan and Superior. The shores of Michigan make for a great road trip, taking in Lake Huron to the east and Lake Michigan to the west, but there are also beautiful waters inland, where you can go kayaking and sailing, then hit the hiking trails around mountains and pine forests.forests
The Iron Belle Trail is the longest designated state trail in the US, leading from Detroit to Ironwood right at the tip of the Upper Peninsula. It's most definitely a beast (the hiking trail is more than 1,200 miles long, with the biking path at around 800 miles) but you can tackle smaller sections at a time. If you fancy something a little more manageable, hike a section of the Sleeping Bear Heritage Trail for great views of the lakes below.
How to get there: Fly to Chicago or Detroit with Delta.
Detroit, Michigan
It's been 10 years since Detroit filed for bankruptcy, but this city has experienced a pretty epic comeback in the meantime. Now, you'll find a city on the up, with cool new hotels, great diners and a fantastic music scene. After all, this is the birthplace of Motown, which you can learn all about in the Motown Museumset in the buildings where Berry Gordy founded his label.
Meanwhile, the Detroit Institute of Arts has a dizzying collection of art – the Detroit Industry murals are a particular highlight. For a taste of the outdoors, head to the 982-acre Belle Isle Park, with a swim beach, bike trails and kayaking. You can get there easily on foot or by bike, over the MacArthur Bridge. Head to Sunset Point for the perfect end to the day.
How to get there: Fly from Heathrow to Detroit with Delta.
Read more: Detroit travel guide – where to eat, drink, stay and shop
Missouri
The landlocked state of Missouri has a few little secrets up its sleeve. The city of St Louis is the entry point for most international visitors, so its giant Gateway Arch offers a nice bit of symbolism as well as some architectural panache. You can take a tram right to the top, which, at 630ft, is the highest monument in America. Travel down towards the southern parts of the state and you'll find the Ozarks, a mountain range that also stretches into Arkansas, Kansas and Oklahoma. The region is impressive, with waterfalls, caves, thick forests and the Lake of the Ozarks, where the TV series ozark is set (though it's actually filmed in Georgia). Soak up all those rural, big sky vibes at the Big Cedar Lodgewith a gorgeous location on Table Rock Lake.
How to get there: Fly from Heathrow to St Louis with British Airways, transferring in Chicago.
Minnesota
Minnesota's two main cities of Minneapolis and Saint Paul are right next to each other, which is why they're often referred to as the Twin Cities. In both, you'll find a killer brewery scene and great food halls, where you can sample cuisines from all over the world under one roof. If you really want to see an indoor universe, head to the nearby Mall of Americaa beast of a shopping center with a theme park, aquarium and mini golf.
Away from the cities, there's a treasure-trove of outdoor adventures to be found in the state, with more than 11,000 lakes, along with nature reserves and forest parks. It's also a stargazer's dream – there are two International Dark Sky Reserves, one in Voyageurs National Park and another in Boundary Waters, which is actually the largest Dark Sky sanctuary in the world. Boundary Waters is also an excellent canoeing spot, primarily accessible only by paddle, which makes it an epic destination for an overnight adventure.
How to get there: Fly from Heathrow to Minneapolis/St Paul with Delta.
south dakota
There are a few reasons why South Dakota could be seen as the heart of the US. First off, one of the country's most recognizable landmarks is found there – Mount Rushmore is the face of American history, the figures of former presidents Washington, Jefferson, Roosevelt and Lincoln carved into the rock in the Black Hills. But this state also gives a unique insight into the Native American story, particularly at the Crazy Horse Memorial. Nearby, the Badlands National Park is a mass of canyons, unique rock formations and wildlife such as bison and bighorn sheep.
How to get there: Fly from Heathrow to Rapid City via Chicago, with United.
Read more best US hotel reviews: