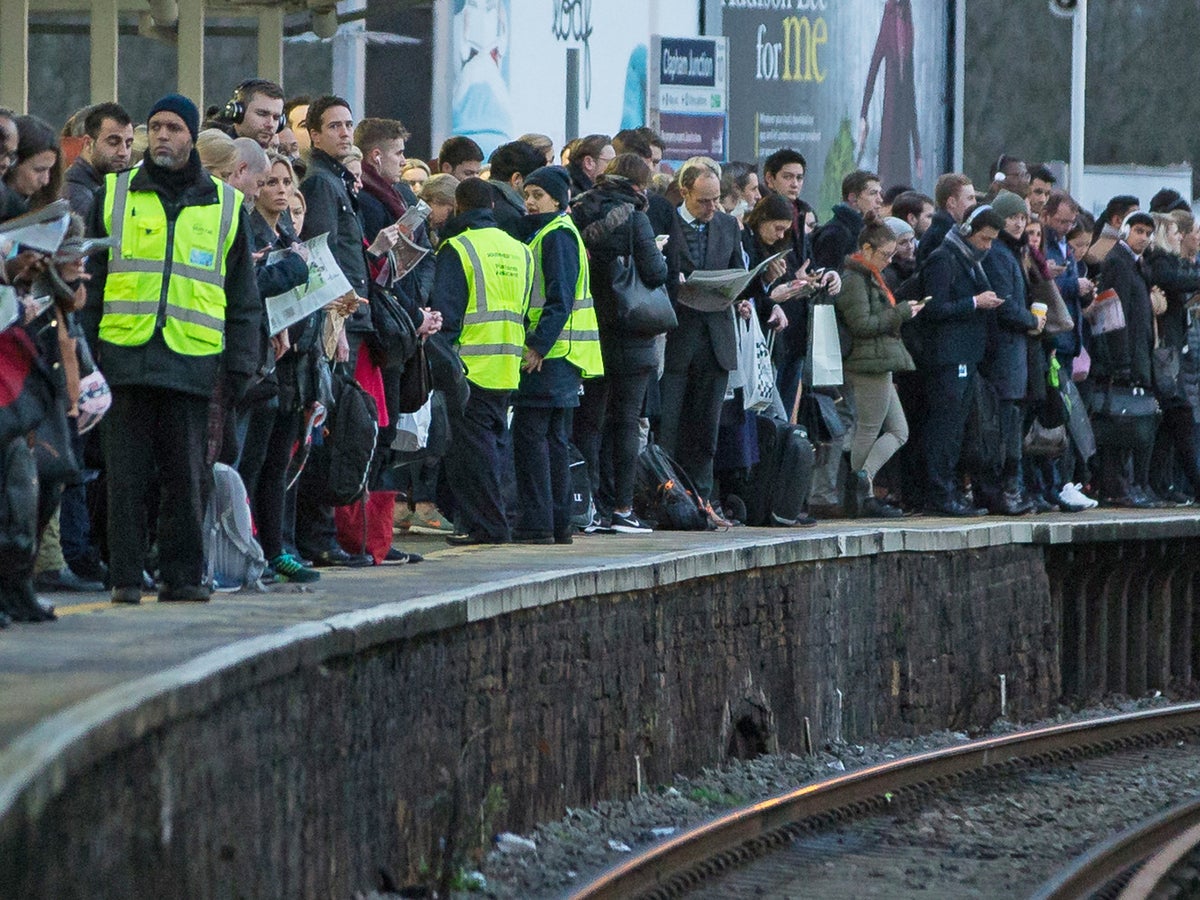 Britain's teetering railways face more delays and cancellations because there is not enough money to maintain them, Network Rail has privately admitted.
A leaked presentation obtained by The Independent says that the government's funding plans for the next five years will not allow Network Rail to "operate, maintain and renew" the railway at its current level of reliability.
The slides, intended for rail industry bosses and marked "official-sensitive-commercial", warn that delays caused by crumbling infrastructure – such as tracks, bridges and earthworks – are expected to worsen amid rising costs and inadequate funding.
Rail unions said the revelations about shortfalls in maintenance funding highlight what amounts to a "managed decline" of the railway network.
The documents warn:
Network Rail will do fewer repairs over the next five years, and will clear less of the debris that can cause delays and accidents
Lack of funding will lead to higher costs in the longer run, with rail bosses expected to repeatedly repair outdated infrastructure it would be cheaper to replace
Network Rail has cut its usual £3bn "risk fund" – used to cover events such as extreme weather and Covid – because there is "not sufficient headroom"
The company will have to take a "market-led" approach to maintenance, in which rail services that make the most money will be prioritised
The news will come as a blow to passengers, who were hit with a 5.9 per cent increase in rail fares last month – the highest in 10 years – despite the figures on reliability falling to new lows.
Latest statistics from the rail regulator show that 4.5 per cent of all trains were cancelled in the last quarter of 2022 – the highest proportion since comparable records began in 2014 – while just 62.3 per cent of scheduled station stops were arrived at on time. Many services that were cut back as a result of the pandemic have not been restored to their previous status, with 3,000 fewer trains a day now scheduled compared with the 2020 timetable.
Signs of physical strain on infrastructure are already starting to appear across the railways. Earlier this month, a failing viaduct in Oxfordshire prompted the closure of an entire commuter line until the summer, while services to the South West of England were crippled for months last year after tracks were damaged by extreme weather.
Last week, a major signal failure threw London Waterloo – Britain's busiest railway station and the capital's HQ for Network Rail – into turmoil. The fault was traced to a 610-metre power cable outside the station, installed in the 1970s, which desperately needs to be modernised.
Louise Haigh, Labour's shadow transport secretary, told The Independent that the government's approach is "shortsighted" and will lead to higher costs in the long run.
"A lost decade of dismal Conservative failure has left the country with second-rate infrastructure, and broken rail services failing passengers," she said. "Shortsighted decisions don't lower costs – they harm our public finances in the long run, leaving taxpayers to foot the bill."
Network Rail still expects to be able to run a safe railway. But the leaked presentation explicitly says that the lack of funding now will actually lead to higher costs, as the "constrained level of expenditure" will see more "short-term lower-cost fixes" that will lead to "additional costs in later control periods".
The government-owned company, which looks after all of Britain's mainline railways, says its costs are increasing because of inflation, ageing assets, and an increasing need to protect against the extreme weather caused by climate change.
"The [financial settlement] does not provide for operating, maintaining and renewing the rail infrastructure in a 'steady state' during [2024-29]," the leaked presentation says, adding that the settlement "reflects a constrained level of expenditure".
The situation could also create a vicious cycle, because Network Rail has to pay operators compensation when faults in infrastructure cause problems – further undermining its income. Furthermore, these payments usually come out of the "risk fund", which the presentation suggests will be cut. Instead of having this as a back-up, Network Rail plans to "earmark" areas for possible cuts if money is unexpectedly needed elsewhere.
To save more money, the public body also plans to take a "market-led" approach to maintenance, whereby the rail services that make the most money will be prioritised for works over those "that typically see a higher subsidy requirement".
Overall, the government-owned company expects to spend around £20bn on "renewals and other capital spend" across Great Britain over the next five years – a flat amount compared to the previous five years, despite soaring inflation.
RMT general secretary Mick Lynch said the government seemed "hell-bent on actively pursuing the managed decline of our railways" – accusing it of "cutting investment, slashing services and staff numbers, scrapping vital infrastructure projects, and rewarding failed private train operators like Avanti with lucrative contract extensions".
He added: "It is quite clear that the rail regulator needs to step in, as the current perception is that they are asleep at the wheel."
Chris Hargrave, an official at the TSSA union, hit out at the "alarming" document and said he and his colleagues had already raised concerns with Network Rail about cuts to maintenance schedules.


UK news in pictures
Show all 50
"Routine inspections and maintenance exist for a reason," he said. "Any moves to reduce or remove the need to inspect or replace assets can only head towards failure, which ultimately leads to injuries and loss of life."
Asked to comment on the presentation, a Network Rail spokesperson said that "the headwinds of inflation and constraints in public spending" are affecting what it is able to achieve, and that the organisation is doing what it can given the level of funding available.
They added that Network Rail's strategic business plan – which sets out the company's investment plans for the next five years – would be published soon. It will be looked over by the regulator, the Office of Rail and Road, before being finalised.
Asked about the funding shortfall, the Department for Transport said it would not comment on leaks. A spokesperson added: "We have pledged a record £44.1bn for Network Rail as part of our commitment to maintain vital infrastructure and run a safe and reliable railway."