The ecosystem of crypto currencies or more particularly that of the decentralized finance (DeFi), experienced an absolutely disproportionate rise between mid-2021 and early 2022.
Thousands of protocols, tens of thousands of new tokens and millions of users have appeared in this growing ecosystem. Even today, the problem is that this fragmentation considerably complicates the task of new traders and investors.
Discover our complete presentation of nesteda platform that should simplify your daily life as an investor determined to make a profit.
This article is brought to you in collaboration with the platform nested
Nested defines itself as a platform SocialFi (Social Finance) which allows its users, neophytes as well as experts, to invest in the market crypto much more efficiently. Why SocialFi? Quite simply, because Nested brings a whole new vision to this market by allowing users to share their investmentsbut also of follow their favorite traders.
Nested targets both beginners by allowing them to effectively copy the investment strategies of other traders – but also experts by giving them the opportunity to design and share their strategies while being rewarded via royalties.
Therefore, traders must create strategies efficient and durable, in order to attract as many users as possible. In addition, users are able to analyze in detail each of the trading strategies present on Nested, in order to know what they are really getting into.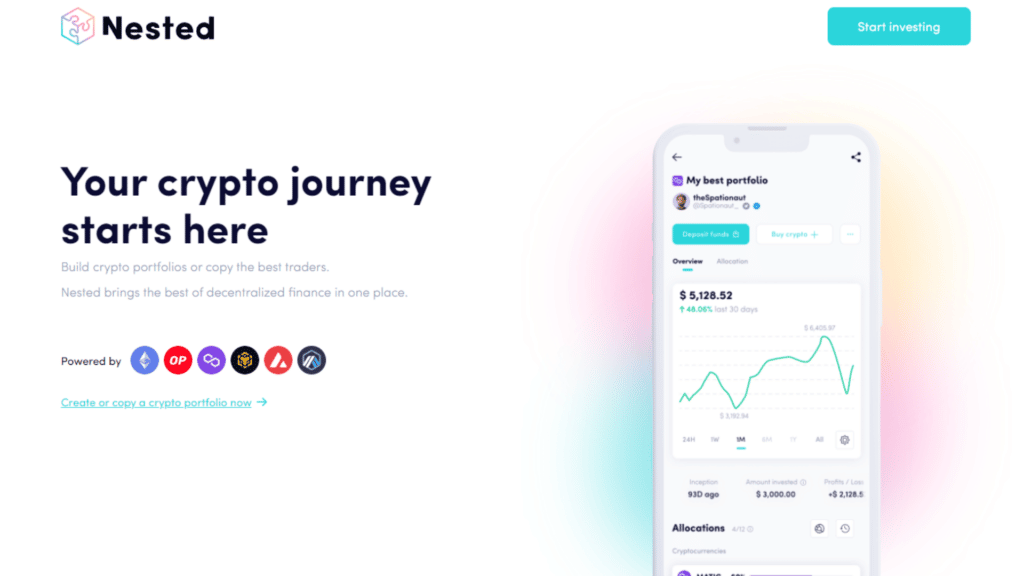 Another point that deserves to be mentioned: each time a policy is modified by its owner, the users who are exposed to it automatically receive a notification. The latter can thus reject the change in the event that they do not approve of the changes made, or on the contrary to follow the strategy to the letter.
Finally, Nested stands out from its competitors by implementing Non-Fungible Tokens (NFT) within its ecosystem. As surprising as it may seem, Nested does use the revolutionary NFT technology for the creation of portfolios. Simply put, this system allows their users to actually own the property of assets underlying in which they have invested.
To learn more about how the Nested platform works, we invite you to read this article.
How to invest on the Nested platform?
Now that you know more about the Nested platform and how it works, learn about the different ways to start investing your capital in it.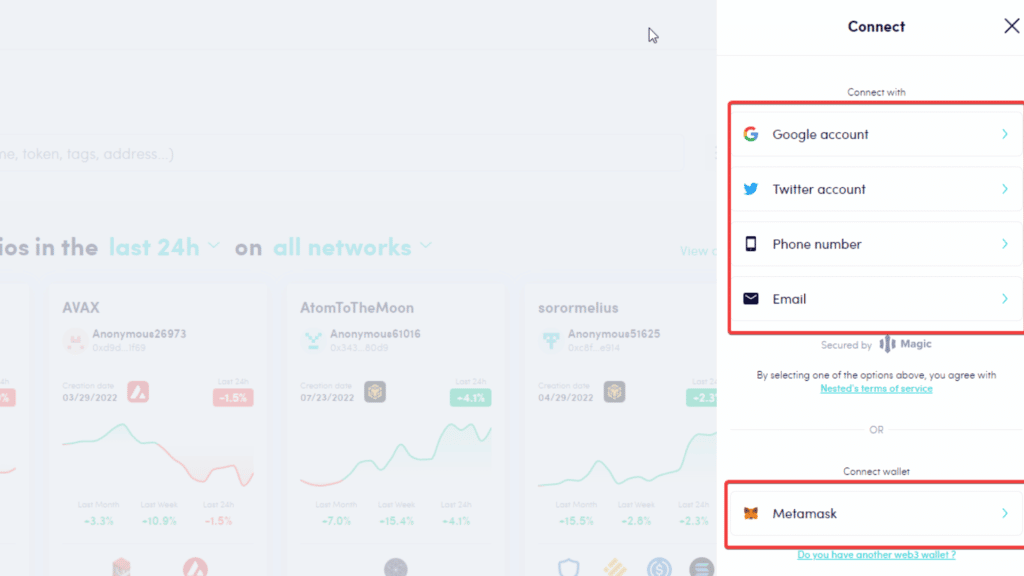 First of all, go to the official website "Nested.Fi", then register by clicking on "Start investing". Once you have completed this step, all you have to do is select one of the available registration methods. You have the choice between: fill in your mail addressconnect your twitter accountyour digital wallet (Metamask…), or quite simply by indicating your phone number.
A few clicks and you're done, you are now registered on Nested and ready to make your first investments.
Deposit money into your Nested account:
Without money, you cannot invest. This is why you must first fund your Nested account. To do this, start by clicking on your profile picture at the top right of your screen.
In case you signed up through your digital wallet, you can directly add funds to it, after which they will be displayed on Nested. Otherwise, you will have to click on "Add Funds" then buy crypto currencies directly through your Bank card or by payment.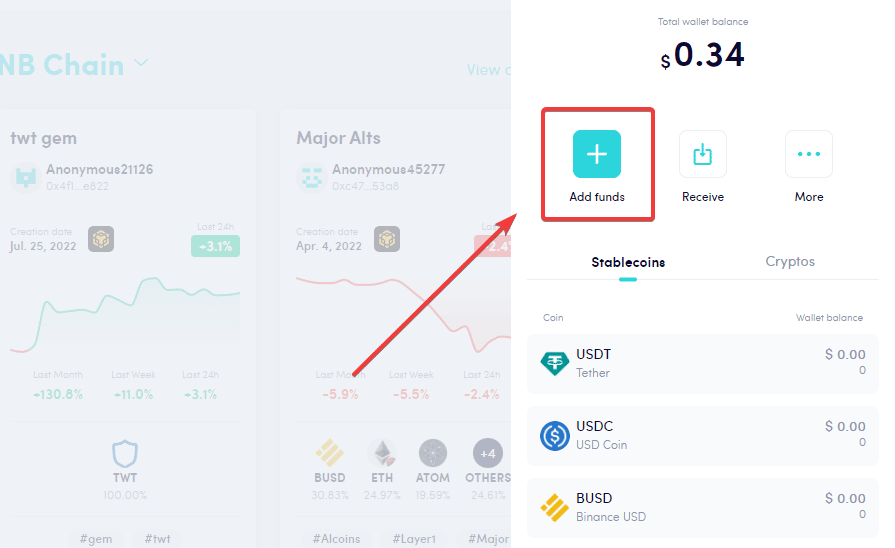 Please note that purchases by bank transfer can take up to 5 days to come true, but are only exposed to no feeswhile those by credit card put between 10 and 60 minutes with a commission of approx. 2.5% + 1 CHF (~1 euro).
Create your own investment portfolio on Nested
We will now walk you through how to create, track and manage your own portfolio of assets on Nested.
First, start by selecting the blockchain network you want to invest in, by clicking on the logo of the wallet on which you are connected (top right), then simply choose the network of your choice (BNB Chain, Ethereum, polygon, Avalanche…).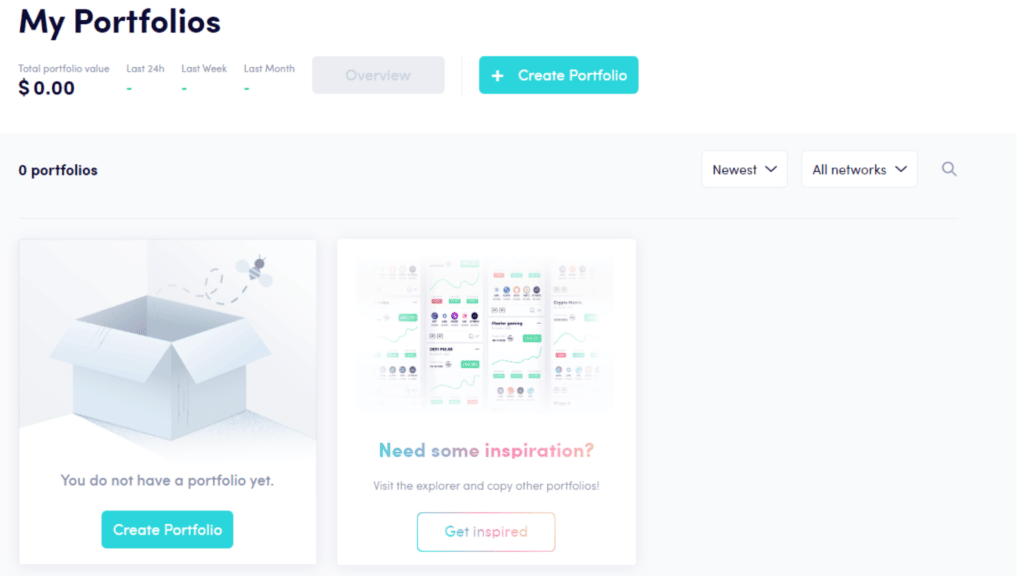 Then, go to your portfolio by clicking on "My Portfolio". Then click on "Create Portfolio" then start creating your wallet without further ado.
Once on the next page, you will need to enter your total investment budget
Then select the crypto(s) that will build your Nested Portfolio And set allocation % of each. For the example, we will create this portfolio: BNB, Wrapped Solana (SOL), Tether (USDT) & PancakeSwap (CAKE) each with the same allocation percentage (25%). Of course, make sure that the tokens are compatible with the network on which you are connected
Last step: Fill in the name of your wallet, a tag (optional) then check your transaction before confirming it. Note that you can also change the "slippage tolerance" (initially set at 3%) of the latter
Finally click on "Create Portfolio" Then confirm transaction on your digital wallet via the tab that will appear.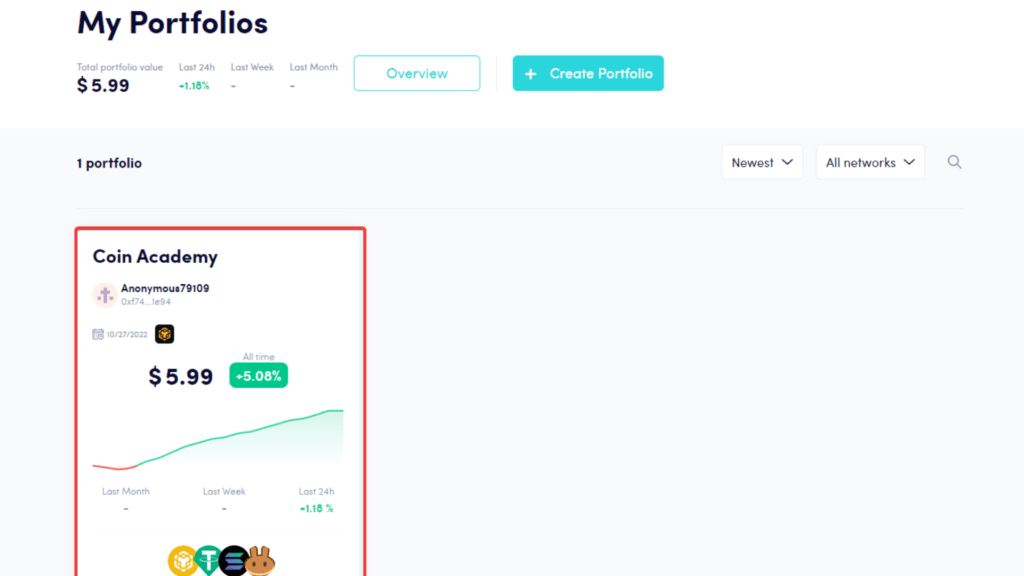 Track and manage your crypto investment portfolio on Nested
Once your transaction has been validated, you will find your crypto wallet in the tab "Portfolio".
Here, you will be able to follow the evolution of your investment in the smallest details, with at your disposal a chart as well as key datasuch as your PnL (profit and Loss) or even the total amount of your wallet.
To strengthen one of your existing positions (e.g. BNB in ​​our case): go to the "Allocation", identify your token, click on "Details" then on "Buy". Then select the source of your funds (one of your existing tokens or via your digital wallet), enter the amount Then confirm purchase
To add new crypto to your wallet: Click on "Buy Crypto" at the top of the page, select a token as well as the source of your funds, then validate your purchase
To fund your portfolio (in proportion to your allocation): Click on "Deposit Funds", on "Proportional deposit" then fill in the amount of your deposit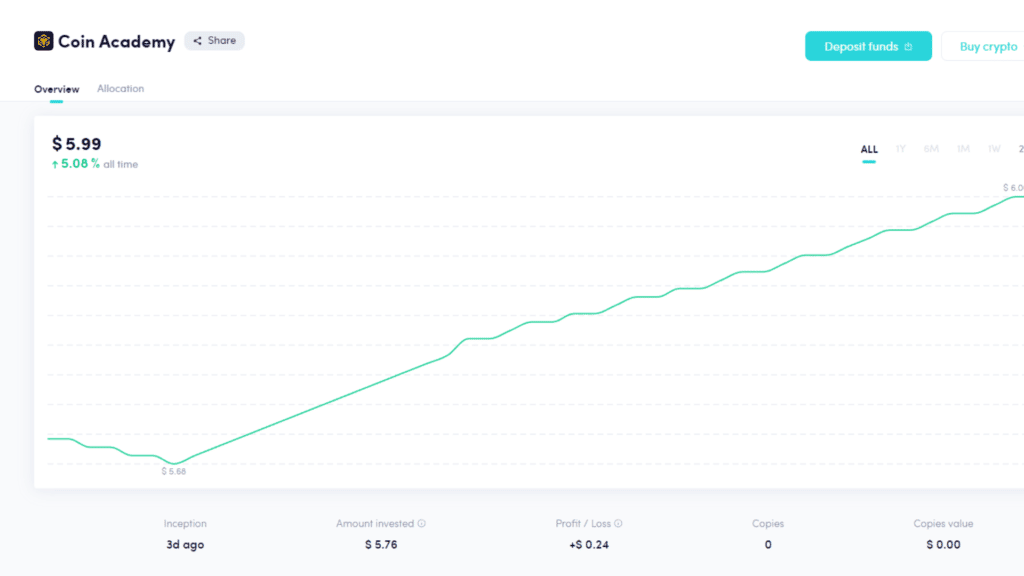 Share your portfolio and earn commissions
After setting up your Nested investment portfolio, you can very well choose to share it with whoever you want, and get rewarded for it. Indeed, click on "Share" to the right of your wallet name, then select your sharing method.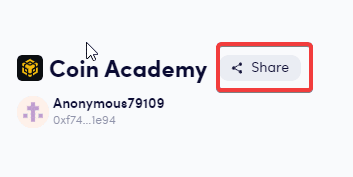 Each time a user copies your wallet, then you will receive so-called "royalties" or royalties in French, which you can then claim on the page "Royalties".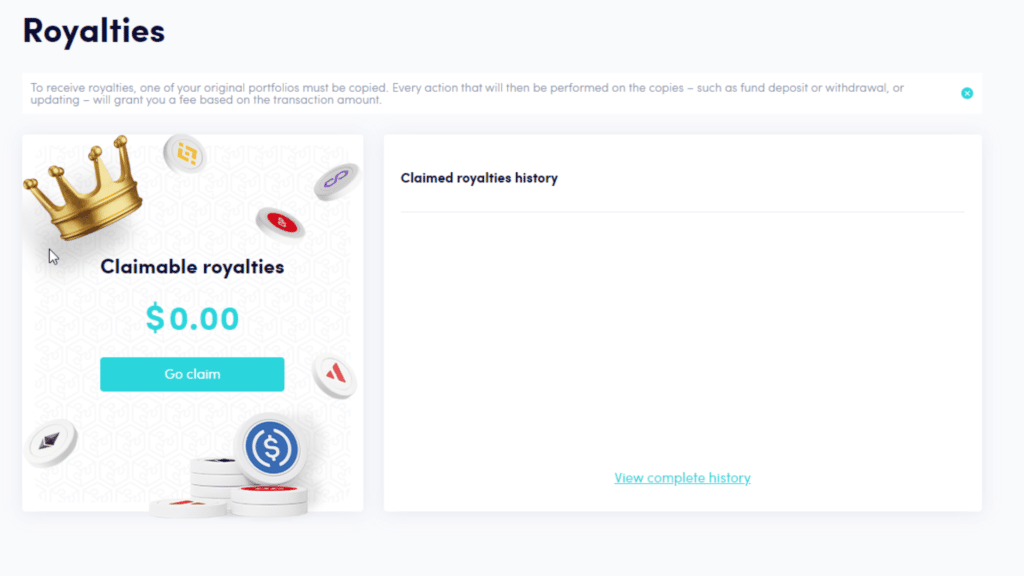 Are you in a generous mood? Nested also gives you the means to send a wallet (copied or original) to the person of your choice, by clicking on the "…" to the right of "Buy Crypto", on "Send Portfolio" then by filling in the address of the recipient.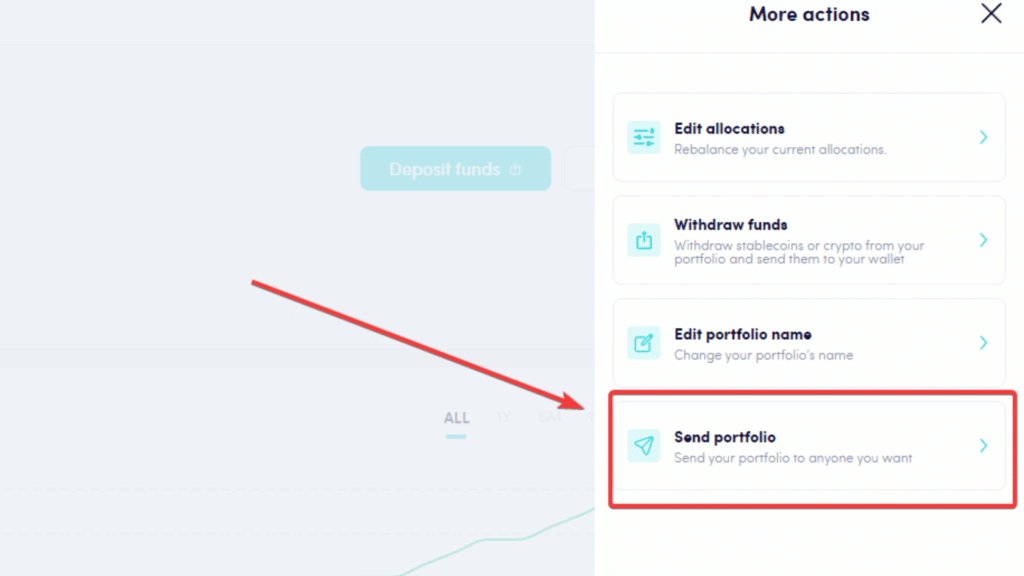 Copying a crypto investment portfolio to Nested:
You now know the process of creating a portfolio and how to manage it perfectly! Right now, we are going to show you how to copy the portfolio of your favorite crypto traders.
To get started, go to the "Explore" to access the most popular investment portfolios in their category, namely: current trendsTHE no longer copiedTHE more reliable or even the more efficient on the latest 24/7/30.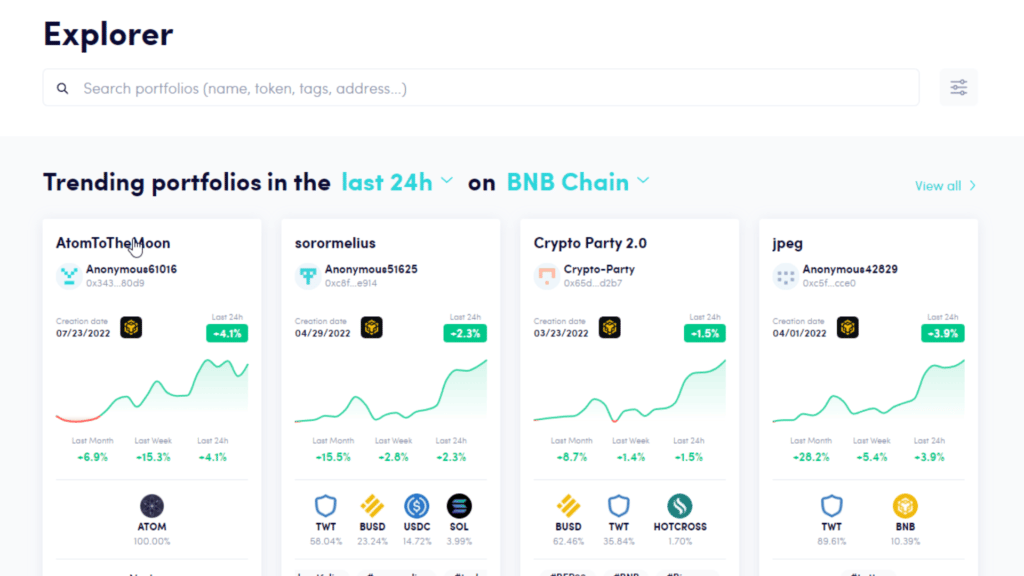 You can also see a list of users with the more subscribers or those with best performing portfolios. In the same way as on a social network, you can subscribe to their profile to monitor their investments.
To deepen your research, you have the possibility to filter the Nested portfolios according to your own criteria via the search bar or using the advanced filtering located just to the right of it. Filtering allows you to further refine your searches.
Blockchain networks (Arbitrum, Ethereum, Polygon, Optimism, etc.)
Wallets: The tokens found there, the minimum and maximum number of assets, the performances recorded during a predefined period, their creation date, the number of copies (users who have copied a portfolio) or even the value that these "copies" represent
Traders: Their performance, the number of copies and their total value, their Twitter (linked to their account, unlinked, verified), their number of followers on Nested, their last activities or the date on which their account was created
To apply your search criteria, click on "Apply". Then select the investment portfolio of your choice.
Once on the wallet interface, you can observe a chart retracing the overall performance of the latter, the performance of each token present, their allocation percentage And much more. You also have a small diagram to more effectively visualize the cryptos the wallet is exposed to.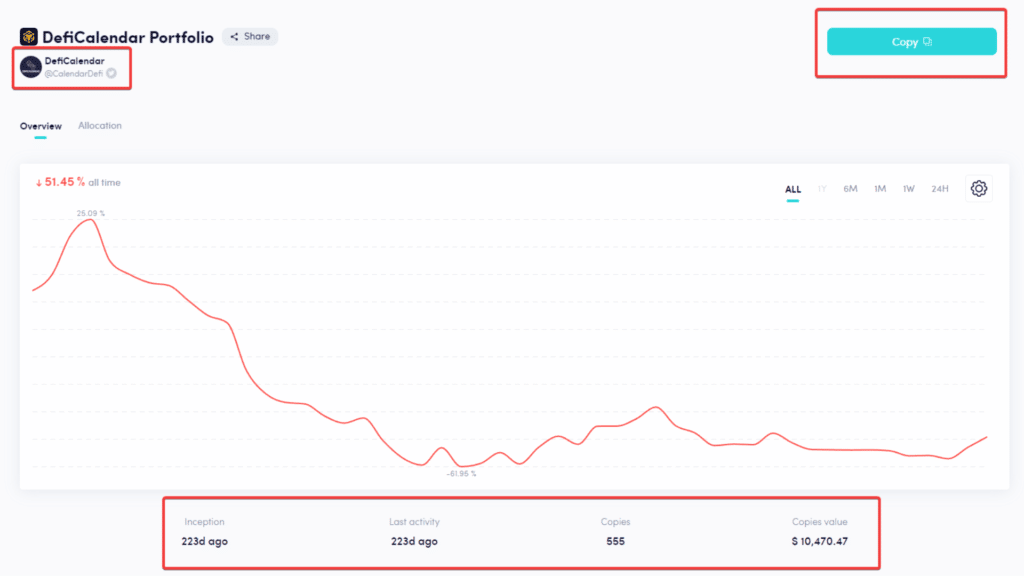 Now, if you have made up your mind to copy this wallet, you simply need to click on the "Copy" at the top of the page, select crypto that you want to use to make this investment, fill in the amountthen click on "Copy".
If you use a digital wallet, you will then need to confirm the transaction on the latter.
Conclusion
Vision SocialFi of nested changes a little from what we are used to seeing on the cryptocurrency market, and more precisely within the decentralized finance (Challenge).
An innovative platform allowing you to both create, share and receive commissions, but also to copy the portfolios that match your investor profile, not bad, isn't it?
Follow Nested on the networks :

Follow CryptoPicsou Portfolios
The article Nested – Copy the crypto wallets of your favorite traders appeared first on Corner Academy