Northumberland's historic and dramatic coastal village of Bamburgh, with its sandy beach backed by an imposing 900-year-old castle, has been voted Britain's best seaside destination for the third year running.
Its golden sand, grassy dunes and commanding Anglo-Saxon castle secured the top spot for the north-east coastal town.
Which? asked more than 3,000 people to rate their experiences of visiting seaside towns in the last year on factors including beaches, food, drink and accommodation options, scenery and value for money. Bamburgh, one of the UK's 46 Areas of Outstanding Natural Beauty, gained an overall score of 88%.
Visitors were particularly taken with how peaceful the beach is. One commented on the "super-soft sand that stretches as far as the eye can see", adding that there is "plenty of space, so the beach never feels crowded."' Another said the castle was "probably the most beautiful we have ever been to."
Rory Boland, editor of Which? Travel, said: "What our survey shows is that it's rarely the famous destinations that visitors enjoy most. Try somewhere new this year and our survey shows you should find fewer crowds and better value."
Dartmouth in Devon has overtaken a number of Welsh seaside towns to climb from fourth place in 2022 to second this year. With a score of 85%, the town on the mouth of the River Dart scored top marks for its "atmosphere and vibrance", secluded coves, buzzing character and quality eateries.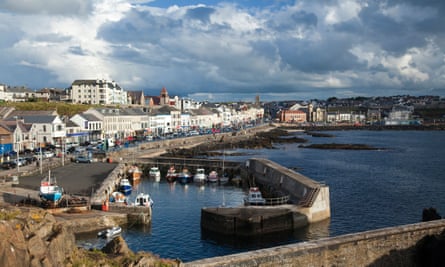 Third place went to the small coastal town of Portstewart in County Derry on the Causeway Coast, which was praised for its vibrant promenade and championship golf course.
It was a three-way draw for fourth place, with Portmeirion in Gwynedd, St Andrews in Fife and Tynemouth in Tyne & Wear tying with a score of 83%.
"St Andrews has everything," wrote one respondent, "from good shops, pubs and restaurants of all prices to a good selection of places to stay, historic buildings and sites and fantastic beaches."
Tynemouth, eight miles east of Newcastle, scored highly for its beaches, scenery, and value for money.
At the other end of the table, Clacton-on-Sea and Skegness tied for last place on 48%, closely followed by Burnham-on-Sea and Bangor, with 49%.
Despite the low scores, visitors said they enjoyed the beach and arcades at Skegness, with one saying: "Skegness is your typical seaside town. The beach is lovely and the Pleasure Beach has really nice rides and places to eat." Essex's Clacton-on-Sea was described as a "family holiday destination" and "typical British seaside resort". One visitor to Bangor was impressed by the recent revamp of the city's pier, and said there were "fabulous views up and down the straits and over to Anglesey."
Boland defended some of the low-ranking resorts. "Clacton, Skegness and Southend all scored one star for the lack of peace and quiet, and some visitors complain that the boisterous atmosphere can tip into feeling unsafe. That's a shame, because what [all three] offer is exactly the sort of seaside break many of us want. Big beaches, big entertainment and small prices. More should be done to help them level up and become first-class holiday resorts."