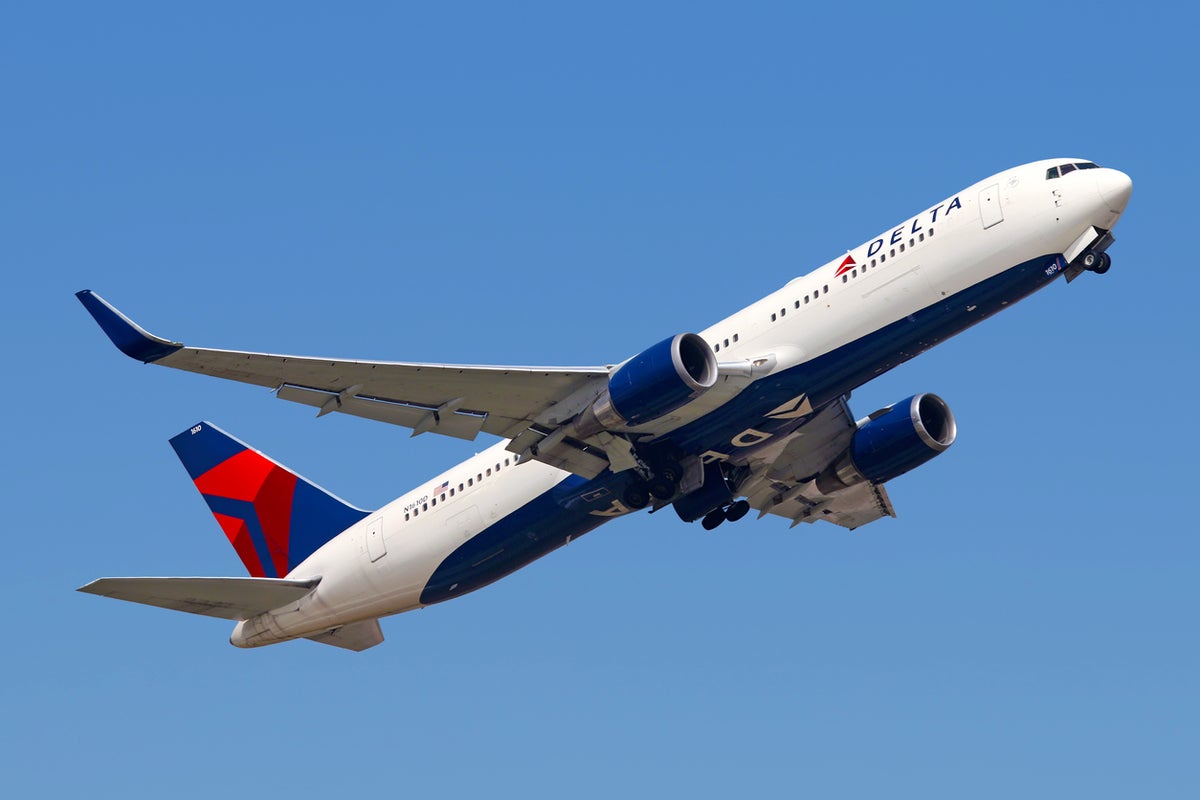 AT Delta Airlines passenger has slammed the US carrier for leaving customers in the dark after a "terrifying incident" involving an emergency landing on Friday.
Flight DAL209 had taken off from Edinburgh Airport on Friday morning (10 February), but was forced to make an emergency landing at nearby Glasgow Prestwick airport just an hour and six minutes into the flight.
Passengers told the Daily Record that they had seen "something streaming" out of the plane, and reported hearing a loud noise which then cut to "eerie" silence – with one traveler taking video through the aircraft window that appeared to show flames.
The Scottish Fire and Rescue service confirmed that they had attended the scene at 11.23am. Passengers were safely evacuated from the aircraft and into the airport.
But passenger Matthew Sommerville told the Daily Record that, for his family of four, the nightmare had only just begun.
He claimed that by Friday evening, he, his wife and two children were still waiting to be checked into a hotel while they awaited a new flight provided by Delta.
"It is an absolute shambles and is outrageous the way we have been treated after that terrifying incident. It is just starting to dawn on everyone what we have been through," he said.
"We spent three hours waiting in the airport with no information and then we were allowed back onto the plane to get our belongings."
He alleged that, though customers were taken to local hotels for overnight accommodation, there was little to no communication from the airline throughout the ordeal.
"We were ushered outside and four buses were waiting. There was no information given," he said.
"The drivers didn't know what was going on. We got to the hotel but they were not prepared for over 200 guests and there was no official representative for Delta there."
Delta has insisted that there was an airline staff member present while passengers were being transported to hotels.
Mr Somerville claimed that children were left crying in the lobby as baffled customers waited to be processed.
He said what had been intended as a celebratory New York trip to mark his retirement had turned into a nightmare.
"I am a frequent flyer so as soon as we got on the plane I felt like something wasn't right – it felt wrong. The plane started shaking like mad and then the cabin crew were running about.
"The captain was trying to speak but the air pressure had dropped so we couldn't hear the tannoy announcement. We managed to land safely and were taken off the plane pretty much immediately."
Passenger Derek Smith also took to Twitter to complain that "the experience on the ground" had been "a mess" following the emergency landing.
"We have no idea what the ongoing travel plans are, and your 'help' and 'contact' pages have been no help, with no one to contact as we do not have US mobile numbers," he wrote on the social media channel on Friday night.
"From leaving the plane at 1140 we have had no communication from any Delta representatives," he said.
Mr Smith also claimed some passengers had had notifications about two differently timed replacement flights, while some, like himself, had not received any information.
A Delta spokesperson said the plane had suffered a "mechanical issue", adding that the airline had arranged meals and hotels, and would be arranging transportation back to Edinburgh for all passengers affected.
"Delta flight 209 from Edinburgh to New York-JFK safely diverted to Glasgow Prestwick Airport after a mechanical issue with one of the aircraft's two engines," they said.
"We apologise to our customers for this inconvenience and are working to get them to their final destinations via Edinburgh. Before the flight's scheduled continuation tomorrow morning, Delta is arranging ground transportation, meals and hotels for customers.
"In addition, all customers are receiving further contact from our Customer Care team expressing our apologies."