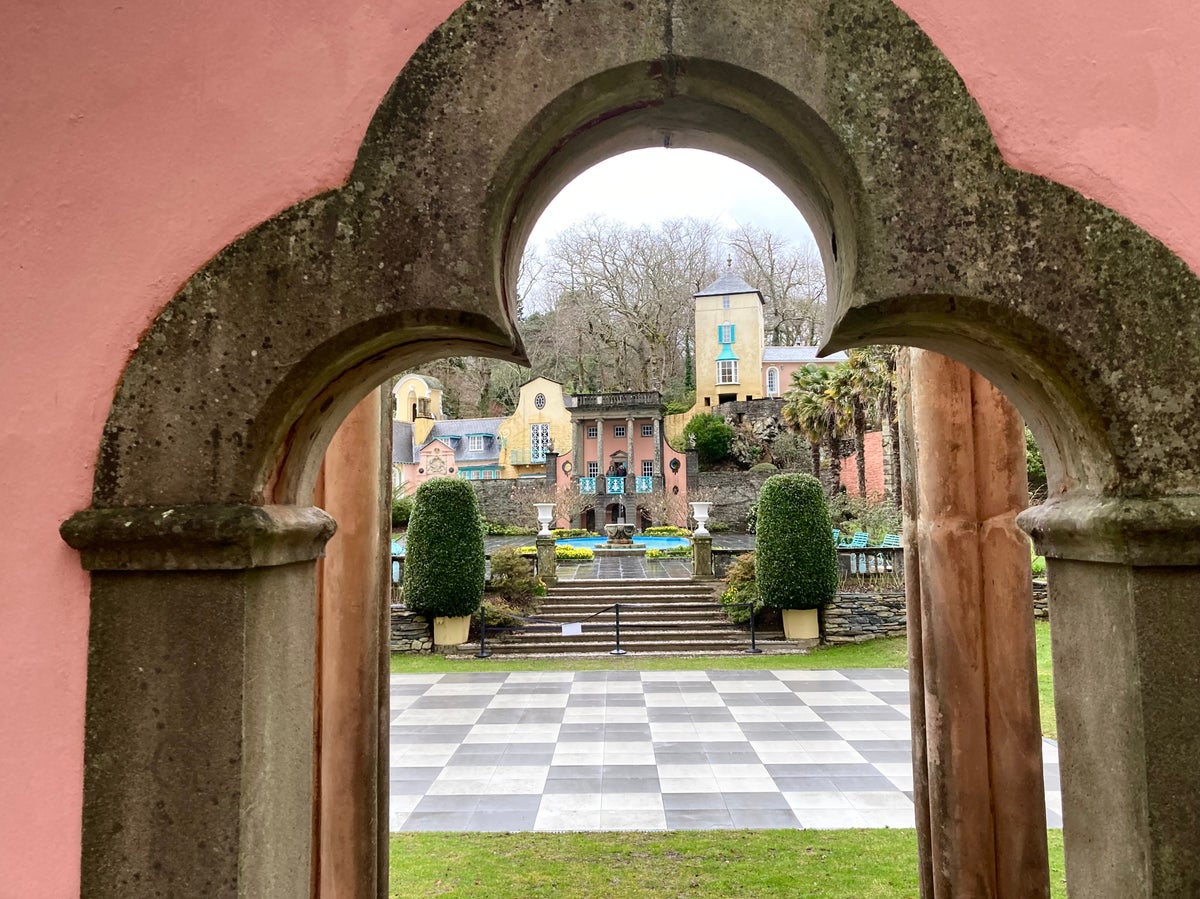 AT campanile perches on a hillside. Shuttered houses and palace in sorbet pinks, violets and lemons swirl up to a bauble-domed basilica atop a cliff. A graceful colonnade rises above a fountain-splashed, palm-rimmed piazza. Cobbled paths dance through ornate gates and arches, past stucco busts, shell grottos, ionic columns and Burmese dancers, a bronze of Hercules carrying the world on his shoulders. Walled terraces and loggias trip down to the glinting sea. Hot-pink camelias are blooming with the first whisper of spring.
Walking through the gates of Portmeirion is a Dorothy arrives in Oz moment: Wales in technicolour; Italy on acid. If I squint a bit and edit out the cold, spitty drizzle of a late-February day, the sheep, the rows of nodding daffodils, and the dark peaks of Snowdonia popping on the horizon – why yes, it's almost the Amalfi Coast. But frankly I wouldn't want to imagine myself anywhere else.
Camp, kitsch, ridiculously over the top – call it what you will, Portmeirion was the life's work of architect Clough Williams-Ellis (1883-1978), a Northhamptonshire-born reverend's son, who dreamed up this little Italy when he was just 23 years old. In 1925, he finally took out a £5,000 loan from the Midland bank to buy a "neglected wilderness", six miles from his family home on the coast of North Wales, picturing a village wholly in tune with nature. With its cliffs and tide-shaped sands, the sheltered Dwyryd Estuary was perfect for his grand plans.
Clough made Portmeirion a "home for fallen buildings", salvaging ornate windows, paneling and ceilings, ironworks and coats of arms, sometimes entire buildings from demolition sites. The result was a pastiche of Italian Renaissance, baroque, neoclassical, Palladian and Arts and Crafts styles – an "architectural mongrel" designed for dramatic effect in trippy colors recalling warmer Mediterranean shores. One glance at Portmeirion and you might think William-Ellis was nuts. Not so. The man was apparently unemotional and even-tempered. But in architecture he unleashed his eccentric dreams and fulfilled his romantic vision.
"Clough Williams-Ellis worked with nature, embracing botanical hedges and arches to make things look bigger, using the topography of the cliffs to frame the estuary and mountains," enthuses estate manager Meurig Jones, with such passion he barely stops for breath. "Portmeirion was his amphitheatre, designed as a series of vistas. He showed how a beautiful site could be developed without spoiling it. Visitors always say, 'I got the most amazing photo', but it's no wonder – he did all the hard work for you."
It's a Marmite endeavor; you either love it or hate it. I love it. And many stars have fallen hard for Portmeirion over the years, too: Frank Lloyd Wright, HG Wells, George Bernard Shaw and Beatles manager Brian Epstein, who brought the Fab Four here. Being such a visual feast, the village has often been used as a film location – in Danger Man (1959), 1967 cult TV series The Prisoner, Doctor Who (1976) and, in 2023, My Happy Ending.
Exploring further, I learn that the 1928 campanile was inspired by the one in Portofino (which Clough had so admired on his travels), that its old chiming turret clock came from a demolished London brewery, and that the stones at the base came from the original 12th-century Castell Deudraeth. The cupola-topped dome was added in the early 1960s as Williams-Ellis felt the village was suffering from a "dome deficiency". The piazza followed shortly after, replacing a tennis court. Built in 1976, the tollgate was Clough's final work – still polishing his masterpiece at the age of 93.
"Buildings that were rubbish to others were gold to Clough," continues Meurig. "He wanted people to see new things every time they visited. His attention to detail was incredible – the fake windows, the tiered paintings – some with four shades of the same color to make them look old and damp. The light is special at dawn, with the sun rising on the other side of the estuary, making the colors jump out. Dusk is lovely too, when everything is subtly lit."
The weather is too wicked for alfresco dining today, but I'm nevertheless determined to get more of a flavor of Italy, so I pop into the Caffi Glas pizzeria and order a surprisingly authentic diavola, fresh from the wood oven. I round it off with a homemade gelato from Caffi'r Angel. Portmeirion is rammed in summer, so I'm told, but today there's just a trickle of other visitors and no one else is eating ice cream (more fool them).
Embedded deep in the woods, the original site of the medieval castle is now a wildly overgrown spot with entrancing views out over the estuary. Castell Deudraeth is a lavishly castellated Victorian mansion built by David Williams, first liberal MP for Merioneth. It's a beauty, with an immaculately restored walled garden and neo-Gothic interiors. In the new, vast, luxurious Ricardo Pearce Suite, I sit on the balcony as the rain eases, listening to the drumming of a woodpecker as the clouds begin to lift to reveal the twist of the estuary and peaks I hadn't realized were there .
Nature mattered to Clough. He was a tireless campaigner for the environment, a founding member of the Council for the Protection of Rural England and long-time president of the Campaign for the Protection of Rural Wales. He demarcated the boundary of Snowdonia National Park. So it makes sense that Portmeirion has impeccable green credentials, with its own biomass plant providing 85 per cent of its energy, eco-friendly buggies shuttling visitors from hotel to village, and electric car chargers.
Then, of course, there is Y Gwyllt (Wild Wood), the 70-acre subtropical forest that thrives in the local microclimate and harbors some of Britain's rarest and biggest 'champion trees'. Planted by Victorian botanists, it's what Clough called the "final touch of magic to the place I found so moving".
I walk for an hour; you could walk for many more on its 19 miles of trails, clambering over cliffs and eventually emerging at the secluded golden arc of Whitesands Bay, which vanishes at high tide. Camelias drip color onto rocky paths, the first rhododendrons are flowering and the magnolias are already in bud as I make my way to the Japanese temple and lake. But it is the trees that really grab me: giant redwoods, maidenhair and tulip trees, conifers, gingko and giant rhubarbs from the Brazilian rainforest grow luxuriantly here, casting gnarled roots like tentacles from the deep across the moss-furred, fern-flocked forest floor.
In the blue dusk, I head to Hotel Portmeirion for dinner by the sea's edge. Built as a marine village in 1850, it was revamped by Clough in 1926, who put his own curvilinear modernist design on the dining room, then later in art deco style by Sir Terence Conran in 2005. Thinking of summer nights in Italy again, I can't resist a glass of Portmeirion rosé by a huge open fire. With chef Mark Threadgill (of Great British Menu fame) at the helm, dinner is a knockout. Seasonal Welsh produce is finessed into dishes like rib-eye beef with cep duxelles, crispy dripping layered potatoes and black garlic, and single-origin chocolate tart with butternut squash ice cream.
The rain-washed cobblestones shimmer as I step out, well fed, into the night, listening to the sea shush and let my gaze drift to the campanile glowing gold on the hillside. It's momentarily Italy, before a taste of chilly wind makes me shiver and pull my coat tighter – Wales again. But it's all the most impressive for this dual personality; and all accessed without a flight in sight.
Travel essentials
staying there
Castell Deudraeth has doubles from £244, B&B, and suites from £344.
Rooms available from{{#price}}{{price}}per night{{/price}}{{^price}}Check availability for dates and prices{{/price}}
{{#amenities}}
{{#amenities.foodDrink.length}}

{{#amenities.foodDrink}}
{{.}}

{{/amenities.foodDrink}}

{{/amenities.foodDrink.length}}{{#amenities.internet.length}}

Internet

Please check hotel for more information on amenities

{{#amenities.internet}}
{{.}}

{{/amenities.internet}}

{{/amenities.internet.length}}{{#amenities.services.length}}

{{#amenities.services}}
{{.}}

{{/amenities.services}}

{{/amenities.services.length}}{{#amenities.parking.length}}

Car park

Please check hotel for more information on amenities

{{#amenities.parking}}
{{.}}

{{/amenities.parking}}

{{/amenities.parking.length}}{{#amenities.health.length}}

{{#amenities.health}}
{{.}}

{{/amenities.health}}

{{/amenities.health.length}}
{{/amenities}}
More information
Book tickets in advance for visits during the main season (March to early November). Day tickets cost £18/11 per adult/child. Apps and maps can be downloaded online. Go to portmeirion.wales