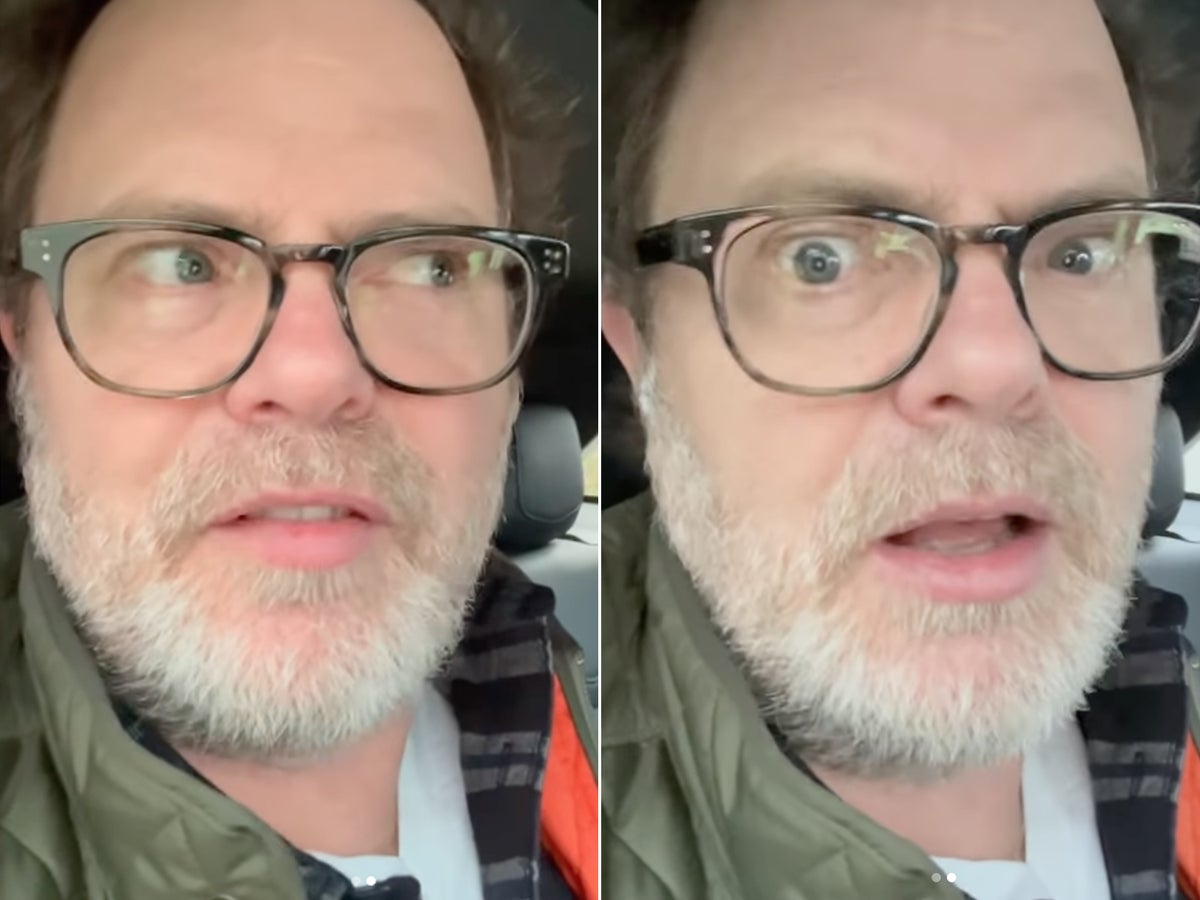 Rainn Wilson has shared the moment a fellow plane passenger watching The Office recognized him we have recent flight.
The American TV star posted a video on instagram stories showing him on a Delta Airlines flight sitting beside a man watching the popular US version of the comedy show.
The comedian and actor played Dwight Schrute in all nine seasons of The Officebefore it ended in 2013.
In the now-viral video, Mr Wilson is seen wearing a mask and slowly shaking his head, before turning the camera to film his fellow passenger who is apparently enlarged in the series.
Mr Wilson was also sporting a cap and headphones at the time, which partially obscured his identity.
In a subsequent Instagram story, Mr Wilson shared a picture of the passenger watching his onscreen alter ego.
He later shared a follow-up post to his Instagram grid, captioned: "Happy ending to the plane story. All became right with the world at last…".
After saying it was "cool" that his original story went viral, Mr Wilson added another installment.
He is seen talking to the screen in a car and bringing his followers up to date with how the situation unfolded.
Mr Wilson shares: "Everyone keeps asking me did the guy ever recognize you and yes, so after five hours of watching The Office I finally nudged him and was like, ah seems like you like that show?
"I was slowly taking my mask off, and he was like, yeah I really like it a lot".
Rainn Wilson reveals fellow passenger watching The Office on flight recognized him_1.mp4
Explaining that he then said to the passenger, "oh, I heard it was not so good," Mr Wilson said the man responded: "Well, it starts really slow, the first season is kinda questionable."
After playfully repeating back to the passenger what he'd said, Mr Wilson asked him if that first season "kinda sucks" and if it is "really bad".
The man told him The Office improves "once you get into it and get to know the characters," all while Mr Wilson is starting to reveal his identity by removing the mask he's wearing.
"And then he recognized me, and his head exploded and we had a nice laugh, so happy ending," Mr Wilson finishes by saying.
Followers were quick to comment underneath the post, with one user simply writing: "Hilarious".
However, some loyal viewers were quick to counter that "the first season gets way too much hate" and it is in fact "the best".
Meanwhile, another user said: "The video went viral because we all want to be that guy."
"I would be so upset if you sat next to watching me The Office and didn't say anything," another added.