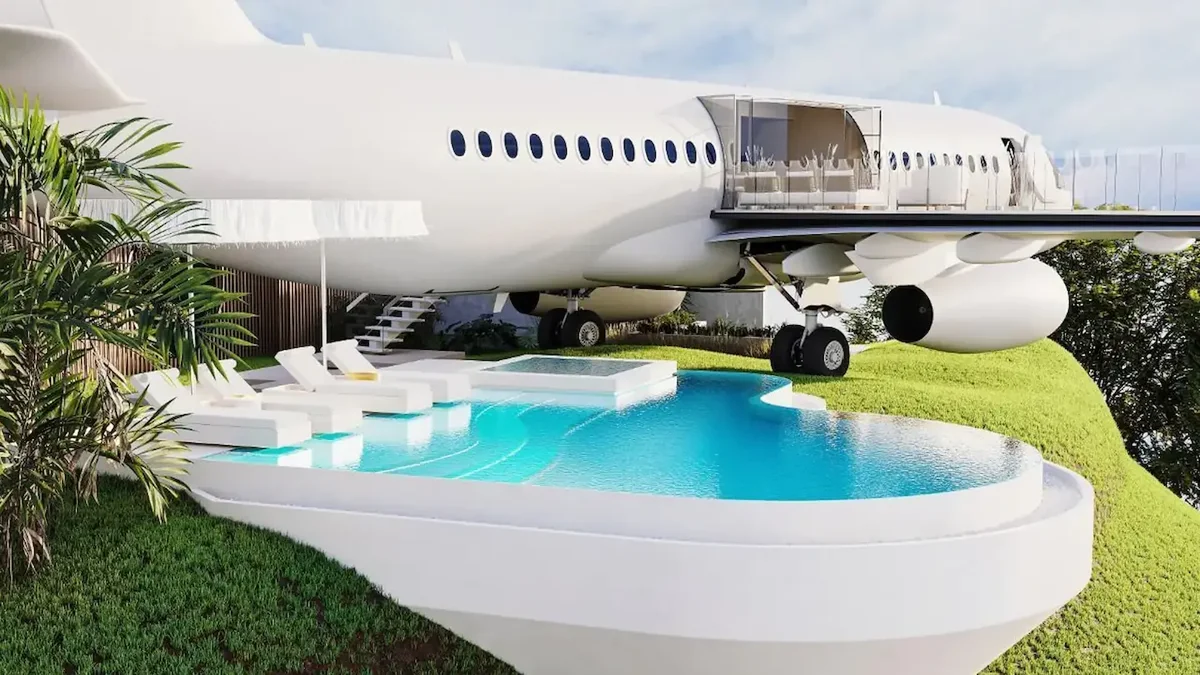 A retired Boeing 737 jet has been given a new lease of life – as a luxury Villa.
Once part of Mandala Airlines' fleet (the Indonesian carrier ceased operation in 2014), the passenger plane was bought by Russian developer Felix Demin in 2021 and moved to the Indonesian island of bali.
Here, Mr Demin plans to make it a private rental alongside his three existing Bali properties. The "Private Jet Villa" will be ready for guests as soon as March 2023, he says.
The plane-villa hybrid has been in development on a clifftop in Pectau for more than a year, attracting plenty of social media attention.
On its Instagram account, @privatejetvilla, influencers are shown lounging on viewing nets protruding from its fuselage, and standing on its wingtips to watch the sunset.
The two-bedroom villa comes with a clifftop swimming pool, four sun loungers, fringed parasols, plus outdoor lounge area and firepit.
Interior shots on Instagram show a white and cream design with mother-of-pearl and gold details, as well as glass portions letting in the light.
It won't come cheap, however. Already listed on Expediathe property is priced at £5,920 a night.
Mr Demin told Business Insider that the jet had been taken apart "like Lego" to be transported, then rebuilt from scratch.
"Externally and structurally, this is a jet aircraft that we have turned into a luxury hotel," he said.
He said that the entire structure of the plane had been inspected and made extra-sound. "Even if we had 300 people here on this wing, nothing would happen," he claimed.
The cockpit at the front of the jet is being showcased with a sunken stone bathtub, Mr Demin said.
It's not the first time a passenger plane has been given a new lease of life by a property developer.
To train British Airways jumbo jet bought for the princely sum of £1 has been transformed into a "party plane", available for hire.
The Boeing 747 was purchased by Cotswold Airport chief executive Suzannah Harvey in 2020, after BA decided to retire the aircraft from its fleet.