Today we are pleased to present to you Retreeba payment "sustainable fintech" that wants fund charitable causes by donating part of its transaction costs, in order to build a more ethical and responsible world.

This article is brought to you in collaboration with Retreeb
Retreeb – The ethical payment application that acts for the planet
Retreeb presents itself as a payment ecosystem 3.0 having the particularity of redistributing 33% transaction fees generated during the purchases of its users, to projects acting for the causes environmental, societal And social.
In other words, Retreeb is a payment app which offers you the opportunity to take action for the environment, without spending even a penny out of your pocket. Indeed, the application works in the same way as Paypal, Mastercard or Visa. Only a third of payment fee generated will be donated to various social projects.
What's more, you will also have the possibility to select the projects that will benefit from your financial support via the Retreeb application!
Among the associations and NGOs offered by Retreeb, you can notably find unilife which fights against chronic child malnutrition, but also local projects such as the Cafe La Barque or Utopia 56 which are located in the city of Tours.
Once the payments are made, 1/3 of the transaction fees will be automatically transferred to them.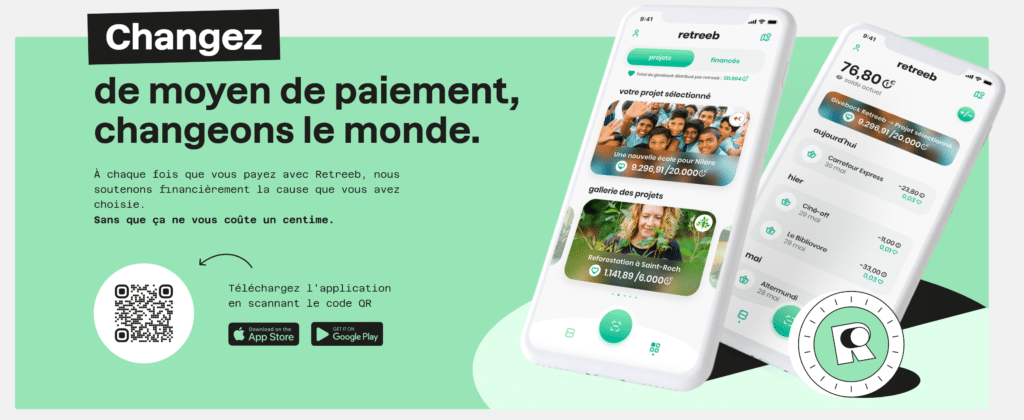 Retreeb – An Opportunity for Traders
Whether you own a downtown café, a taxi or an online store, it's easy to integrate Retreeb payments and empower your customers to help make the world a better place.
If you are a merchant, you just need to download the application Retreeb for Business. Your customers will only have to scan a QR Code during their payments.
For e-merchants, you will soon be able to download the plugin Retreeb on woocommerce in order to integrate this same QR Code, but this time on your online platform. Note that depending on the type of business, payment fees vary between 0.9% And 1.5%.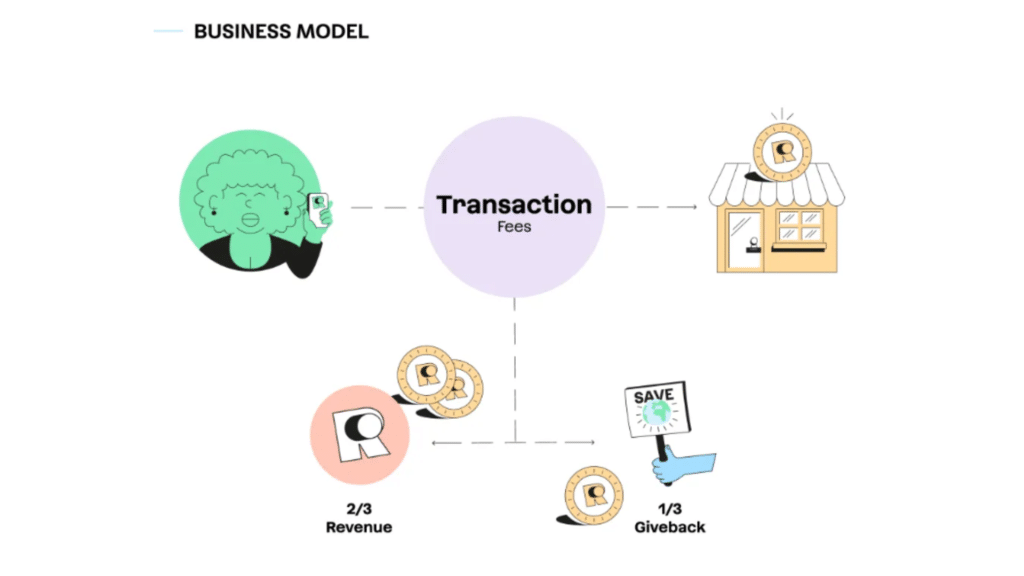 Be aware that Retreeb is a payment player that has an infrastructure that is both On-Chain And off-chain.
On the On-Chain side, please note that transactions will initially rely on the blockchain Phantom (FTM). Subsequently, Retreeb also plans to expand to other blockchains like Polygon (MATIC) to take advantage of an even more interoperable ecosystem.
Moreover, it is on the Fantom blockchain that Retreeb launched its token of governanceTHE $TREEB.
The token is already available on exchanges as Bitfinex, MEXC or the DEX Spooky Swap.
TREEB holders will play a major role in the long-term development of the app. This includes, in particular, a total decentralization of the selection process for user-funded associations.
More information regarding the token has been published with the project RoadMap: https://retreeb.medium.com/2k23-and-still-on-the-road-c73630df8c5f
A successful first launch in Tours
A first preview launch of the application Retreeb recently took place in Tours.
During this event, the first merchants were able to exclusively test the first features available on the Retreeb application.
Eventually, the project plans to expand throughout France, eventually serving all of Europe after having proven itself in France.
Retreeb – A solid alternative to traditional payments?
Retreeb combines on the one hand innovative technology and on the other one powerful community engagementintegrating both a completely transparent funding system that relies in part on the blockchain – and an infrastructure allowing anyone to support Retreeb funding of projects with vocation ecological And charity.
Retreeb is positioning itself as an excellent alternative to traditional TPE solutions that not only apply relatively high fees, but also lack community and environmental involvement. The simple fact of being able to act for the environment, while benefiting from affordable payment costs, puts this solution at the top of the scale.
The Franco-Swiss startup has also raised $1.7 million end of 2021, thus ensuring promising development for the years to come.
To learn more about Retreeb

https://www.retreeb.com/en/
Useful links to follow Retreeb

Website

Twitter

Download the app on Android
The article Retreeb – The responsible and ethical alternative to traditional payments appeared first on Corner Academy