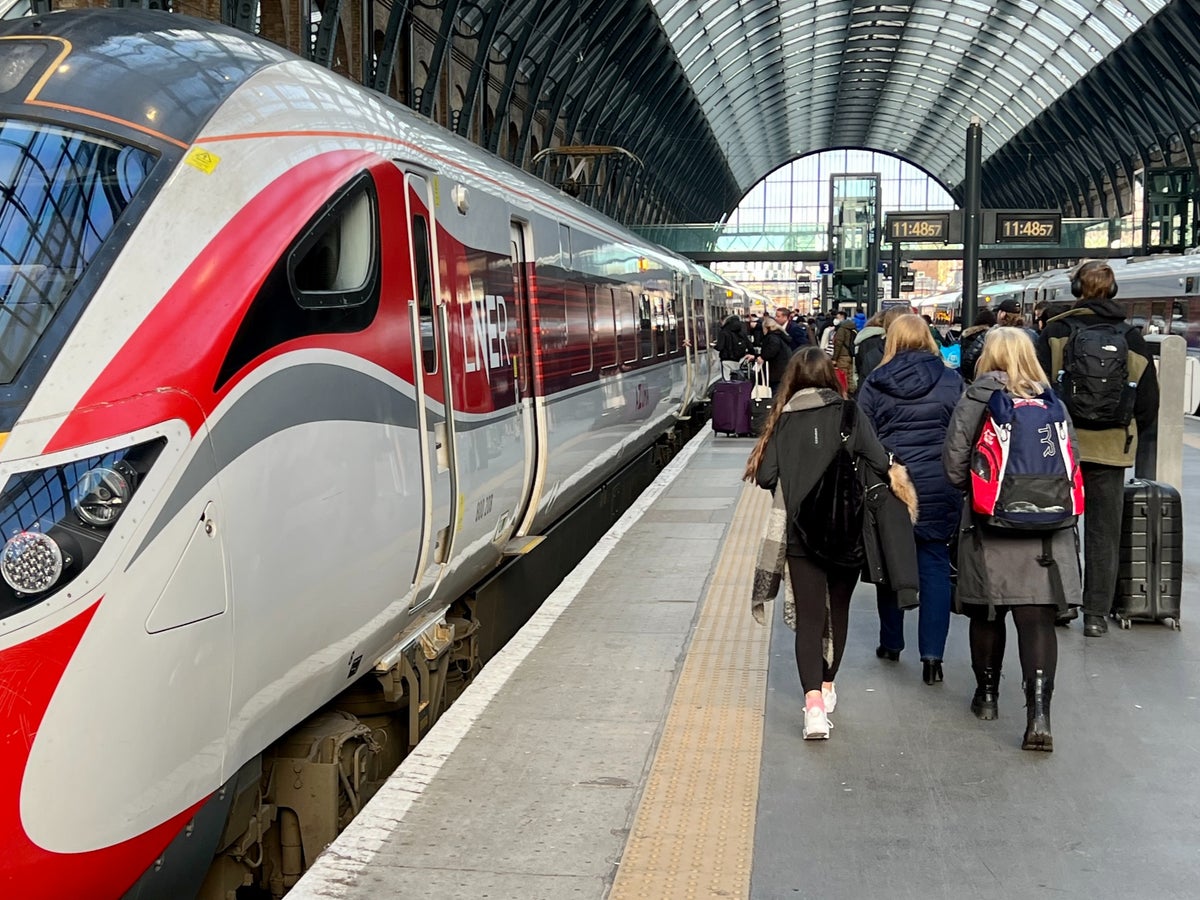 Tea RMT unity is still considering the "best and final offer" from the train operators aimed at ending at least one of the long and most bitter national rail disputes that have cost nearly half-a-billion pounds in lost ticket revenue.
But any agreement is contingent on a long list of reforms aimed at cutting the cost of the railway – which could include scrapping the catering on some trains and an end to working conditions agreed more than half a century ago when British Rail was still a thing.
These are the strings attached to the deal.
Remind me of the background?
It's seven months today since the first national rail strikes since the 1980s began. The tangle of disputes that have led to the stoppages center on pay, job security and working arrangements.
Finally this week the train operators – represented by industry body the Rail Delivery Group (RDG) – made an offer to the RMT union that wasn't immediately rejected. Pay (a headline rise of 9.2 per cent over two years, with staff on £30,000 or less seeing wages rise by at least 10 per cent) and job security (no compulsory redundancies until 2025 at the earliest) appear settled.
The main hurdle now: the changes in working arrangements, which the employers say are essential to repair the disastrous railway finances. The union's executive committee is poring over the detail – but if the union accepts the strings attached to the deal, it could signal all kinds of changes for passengers and staff.
Let's start in the buffet…
…or the trolley that trundles up and down some of the nation's trains.
The condition is: "All catering services to be reviewed on the basis of affordability and value for the companies."
At the moment there is no consistency except that most intercity trains have a buffet.
A random selection of other trains have a trolley. You might be offered a cup of tea and a biscuit on a one-hour trip in some parts of the country, while on a journey of nearly three hours between Brighton and Cambridge you'll have to bring your own.
I predict that catering on shorter commuter services will disappear: demand for food/drink was very low anyway just by the nature of the short journeys, and with commuting collapsing and so many opportunities to buy at stations, sales have dried up.
In future, catering will be offered if there is sufficient demand for a cup of tea and bacon roll for £6 (as on Avanti West Coast) rather than "that's what we've always done".
Are driver-only operation and ticket office closures still likely?
No. Both thorny issues are parked in the railway sidings for now.
Expanding "driver only operation" – which is the norm for the majority of passengers on Britain's trains – is no longer a red line for the train operators and the government ministers who are signing off any deal.
While the employers' side still contemplates that ticket offices will close, with staff freed up to help passengers, the deal is not contingent on the union endorsing closures.
The idea will be put out to consultation. Having said that, the deal accepts a newly created "multi-skilled station grade" aimed at providing more all-round help at stations, and station staff would be expected to go and work at nearby stations if there was a need.
Is working Sundays going to become compulsory?
Not for existing staff. One of the most absurd aspects of a rail industry that is firmly anchored to the Victorian era and the random local agreements made since then is that a large slab of trains each week run entirely on overtime and goodwill.
As an example: on state-run Northern Trains, staff who are based on the east side of the Pennines are expected to work on any day of the week, while those on the west side don't have to work weekends unless they want to earn some overtime.
No airline (apart from El Al, which respects the Jewish Sabbath) would contemplate such an arrangement. It means that Sunday services are more erratic than other days, even when you subtract engineering work.
Successive governments have failed lamentably to tackle the issue – and even this deal pulls its punches.
While Sundays will become a mandatory part of the shift pattern, existing employees will have an opt-out, and those for whom Sunday working is currently overtime-only will continue on that basis. So a fudge, but one that seems to be heading in the general direction of the 21st century.
What do the history books tell us?
A lot about why the railways look costly and inefficient to many. The Red, Blue and Green books that governed the conditions of service in the days when the National Union of Railwaymen was up against British Rail (with a different color book for different grades of staff) are still largely in force.
They specify, for example, that a member of staff who becomes unable to continue in their role can remain "Stood Off" on full pay for two years if there is no "Suitable Alternative Work" available.
For example, a train manager might argue that an alternative role helping put together training programs is not "suitable" and therefore they are entitled to stay at home on full pay unless another role is found.
The most extreme example I was told about (and which may be apocryphal, as I have found no record of it) was a condition in the Blue Book that was said to prescribe an additional payment to staff who happened to be working in a building that has a microwave in it.
The aim today is that new technology should not require extra payments to staff.
What are the chances of a rail settlement?
I am optimistic that the RMT and the train operators will settle. The two sides worked through last weekend and intensively during this week. They wanted to get a deal into a shape that the union negotiators felt they could put to their National Executive Committee and, if they agree, to the union members in a vote.
Removing the insistence on driver only operation and ticket office closures will be seen as a win by the RMT.
But this is just one of three big disputes. There's a parallel one involving the RMT and Network Rail, which the employers' side say they're optimistic about.
The conflict between the train operators and Aslef, the train drivers' union, seems far from a deal. An initial offer of 8 per cent over two years contingent on a wide range of reforms was met with derision by union leaders.
It triggered an immediate strike call – which happens on Wednesday 1 and Friday 3 Februarybringing trains to a standstill in large parts of England but with few effects in Wales and Scotland.