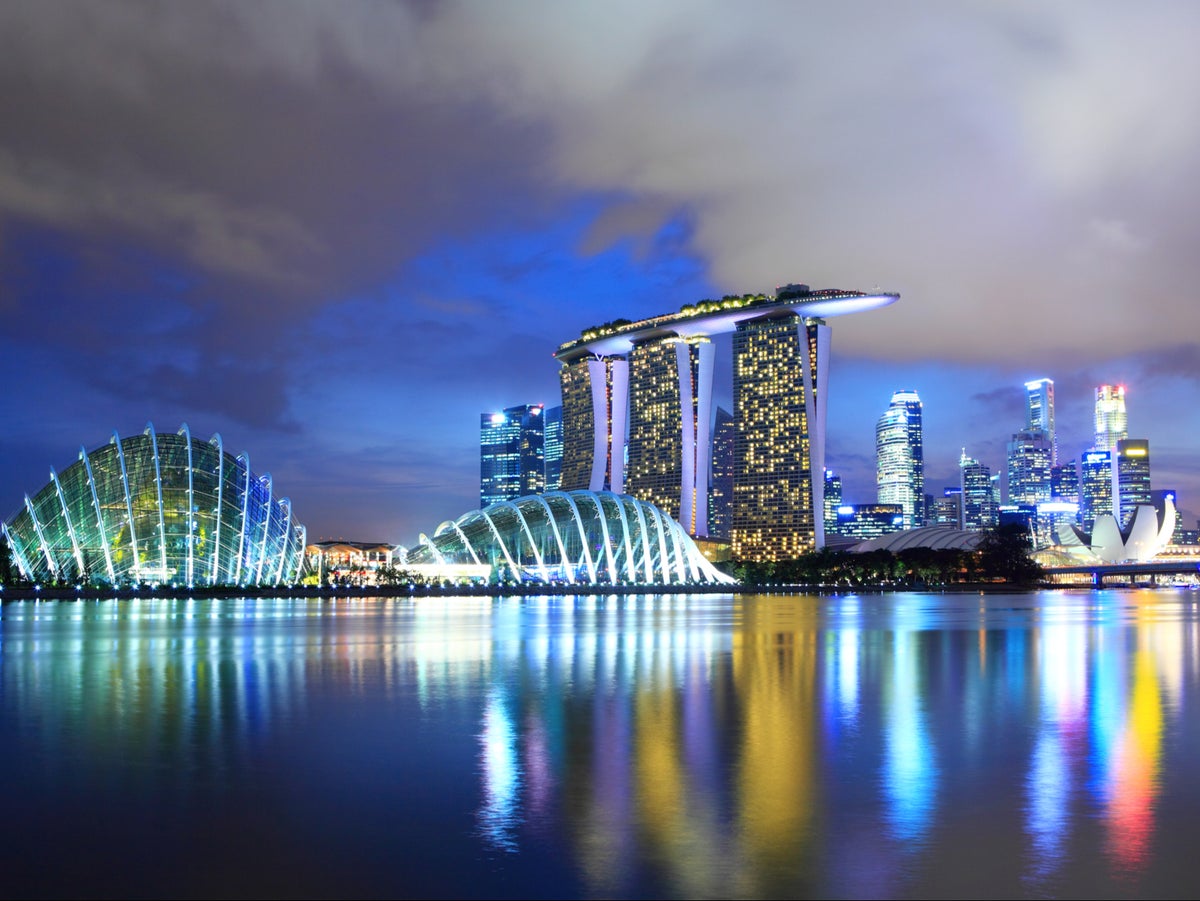 Famous for its street food, sky-scraping architecture and urban greenery, Singapore is a country which has well and truly escaped its reputation as simply stopover destination. It's a place that caters to every type of traveller, from architecture buffs and beach lovers to the cyclists who come to explore the constantly expanding network of bike paths and food lovers who flock to feast on some of south-east Asia's finest cuisine.
Travel restrictions and entry requirements
Masks are no longer required indoors except on public transport and in high-risk environments such as healthcare facilities. Travelers are not required to test before entering the country, whether they're vaccinated against Covid-19 or not.
best time to go
Singapore has a hot and humid climate, and its proximity to the equator means the weather remains consistent. One of the busiest periods is the Chinese New Year, which takes place between January and March (its date depends on the lunar cycle). The best time to visit Orchard Road, which is lined with shopping centres, is during the annual Great Singapore Sale. The Singapore GP, widely regarded as the most spectacular night race on the Formula 1 calendar, typically takes place in late September or early October.
Read more on singapore travel:
Best cities and regions
Sentosa Island
A lush theme park-filled island connected to Singapore's mainland via a road tunnel, cable car and the Sentosa Express train. Sentosa is a popular hangout for locals as well as tourists. Most of its hotels, which include the W Singapore, Shangri-La Rasa Sentosa and the Capella Singapore, are beachfront ones. A network of bike paths weaves across the island, connecting areas such as Fort Siloso, an artillery battery which became a national monument in 2022, and Resorts World Sentosa, where attractions include Universal Studios Singapore. For sustainable fun, head for SkyHelix Sentosa: this open-air panoramic ride is the island's first carbon-neutral attraction.
Marina Bay
Dominated by the Marina Bay Sands hotel, with its infinity pool-topped sky deck, Marina Bay has some of Singapore's most recognizable landmarks, including the water-spouting Merlion. Highlights include the ArtScience Museum, which incorporates Future World, a permanent digital art exhibition by the Japan-based teamlab collective, and the Fullerton Hotel, Singapore's train post office. The latter is the go-to place for afternoon tea, although the hotel's Signature Reserve bar and its collection of 3,000 types of whiskey is also recommended.
Orchard Road
Neon-drenched Orchard Road has Singapore's biggest shopping malls, as well as fantastic independent stores. For home-grown souvenirs check out Design Orchard, which showcases over 60 local designers. Listen out for the cacophony of bird calls if you're there around 6pm, when the tree-lined road's mynah birds settle in for the night, and keep an eye out for posters advertising free bird-spotting tours led by local ornithologists.
Kampong Glam
This is Singapore's former Muslim quarter. Its ancient, brightly colored shophouses have been turned into cafés and boutiques. For vintage treasures, head to Time After Time for gorgeous dresses and costume jewellery. The area's most notable landmark is still the Sultan Mosque, topped with a golden dome. Learn more about Kampong Glam's history at the Malay Heritage Centre.
Best under the radar destinations
Sungei Buloh Wetland Reserve
Singapore has around 400 parks and nature reserves, although for a walk on the wild side, you can't beat the Sungei Buloh Wetland Reserve. Twitchers come here to see migratory birds, and year-round residents include monitor lizards, otters and estuarine crocodiles. There's a network of walking trails and you can observe the wildlife from hides.
Pulau Ubin
It's just a 15-minute ferry ride to Pulau Ubin (Malay for Granite Island), off Singapore's north-east coast. The granite once mined here was used for the Singapore-Johore Causeway, but it's now a great place for some time out – it's got Singapore's last kampong (traditional village) alongside several coconut plantations and the wildlife haven that is Chek Jawa Wetlands. The best way to explore it is by bike – rent one from the jetty.
The Rail Corridor
This 24km hiking and cycling trail sits in the footprint of a railway once used to shuttle goods to malaysia. The final section will be completed in 2023, although it's currently possible to cycle almost all of it. Rewilding projects have lined the route with native tree species that have attracted a multitude of wildlife – even the ultra-rare pangolin has been spotted here. There are plenty of opportunities for stop-offs (landmarks it passes include Singapore Botanic Gardens) and countless reminders of its history, including Bukit Timah station, built in the 1930s and repurposed as a visitor centre.
Best things to do
Hire a bike
Singapore is incredibly bike-friendly. Sign up to one of the bike-share schemes, such as Anywheel, and explore routes like the Park Connector Network – hiking and cycling paths connecting Singapore's parks and nature reserves. The well-maintained network of routes is easily broken down into smaller sections, so you can peddle for as little or as long as you want.
Drink a Singapore sling
You can't visit Singapore and not enjoy a Singapore Sling in the Long Bar at the raffles hotel, the cocktail's birthplace. Every table has a bowl of peanuts, and visitors are encouraged to throw the shells on the floor – a nod to the time when Raffles was surrounded by nut plantations.
Watch the Singapore GP
This is the F1 calendar's most exciting race, a street circuit and night race which usually takes place at the end of September. You don't have to be an F1 fan to enjoy it either: The Killers, Gwen Stefani and Fatboy Slim have all performed at the event.
Check out at hawker center
In 2020, Singapore's hawker center – places filled with street food stalls serving traditional Singaporean cuisine – heritage earned Unesco's Intangible Cultural Heritage of Humanity status. Some of the best are Chinatown's Maxwell Road Food Center (specialties include Hainanese chicken and oyster omelettes) and the Newton Food Centre, which featured in the 2018 film Crazy Rich Asians.
Getting around
Singapore's two main bike share schemes, SG Bike and Anywheel, are cheap and easy to use. Singapore's MRT (Mass Rapid Transit) system, a light rail network, is the quickest way to get around. Single fares start from around 85p. Grab is the most popular taxi app.
How to get there
The quickest way to get to Singapore from the UK is by air; Singapore Airlines, British Airways and Qantas all fly direct from the UK. If you're visiting nearby countries, there are ferry routes between Singapore and Malaysia, as well as between Singapore and Indonesia's Bintan island. Trains run to Singapore from Thailand and Malaysia.
Money-saving tip
Planning on a night out on the town? If you're hitting hotspots like Clarke Quay, a riverside club, bar and restaurant-filled complex in Singapore's centre, or Haji Lane, keep an eye out for the happy hour deals – almost every bar will run them and they offer seriously good value .
FAQ's
What's the weather like?
Because of its proximity to the equator, Singapore is hot and humid year-round. Average temperatures hover between 25C and 31C.
What time zone is it in?
Singapore Standard Time (GMT+8).
What currency is used?
Singaporean dollars.
What language is spoken?
English is the most commonly spoken language, followed by Chinese and Malay.
Read more on the best hotels in Singapore