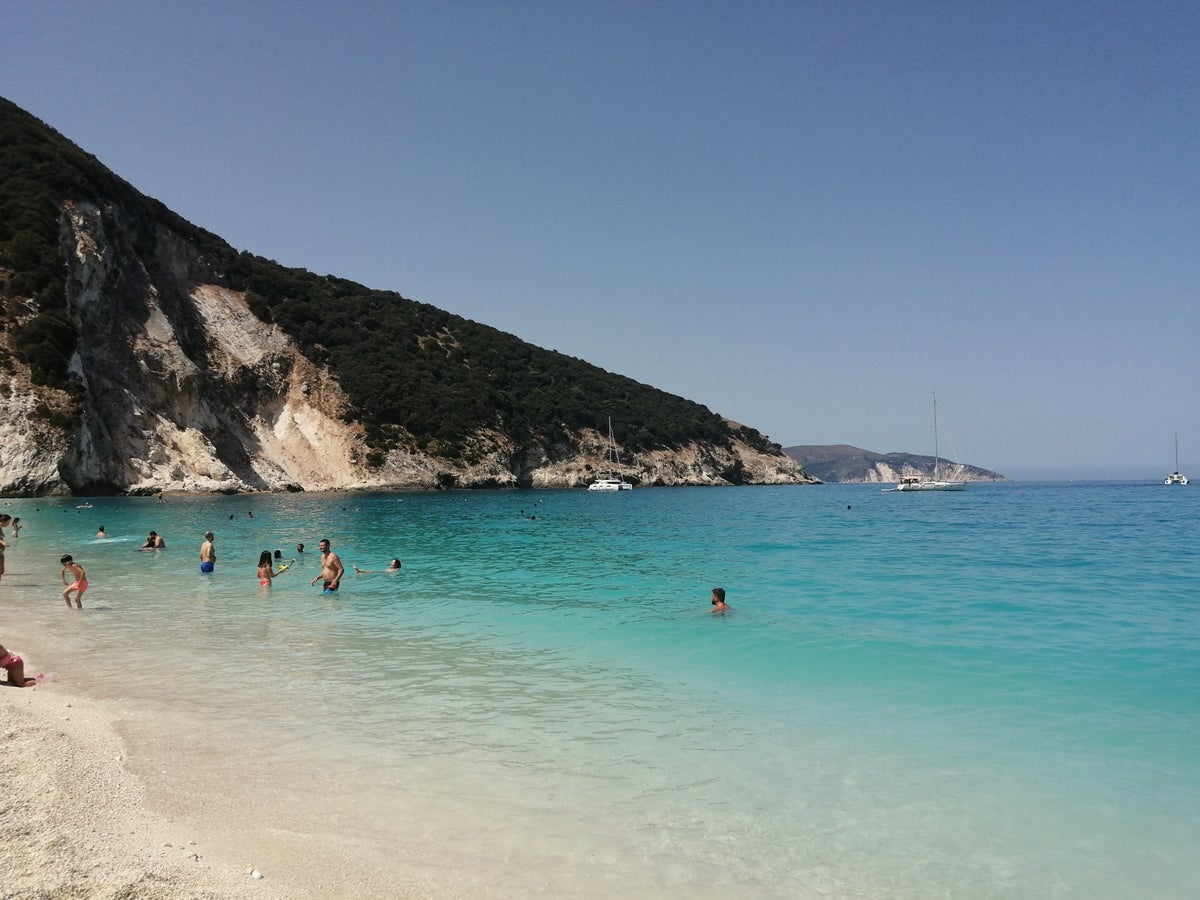 Greece simply seems built for holidays. With its treasure trove of beaches, informal, family-embracing culture and dazzling summer sunshine, it rarely disappoints.
A large, sprawling nation, it comprises 110,496 square kilometers of (largely underrated and under-visited) mainland, plus 227 inhabited islands – not to mention thousands more uninhabited islets. You could go back dozens of times and barely scratch the surface – especially if, like most Grecophiles, you find one place that suits you perfectly and end up going back.
When tourists think of the mainland, they usually picture Athens – one of Europe's great culture capitals, with millennia-old ruins peppered around smart or hip neighborhoods. Meanwhile, "Greek islands" conjures a travel-brochure image of sugar-cube houses and dramatic, charcoal-grey cliffs, a look that's specific to the Cycladic islands. Other island groups have a different feel, many richer in dense pine forests or golden-sand beaches, though you'll find classic Greek cuisine and warm hospitality all over. Here's where to start.
Read more on greece travel:
Best for history buffs: Athens
Greece's handsome capital is a must-do city break that works at any time of year – but if you go from May to October, you'll also find ferries from its Piraeus port, making it easy to tack on a beach or nature break.
Read more: How to spend a day in Piraeus, Athens' rejuvenated seaside neighborhood
Most of the ancient Greek sites are based on and around the Acropolis Hill, so for very short breaks you should base yourself in central Monastiraki and Plaka so you can sightsee straight from your doorstep. If you have a bit more time to play with, you might want to stay in cooler Psyrri or Pangrati, where hole-in-the-wall restaurants and craft beer bars nudge up against concept stores and pavement cafes. Or Kolonaki, the upmarket "Knightsbridge of Athens", where you'll find the ritziest hotels.
Best time for weather
Outside of July and August to avoid soaring temperatures – breezy March and still-toasty October are loveliest.
Cheapest time to go
Winter, when flights are still running and few tourists are in town. In October, return flights start at around £80 return; in January that almost halts around £45.
Dodge the crowds
November, January and February have the lowest hotel room rates and thinnest crowds.
Best for glamour: Santorini
This Cycladic icon is no secret – ever since the jet-set (and Instagram) found it, this has become the island that launched a thousand selfies. But when you go, you see why: the part-sunken edge of a long-dormant volcano rim, the island's western (caldera) side plunges down into the sea in a photogenic fashion. Uniformly pretty Cycladic-style hotels and houses are speckled along its tops, many with illuminated plunge pools and ribbons of hot-pink bougainvillea. Stay around Oia and Imerovigli, taking a sunset yacht cruise around the coast, and you'll feel like you're starring in a movie.
Elsewhere on the island, affordable accommodation exists near flatter, black volcanic beaches and pretty hilltop towns; but if you're here for Santorini's unique looks, you want the caldera coast. It's not family friendly, due to the plunging cliffs and millions of steps connecting buildings. And everything here – from hotel rooms to dinners and drinks – is pricier than elsewhere in Greece. Cheapest choice? No way. Worth the cash? Absolutely.
Best time for weather
September – think highs of 25C by day, and a sea warmed up by months of summer heat.
Cheapest time to go
This is a holiday island, so most places shut up shop outside of spring, summer and autumn. Within that period, you'll get some of the best rates in April and October.
Dodge the crowds
In April, compromise on chillier evenings and the odd bit of drizzle for a chance alone with the best caldera views. May is also pleasantly quiet.
Best for families: Corfu
The buzzword here is "ease": not only does Corfu have the shortest flight time from the UK, but young families will also love the logical tourist scene. Fly into its east-coast airport, connected to hotels by a well-paved coast road, served by plentiful taxis. Most resorts are within half-an-hour's drive, with more secluded villas and lesser-known hotels slightly further away on the north and northeast coast.
Many of the best-known hotels nail being both both chic and family friendly (try the Marbella, Ikos or Grecotel groups), with many more that are simply affordable and welcoming. A sprinkle of adults-only finds are a hit with couples. Though the tourist scene is accessible, tried and tested, this huge, forested island is also perfect for hiring a car and exploring. Visit the pretty old port, Corfu Town, the sand-fringed north and west coast, and hop on a boat to Paxos island.
Best time for weather
June to August has that blazing hot, bucket-and-spade weather you're dreaming of.
Cheapest time to go
May is still warm and breezy, with highs in the low 20s – weeks at self-catering apartment holidays come in at £500pp per week, rising to more like £800pp by mid July.
Dodge the crowds
Go for a more active holiday in Feb-March or late October-November; in the latter, you'll find few tourists, but locals still swimming in the summer-warmed sea.
Best for foodies: Crete
This island is a giant – it would take around five hours to drive nonstop from one end to the other – so even if you've seen one beach town or region, there's far more to explore. But one thing you'll find all over is exceptional food: Crete has a long farming tradition and a huge respect for produce, seasonality and provenance. It also has its own styles of salad, local cheeses and is a major producer of olive oil. Elsewhere in Greece, the most fashionable restaurants are often inspired by Cretan cuisine.
You fly into one of two north-coast airports: Chania towards the west and Heraklion towards the east. They're more than two hours apart, so make sure you book the best for your accommodation. The joy of a big isle like this is choice and diversity: there are affordable, family-friendly beach towns, stylish port cities, ancient archaeological sites and secret-feeling coves only reached by boat. The trade-off? A fair bit of research and planning.
Best time for weather
June to August for peak summer sun, but Crete also remains balmy into September – great news for adults-only parties seeking peace and quiet.
Cheapest time to go
April is a sweet spot – you can bag a week in a five-star beach hotel from £730pp, rising to £1,100pp in June. Daytime temperatures will be around 17-21C maximum.
Dodge the crowds
It empties out from cooler November to March, when there are still plenty of active pursuits, foodie experiences and ancient sites to entertain you.
Best for solos: Kefalonia
While Crete is similarly backpacker and solo-travel friendly (with a rare-for-Greece bus network), Kefalonia has some of the most diverse landscapes, with historic towns, showstopping beaches and a huge range of places to stay. This sprawling Ionian island also has a bus route or two, allowing you, for just a few euros, to strike out from the smart port of Argostoli (near the airport) for pretty little coastal towns such as Assos, Fiskardo and Poros – many of which have boats onward to smaller islands. Ferries to nearby islands such as Lefkada and Ithaca can cost as little as £10 or £15 each way.
This network of affordable apartments, distinctive stops and transport options really lends itself to spontaneity and hopping around. It's also one of Greece's most photogenic islands: think pastel-coloured houses, plunging cliffs with mountain goats, shimmering sea caves and unspoiled beaches. Take a copy of Captain Corelli's Mandolin (which is set here) to get a feel for the history.
Best time for weather
Unsurprisingly, most-popular June to August gets the best weather; those who can travel outside school holidays will bag the best deals.
Cheapest time to go
Direct flights from the UK tend to run between May and September. Of those months, you'll find the best deals in early June and late September.
Dodge the crowds
Like Crete, you can fly via Athens to reach Kefalonia off-season: go in October to find lingering highs of 24C, plus warm, swimmable waters with few tourists.
Best for off-the-beaten-track: The Peloponnese
Though there's been a trickle of tourism to this underrated slice of the mainland for decades, it's only recently registered on the mainstream holiday scene. This hand-shaped peninsula just southwest of Athens has pine-scented mountains, ancient, crumbling monasteries, remote villages and lovely sandy beaches, especially along the central Mani Peninsula and Cape Malea.
You'll need a car to explore this rugged region, which has wonders such as Mystras, a 13th-century Byzantine city close to the historic warrior state of Sparta; the archaeological site of Mycenae; the Unesco-listed amphitheater at Epidaurus; and the honeycomb-hued citadel of Monemvasia. There are remote spa retreats and cute coastal towns to chill at en route.
Best time for weather
May and September, outside of peak summer bookings, each get plenty of sunshine and highs in the mid-to-high 20s. Avoid December, the wettest month here.
Cheapest time to go
Direct flights to gateway airport Kalamata run May-Oct (though you can drive from Athens). Go in October for the best bargains on both flights and room rates.
Dodge the crowds
In April, just before direct flights kick in, you'll find delightful sunshine and up to 21C in the daytime – perfect for hiking around and exploring the sights.
Read more of our best Greek island hotel reviews