The crypto division of Societe Generale, SG Forgerevealed theEUR CoinVertible (EURCV), a stablecoin linked to theeuro (EUR) on the public Ethereum blockchain, offering institutional clients a way to bridge the gap between traditional capital markets and digital assets.
Societe Generale FORGE provides issuers and investors with state-of-the-art services to issue and manage digital native financial products registered on the blockchain. The crypto subsidiary relies on the expertise of Societe Generale group teams.
Finally competition to the US dollar on the blockchain
This initiative marks another sign of the growing adoption of digital assets by institutions in France, while increasing competition in the market for stablecoinstraditionally dominated by stablecoins pegged to the US dollar like the Tether (USDT) or theUSD Coin (USDC) from Circle.
Contrary to JPMCoinTHE stablecoin internal of the American banking giant JPMorgan used as a settlement token between financial institutions on an internal network (Onyx) and not a public distributed ledger. There is indeed question here, in the case of theEUR CoinVertible (EURCV), of a stablecoin issued on a blockchain public: Ethereum.
Societe Generale FORGE registered PSAN by the AMF
The crypto division of Societe Generale FORGE obtained registration with the Autorité des marchés financiers (AMF) of France on September 27, 2022furthering the growing trend of institutional adoption of digital assets in France.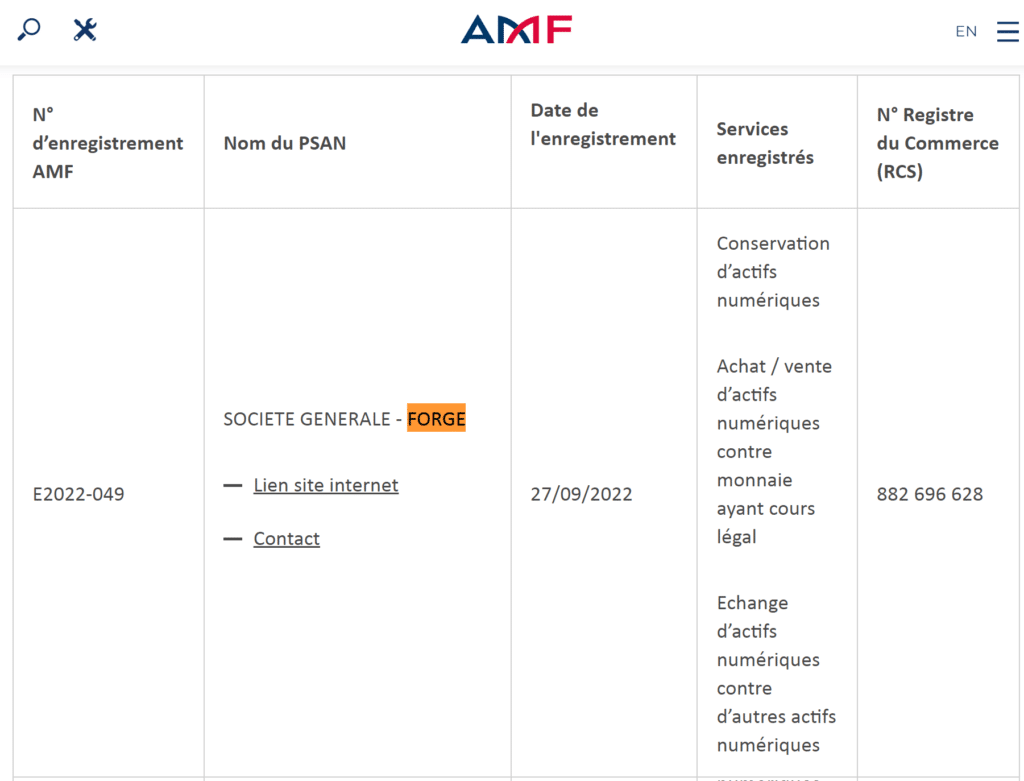 This recognition enables Societe Generale to offer trading and custody services crypto-currencies to its customers, thus strengthening its position in the field of digital assets.
Compliant with the main market standards, the EURCV benefits from open-source interoperability as well as the Security Token Compliance Framework (CAST).
Societe Generale FORGE ensures that stablecoin collateral assets are fully isolated from the issuer and provides daily transparency reports and regular collateral position updates. So you can be sure that your digital assets are safe and that their management is transparent and efficient.
The EURCV has been audited by PwC
Jean-Marc Stengerhead of the crypto division of Societe Generale, announced that the multinational accountant PwC conducted a compliance audit for EURCV. To ensure compliance of the stablecoin, the company also benefited from the expertise of the law firm White & Casee, while the private equity firm Equitis Management acts as a trust company, regulated by the Autorité des Marchés Financiers (AMF).
Moreover, the development of this currency steady is in phase with the next European regulations on digital assets, the "Cryptocurrency Market Regulation" (Mica), thus ensuring full compliance of EURCV with the standards in force.
With the introduction of more stablecoins pegged to other fiat currencies or commodities, investors will have moreoptions to choose from when looking for a stable asset to invest in.
The article Societe Generale's Crypto subsidiary launches a euro stablecoin on Ethereum: the EURCV appeared first on Corner Academy