Combine the equestrian environment

to the world of Web3, this is the ambition of the project stablethanks to which you will soon be able to adopt your own NFT related to real racehorses.
You can now subscribe to the Whitelist of the project which will allow you to acquire NFT Stable at mint.
This article is brought to you in collaboration with the project stable
Stables – Adopt your own virtual racehorse
stable is a Horse Racing Fantasy Game under license the trot & France Galop to based on real horses race. The project aspires to become a reference in the industry by creating an ecosystem filled with immersive experiences thanks to NFT technology and the transparency of the blockchain.
As a reminder, stable is the result of a partnership between the giant PMUthe leader in horse race betting in Europe, and the corporate start-up studio 321founded.
By associating non-fungible tokens (NFT) to from real horses with unique characteristics and assets, stable wishes to offer a unique experience to its users.
In effect, stable offers you the opportunity to discover the world of horse racing in all its glory, to join a community of enthusiastsand also offers you a rewards system making every race an adrenaline-filled moment.
The project team insists that Stables is not a game of money, but a game for fun and while strengthening the bonds between users and their horses.
The Stables project is deployed on the blockchain Tezos (XTZ), renowned for its low transaction costs and low energy cost. This makes it an ideal candidate for future-proofing the Stables ecosystem.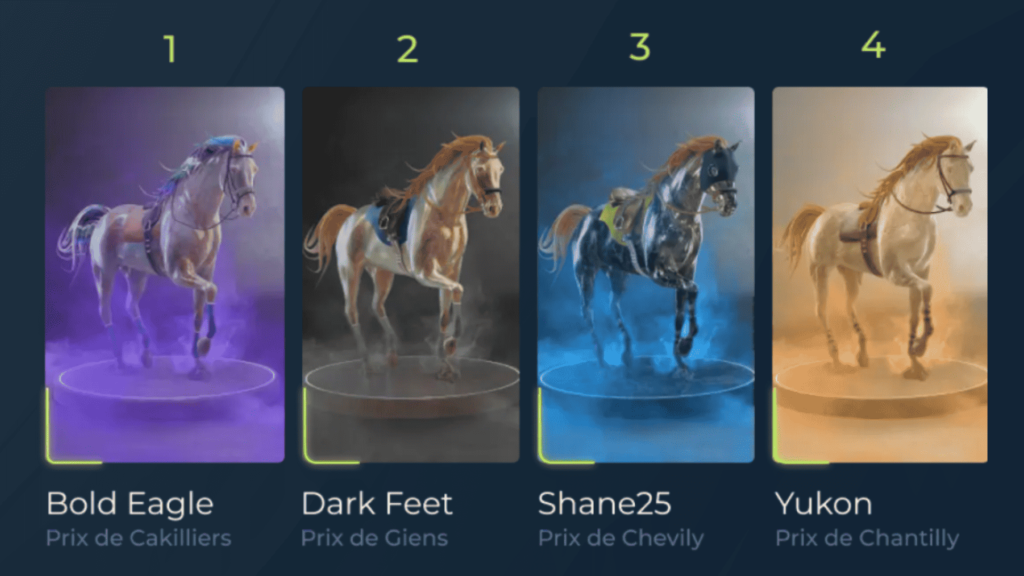 Stables – A Fantasy Game with Big Ambitions
The correlation between NFTs stable and horses is not limited to their visual appearance. In reality, each of the NFTs has unique features (max speeds, breed, stride length, win rate, nationalities, etc.) specific to the horse it represents in real life, making your digital asset even more authentic And unique than it already is.
These famous features will have a major influence on the performance of your horses during horse races. Races which, of course, will take place against digital horses, also represented by holders of NFT Stables.
However, do not believe that statistics will guarantee your success. You will need to take a multitude of strategic decisions to further optimize the performance of your horses in online competitions.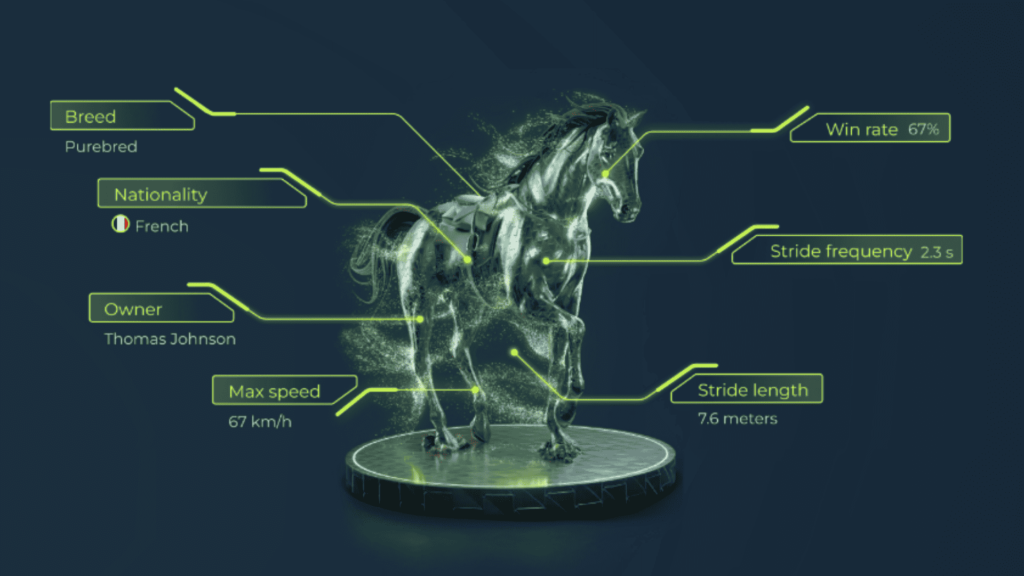 The better your strategies, the better your chances of climbing the steps of the podium in order to earn maximum points. Stables has a point ranking system which will be used to reward in the form of "S-Points" those who obtain the best scores.
These rewards will allow you to unlock unique accessories as well as in-game privileges. More information on this subject will soon be revealed by Stables.
To learn more about how the Stables project works, we redirect you to our article entirely dedicated to the latter:
Stables – The NFT project that is revolutionizing the world of horse racing
Join the Stables adventure now
Stables will organize its first phase of mint THE 27 March 2023. In total, 6666 NFT will be available for purchase. However, only users who have subscribed to their whitelist will have a chance to participate.
To do this, start by going to this page

https://playstables.io/claim/accountthen fill in your email, then click on "Next".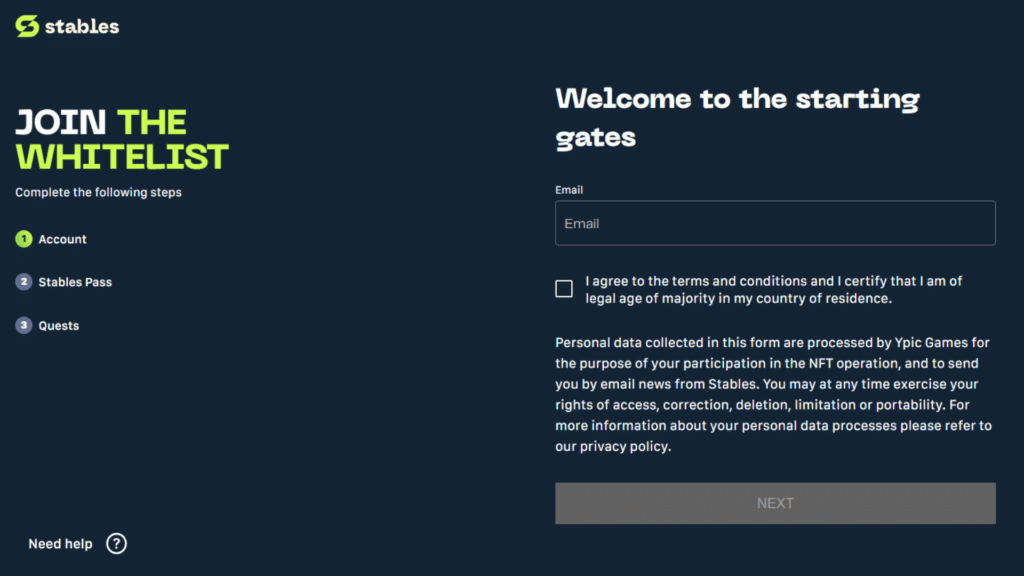 Then connect your wallet Tezos (Temple Wallet for example), then remember to recover your "Stables Pass" (free) thanks to which you will be able to collect your S-Points during horse racing tournaments.
Once you have your Stables Pass in your possession, you will need to complete a total of 14 quests on the decentralized platform"Crew3". These community quests have been designed to introduce you to the Stables ecosystem. They will allow you to learn more about the project, its ambitions, but also to get closer to the community.
After connecting your Discord and joins that of Stables, follow each of the quests that are posted on Crew3. It should take you between 15 to 20 minutes of your time.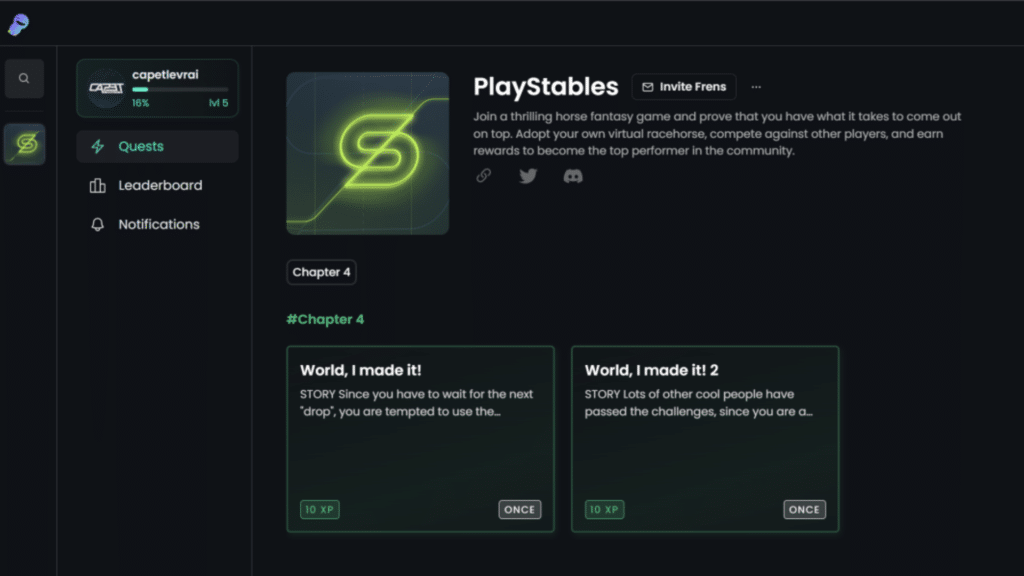 Finally, return to PlayStables and make sure you have this message: "Congratulations! You are on the Whitelist"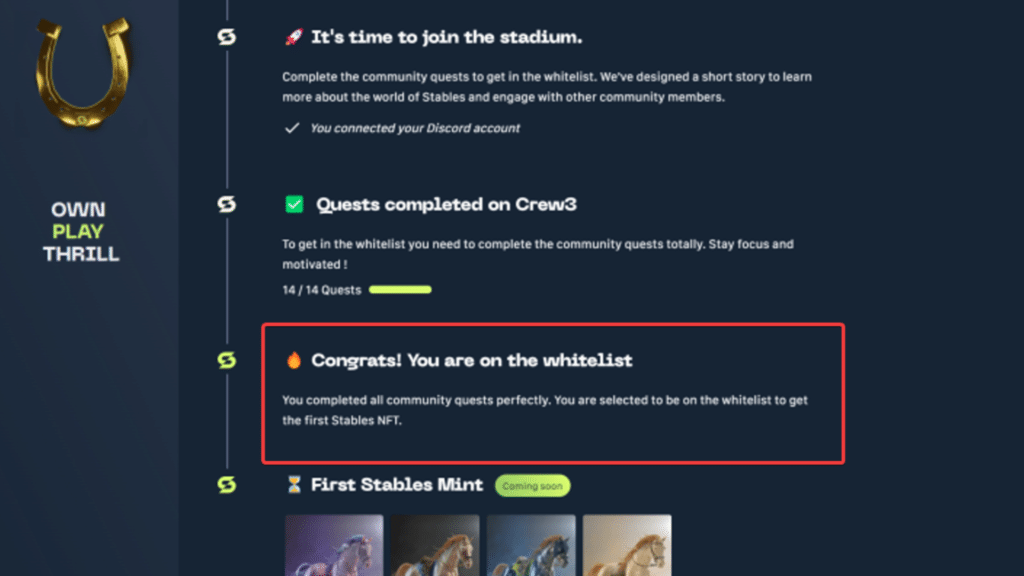 After completing these famous quests, you will then get your white listthus becoming eligible for the purchase of Stable NFTs during the mint of March 27. These will be available for 99 € on the blockchain Tezos (the price in XTZ corresponding to €99 will be revealed a few days before the mint). Note that to mint your NFT, you will need to have a wallet compatible with the Tezos network (Spire, Temple Wallet, Galleon, etc.).
To reward "early adopters", all NFTs will have the same distribution rate during the min. In addition, the NFTs released during this first phase will come with a particularly high rarity. You guessed it, being one of these first holders will give you many advantages for the rest of the Stables adventure.
A promising roadmap
Once the first phase of mint is over, expect things to pick up speed at stable. The project plans to publish the Fantasy Game sound beta during the second quarter of 2023.
NFT Holders stable will thus be able to take part in the first equestrian tournaments and receive rewards, at least for the most successful among them!
At the same time, Stables will publish new rarity criteria for his digital racehorses. In addition, the project plans to expand internationally by posting NFTs related to brand new breeds of horses.
Also expect a multitude exclusive events related to the horse racing world, in which only NFT holders will be able to participate and thus live unique experiences.
Finally, through its expertise, passion and determination, the team behind Stables has all the necessary assets to deliver an innovative experience within the ecosystem. Be sure to keep an eye on their social networks (Twitter & Discord) to stay informed of the latest news and information about them.
Disclaimer: As a media specializing in the popularization and education around crypto currencies, it is not our role to tell you whether or not to buy an NFT or a cryptocurrency, it is important that you do your own research on the project in order to identify whether or not you see fit to invest. Be careful and only invest what you are ready to lose.
Links to follow the Stables project

 Subscription to the Whitelist Stables

 Twitter

 Discord
The article Stables – The horse racing fantasy game launches its NFT collection on March 27 appeared first on Corner Academy