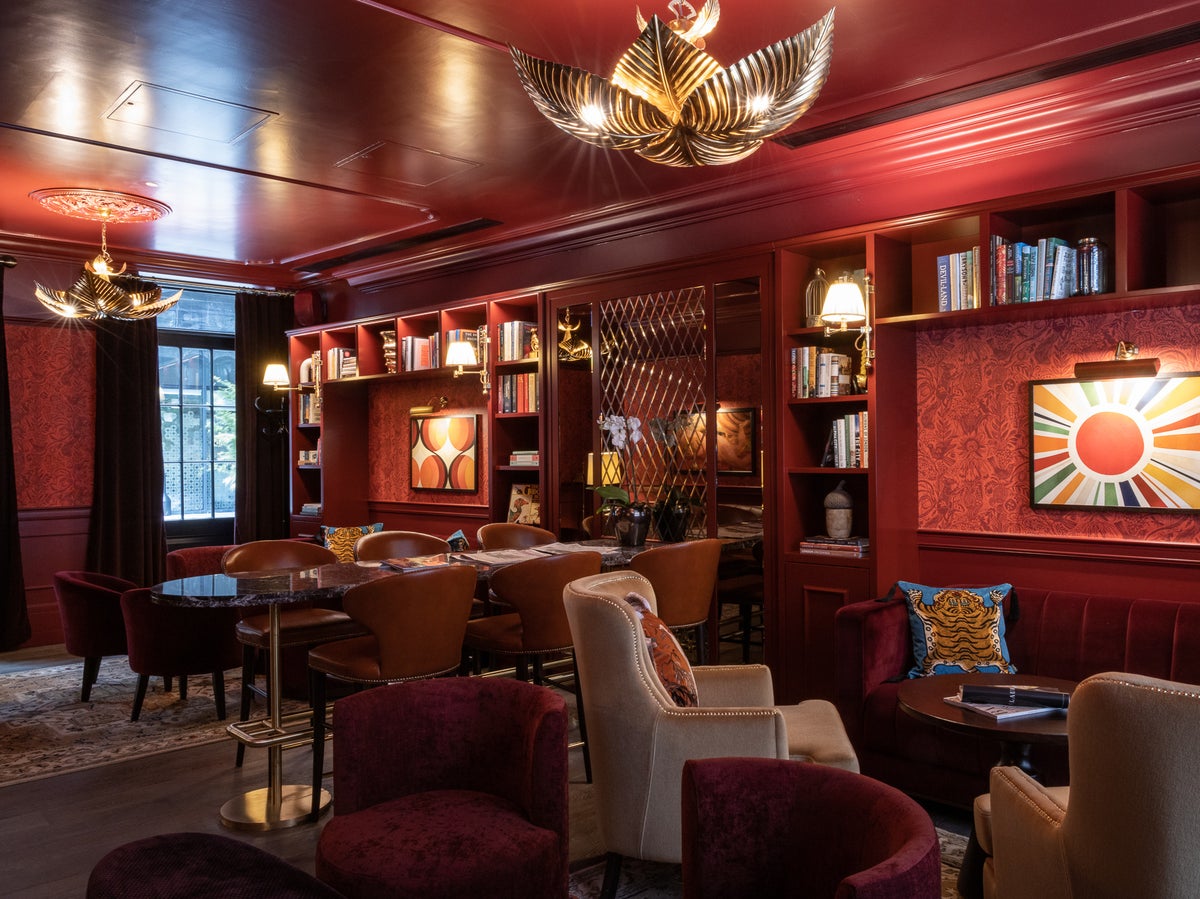 In a nutshell: On the edge of London's Square Mile, Sun Street is a new five-star hotel that brings a welcome injection of boutique luxe to an area more known for its corporate skyscrapers. Forget stark, white minimalism; decadent design here is all richly patterned wallpaper, velvet sofas and Victoriana-inspired artwork.
The neighborhood
Sun Street Hotel is located, you guessed it, on Sun Street – right on the northern border of London's Square Mile. Also known as the City, this famous area of ​​the UK capital is the core of the financial district, home to bankers, traders and all number of corporate businesses. But, stretching south to the Thames, east to Tower Hill, north to Barbican and west to Holborn, there's plenty within its confines that's not all about the Suits: including St Paul's Cathedral, Leadenhall Market and the buzzy food and drink scene around Liverpool Street . Which is why it's a boon to have a luxe new design-focused accommodation option in the neighbourhood, a stone's throw from Moorgate and Liverpool Street stations – a welcome escape from the FTSE 100 talk at shiny nearby All Bar One-esque spots. A short stroll north from Sun Street also brings you to the cooler crowds of Old Street and Shoreditch, with plentiful drinking, dining and doing options.
The vibe
The hotel manages to feel discreetly tucked away from the hustle of nearby Liverpool Street station, thanks in part to it being housed inside six Georgian houses (the work of architect George Dance the Younger in the 1800s).
Much of the hotel's ground-floor is dedicated to a sumptuously designed, multi-roomed lobby area, just begging to be relaxed in. Forget stark minimalism or modernism – decor conjures up an image of reclining in an extremely chic, rich Victorian gentlemen's (or women's) club, with playful, exotic touches inspired by the Malaysian roots of the company that redeveloped the building. Think boldly patterned wallpaper, brown leather sofas and burgundy velvet curtains in one room; mismatching jade and sage-green chairs, antique trunks and jungle-print cushions in another. One end morphs into a stylish cocktail bar of an evening; with its perfectly judged mood lighting and subtle soundtrack, it makes a welcome change to many of the nearby noisy, chrome-dominated watering holes.
Service perhaps betrays the fact that Sun Street is still finding its feet – everyone from the tophat-adorned doorman to the receptionist to the waiters is just a little too overly eager to help you, in a way that can feel slightly over the top. But better this than surly, uninterested staff, one could argue.
bed and bath
The hotel has 41 bedrooms, including six suites and 35 loft, king and superior bedrooms. Suites feel properly luxurious, with an entrance hallway and completely separate living room, but all room types are decked out with king beds and decadent-feeling design features courtesy of interiors firm Bowler James Brindley. It makes a nice change to the growing number of high-end hotels where all the grandeur and fun is reserved for the lobby, while rooms devoid of personality play it safe in a million shades of neutral. At Sun Street, rich colors and textures aren't shied away from; my room features intricately patterned wallpaper in deep maroon, scarlet velvet chairs and sofa and an oversized red bed headboard, plus walls busy with Victoriana-kitsch pieces: coats of arms, stiff-looking portraits, oversized framed playing cards with strange and dreamlike designs.
The bathroom continues the theme, with burgundy metro-tiles adorning the walk-in rainforest shower and a huge white marble sink. Full-sized toiletries come courtesy of prestige London brand Penhaligon's; a discreet sign tells guests they're free to take these away if they like, plus their in-room bathrobe, and the charge will simply be added to their room.
Read more on London hotels:
food and drink
The in-house restaurant offers a pared-back, sophisticated menu, courtesy of chef Stuart Cauldwell, previously known for his work at Borough Market's Roast Restaurant. Classic cuisine uses local (UK) produce: ChalkStream trout, Dorset lobster, and grass-fed Hereford sirloin steak, for instance. My starter of omelette 'Arnold Bennett' is melt-in-the-mouth, oozing melted cheese and flaking smoked haddock, while sole goujons with Koffman's fries and pea puree is an elegant, elevated version of a comfort food staple. The sticky date pudding is proper, stick-to-your-ribs stuff – just the way it should be. It isn't too terrifyingly expensive a menu for a five-star either: mains start at £20, desserts at £8.
Meanwhile, the bar in the lobby serves up bar bites, such as padron peppers and sweet miso, fish tacos with wasabi mayonnaise, a crispy chicken rendang burger with kimchi and pickles, and popcorn shrimp, alongside wines, spirits, beers and a strong, unusual cocktail list. The hotel's signature sip is the Mata Hari, based on the popular Malaysian cocktail the Jungle Bird: Sapling Vodka-infused rosemary milk punch.
The Orangery is where breakfast is served, with the option of a Continental buffet consisting of pastries, banana bread, cereals and vegan overnight oats, or a la carte dishes ranging from French toast to baked eggs and a stripped back full English. Here, I felt a little let down for the first time: the danish cinnamon I tried was more stale than rich and buttery, the banana bread dry, and the avocado with poached egg on rye curiously flavorless. It's also on the spendy side, with the buffet costing £14.50 and smoked salmon and scrambled eggs priced at £18.
Public areas
The aforementioned lobby splits into various sections: the Library, decked out with, what else?, books; the Club Room, upholstered in varying shades of rust-red; the sophisticated green-blue Bar area, where you can pull up a stool and chat to the bartender or settle on a high-backed armchair or sofa; and the glass-roofed Orangery, where breakfast is served in light, airy surroundings. There's also the hidden Sun Deck on the third floor, which overlooks the hotel's courtyard.
Nuts and bolts
Room count: 41 rooms: six suites and 35 rooms.
Freebies: Illy coffee machine.
Wireless: Free.
Disability access: Five rooms are fully accessible.
Pet policy: Guests must notify the hotel in advance if they wish to bring a pet, disclosing the breed and weight (maximum 20kg). A fee of £50 for all room categories per night applies.
Bottom line
Best thing: The sprawling lobby: the perfect balance of comfy-cosy and gothic glam makes it a delight to hang out in.
Worst thing: The breakfast was a bit of a let-down considering the high standards everywhere else.
Perfect for: A spoil-yourself, romantic stay in a hard-to-beat location for accessing central and east London attractions.
Not right for: Business travelers who just want somewhere harmless to lay their head.
Instagram from: The lift: the design doesn't stop here, with quirky wallpaper depicting griffins, winged serpents and other mythical beasts in bold splashes of green, turquoise and gold.
More information: sunstreethotel.com
Rooms available from{{#price}}{{price}}per night{{/price}}{{^price}}Check availability for dates and prices{{/price}}
{{#amenities}}
{{#amenities.foodDrink.length}}

{{#amenities.foodDrink}}
{{.}}

{{/amenities.foodDrink}}

{{/amenities.foodDrink.length}}{{#amenities.internet.length}}

Internet

Please check hotel for more information on amenities

{{#amenities.internet}}
{{.}}

{{/amenities.internet}}

{{/amenities.internet.length}}{{#amenities.services.length}}

{{#amenities.services}}
{{.}}

{{/amenities.services}}

{{/amenities.services.length}}{{#amenities.parking.length}}

Car park

Please check hotel for more information on amenities

{{#amenities.parking}}
{{.}}

{{/amenities.parking}}

{{/amenities.parking.length}}{{#amenities.health.length}}

{{#amenities.health}}
{{.}}

{{/amenities.health}}

{{/amenities.health.length}}
{{/amenities}}