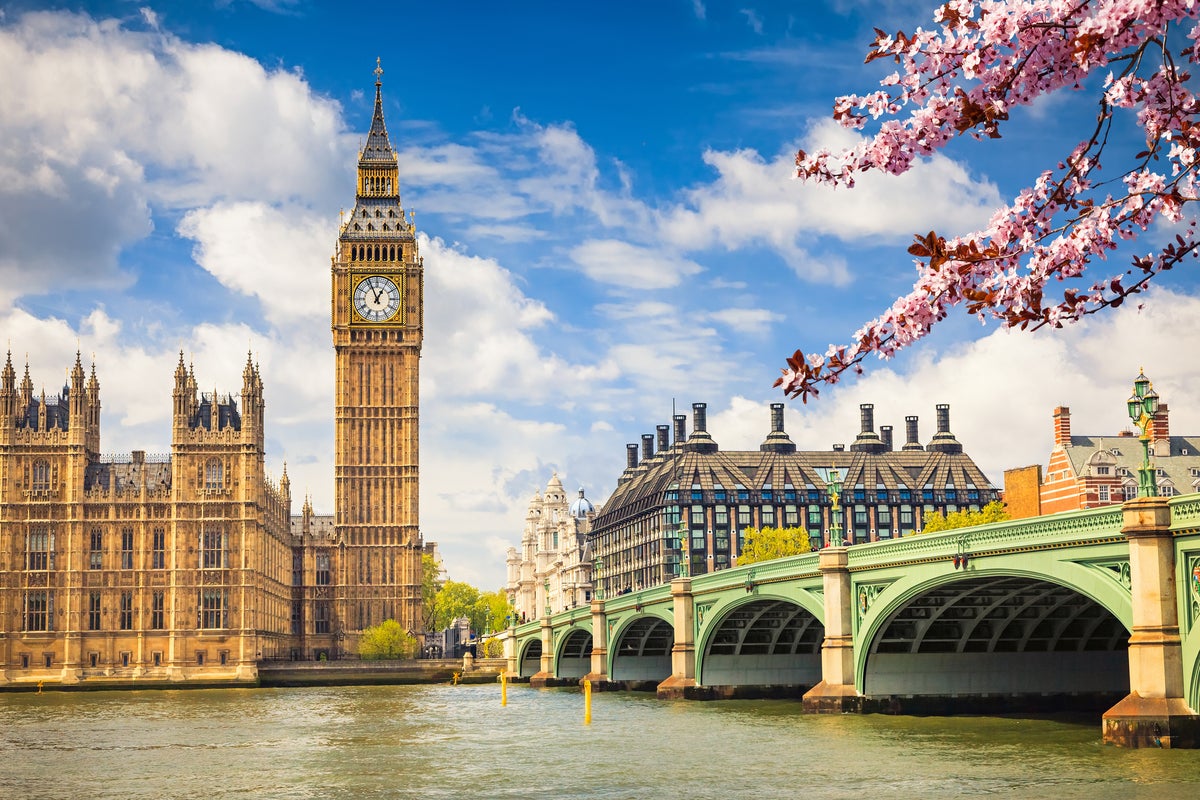 Spring in London is full of excitement and anticipation. Tea weather's starting to warm up, the days are getting longer, and blooming trees are scattering pink and white confetti on pavements and in parks.
From April onwards, we can start to enjoy a drink on the terraces or roofs of London's best pubs and bars without our lips turning blue. It's an ideal time to soak up some of the city's cultural attractions before they become rammed with tourists in the summer. And if you're looking for the best food, you'll be spoiled for choice by both open-air food markets and the fresh, seasonal produce served up at the capital's world-beating restaurants.
You don't even need to spend any money to enjoy London in the spring. Most of the city's galleries and museums are free to enter, and you can stay inside for as long as you like. Then there are 5,000 acres of historic parkland to explore in London's eight royal parks; from Richmond Park to Regent's Park, you're never too far from a park that's big enough to get lost in.
Here are 10 of the best activities to tick off your London to-do list in spring.
Walk the wobbly bridge
The Millenium Bridge, which spans the Thames from Tate Modern to St. Paul's Cathedral, is known as the "wobbly bridge" as it swayed in the wind when it first opened in 2000. It no longer moves but what you see while walking it will pull at your heartstrings and make you fall in love with London, espcecially on a sunny day. Start on the south side and you'll see the magnificent dome of St Paul's Cathedral slowly come into view. You'll find several blooming cherry blossom trees scattered in St Paul's Churchyard between the end of March and mid May, giving the historic building a stunning floral frame.
Price: Free
Read more on london travel:
Swim outside in Hampstead
Hampstead Heath is home to swimming ponds and pools that are open all year round. If you haven't done much outdoor swimming before, you might want to dip your toe in by visiting Parliament Hill Lido, which is an unheated 60m pool with a lifeguard. By April, the water starts to warm up and become more enjoyable to swim in – rather than just purely good for you. You can simply rock up without booking in advance, and entry is a reasonable £4.50. If you get the bug, you can ask about joining the men's pond, ladies' pond or mixed pond.
Price: £4.50, Parliament Hill Lido
Grab a bite in Brixton
Brixton comes alive when the sun is shining. Easy to reach on the Victoria line, it's worth heading south to sample a variety of differnt cuisines, which somehow tastes fresher when eaten outside. Pop Brixton is a colorful cluster of shipping containers transformed into a gastronomic wonderland, incorporating countless different restaurants and stalls.
Price: Depends on what you eat or drink, Pop Brixton
Cruise the canal
See London from a different angle by taking a trip on a narrow boat down Regent's Channel, from Camden Market to Little Venice. The route takes 45 minutes, passing through the grounds of London Zoo – where you should be able to see wolves and African warthogs without paying for a zoo entry fee. You'll also float through the echoey depths of the Madia Hill Tunnel. Each boat has large slide-to-open windows, so everyone gets a view (and ventilation).
Price: £11, London Waterbus Company
Smell the flowers in bloom at Kew
Vivid blooming flowers, unfurling green leaves and the melodious sound of birdsong are all part of a visit to Kew Gardens in south-west London. Spring is sakura season, so you can stroll down a path of Japanese cherry blossom trees if you visit before mid-May. It's also the best time to see spectacular bluebells, that only come out between April and mid-May. Don't forget a camera.
Price: Adults £19, children £5.50, Kew Gardens
Boating on the Serpentine
Spending time on the water is a great way to relax. Hiring a pedalo and drifting around Hyde Park's Serpentine lake allows you to slow down, take in nature and have some fun. It's a great place for people watching, and you'll be surprised how quickly the hours slip away. Everyone is given a life jacket and it's safe for children above the age of three.
Price: Adults £12, children £6, royal parks
Enjoy a riverside pint
The Ship is a Wandsworth institution, and has the best beer garden in London, according to Tripadvisor. The huge Thameside terrace is the place to be when it's sunny. All the biggest rugby matches are shown, there's a quiz every Tuesday evening, and DJs fill the place with music every Saturday night. Foodies are drawn in by its famous hearty brunches.
Price: Pints ​​from £5, The Ship
Aladdin Sane at Southbank Center
This year marks the 50th anniversary since the release of david bowie's iconic 1973 album Aladdin Sane. A two-month exhibition in the Royal Festival Hall explores the creation of the album's iconic artwork, which features the lightning flash portrait of the musician by photographer Brian Duffy. The London exhibition has actually been curated by the photographer's son, Chris Duffy, and Geoff Marsh. As well as showcasing the vibrant music scene of the 70s to contextualize when Duffy and Bowie first met, the show looks at the relationship between the two, as well as the January 1973 photoshoot which culminated in the famous cover.
Price: £5, Southbank Center
See super cars at the Brentford riviera
Combining super cars, classic cars and cake, it's well worth taking a trip to Brentford for this fabulous car meet-up on 21 May. In aid of Cocoon, a charity for young people leaving the care system, classic car owners from across the UK converge near the canal and show off their motors to the public. If it's a sunny day, stay on and enjoy an al fresco pint at The Brewery Tap pub, Tex-Mex from D Grande, or award-winning Napoli Santa Maria pizza.
Price: £2, Duke of London
Blow your mind with Thin Air
When was the last time you traveled on the DLR? Getting to Beams is an experience in itself if you take the driverless train to Pontoon Dock. What's waiting for you is mesmerizing. Thin Air explores the hidden complexities that shape the world we live in. Using digital technology and large-scale installations, the exhibition runs to 4 June 2023.
Taking advantage of over 55,000 square feet of vast interconnecting environments, it brings together works by seven global contemporary artists and collectives to explore the boundaries between art and technology, working with light, atmospherics, sound and experimental new media.
Price: £25, beams
Read more on the best hotels in London