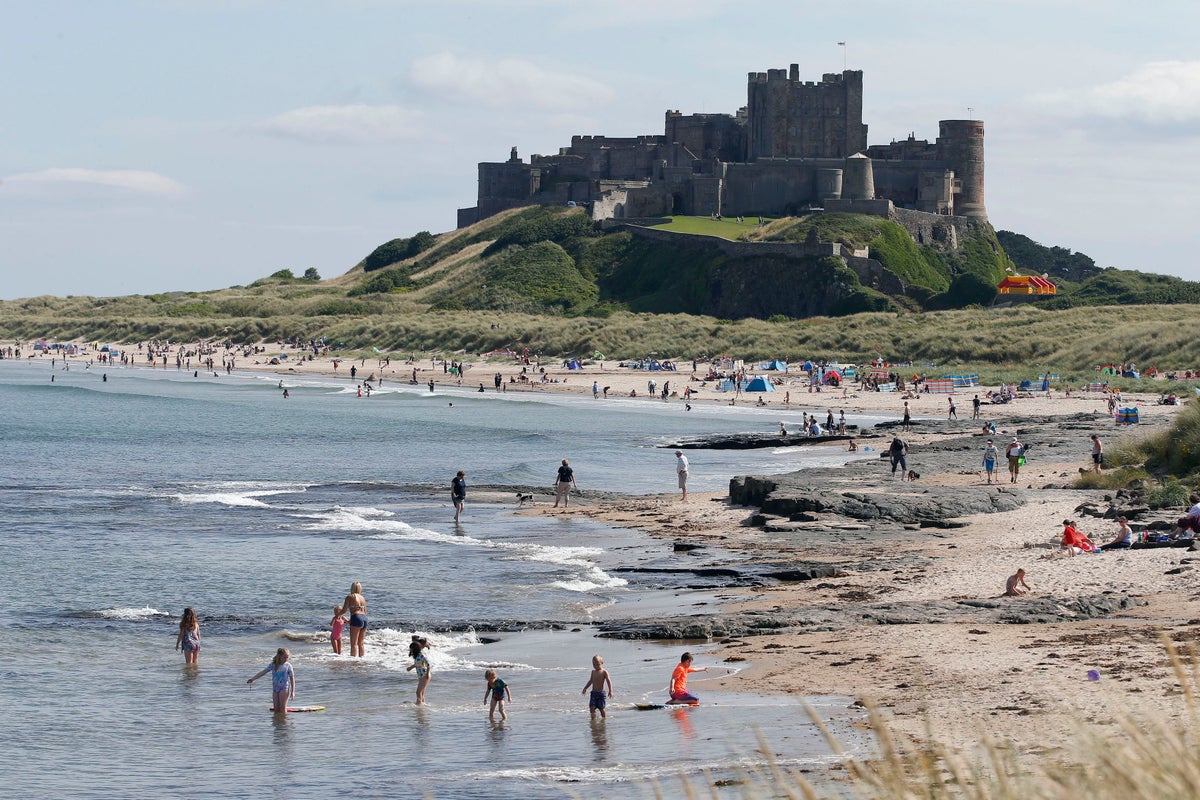 Bamburgh has been named as the UK's favorite seaside town in a recent survey conducted by Which?.
The small village, located on the Northumberland coast, topped the charts for the third year running.
Visitors were asked to rate destinations on the quality of the beaches, food and drink offerings, attractions and value for money. According to Which?the results show that "it's rarely the most famous destinations that visitors enjoy most".
Bamburgh's overall score was 88 per cent, with five stars awarded for its scenery, beach quality and peace and quiet.
The consumer champion asked over 3,000 people to rate their experiences of visiting seaside towns over the last year.
In second place was the most widely known seaside resort of Dartmouth. The popular Devon location received an overall score of 85, along with five stars for its scenery and accommodation and four for its shopping, seafront and attractions.
Portstewart makes his debut on the list in third with a score of 84 per cent. The small town in County Derry was praised for its "fantastic beach" and the wealth of tourist attractions.
Other towns included Portmeirion (Wales), St Andrews (Scotland) and Tynemouth (Tyne and Wear), all tied in fourth place with a score of 83.
At the bottom of the list came Clacton-on-Sea and Skegness – given scores of 48 – while Bangor and Burnham-on-Sea received a score of 49 per cent.
These towns received praise for "lovely" seafront gardens (Clacton), "fabulous views" (Bangor) and "old-fashioned charm" and entertainment for children (Skegness).
Top 10 seaside towns
Bamburgh, Northumberland, England
Bamburgh is "a location steeped in history", says Which?, with "stunning sandy shoreline" overlooked by the ruins of its ancient castle. One respondent commended the "super-soft sand" and the fact that there is "plenty of space". The Northumberland town also received five stars for value for money and accommodation.
Dartmouth, Devon, England
Dartmouth was praised for its "atmosphere and vibrance" in the survey. Perhaps the most well-known entry in the top 10, the town was only held back from top place by its rating for value for money and peace and quiet, although it still received a respectable three stars for both.
Read more on UK travel:
Portstewart, Derry, Northern Ireland
Which? praises Portstewart's "broad sandy beaches" and "attractive harbor and promenade" as well as the town's several tourist attractions, including a "championship golf course". The survey also mentions a "fantastic beach" and an impressive selection of cafes "selling home-style baking".
Portmeirion, Gwynedd, Wales
This 'flight-free slice of Italy' in northern Wales was noted for its "quirky appeal", colorful buildings and visitors' "magical" experiences when visiting. Designed and constructed over a 50-year period from 1925 to 1975, the town was awarded four stars for its scenery and five for its seafront and tourist attractions.
St. Andrews, Fife, Scotland
With five stars for tourist attractions, shopping, food and drink and beaches, St. Andrews is the UK's favorite Scottish seaside resort. Most known for its university and as being the home of golf, the area has many first-rate golf courses to add to its clearly excellent beaches.
Tynemouth, Tyne and Wear, England
Located just eight miles from Newcastle, Tynemouth is a popular northern seaside destination. Aided by its own priority and castle, the scenery and tourist attractions were given four stars. The seafront, value for money and food and drink were given the same rating, although peace and quiet came in at three stars.
Southwold, Suffolk, England
Part of the Suffolk Heritage Coast, Southwold has a 623ft pier to add to its colorful promenade. Unsurprisingly, the town ranked highly for seafront and scenery with five and four stars respectively. Almost everything else was rated four stars (other than value for money, which came in at three).
Aldeburgh, Suffolk, England
Another Suffolk entry, Aldeburgh is located just 30 minutes south of Southwold. Home to Benjamin Britten (and a music festival created by him and other musicians), it was the only town in the top 10 other than Bamburgh to score five stars for peace and quiet. It was also given five stars for its food and drink offerings and four for its beaches, seafront and scenery.
St. David's, Pembrokeshire, Wales
Tea smallest city in the UK was restored to city status in 1994 at the request of the late Queen Elizabeth II. Named after Wales' patron saint, St David's is his resting place and features a purple sandstone cathedral, as well as several picturesque beaches, including Whitesands and Caerfai. These factors no doubt contributed to the city receiving a rating of four stars for beaches, scenery and attractions.
Tobermory, Isle of Mull, Scotland
The main town on the Isle of Mull, Tobermory was built as a fishing port in 1788. Legend has it that a ship from the Spanish Armada sunk in the bay in 1588, although the town's most recent claim to fame is being the setting for the CBeebies show Balamory. Unsurprisingly, the town's best score was for its scenery, which respondents gave four stars.
Read more of our reviews of the best UK hotels