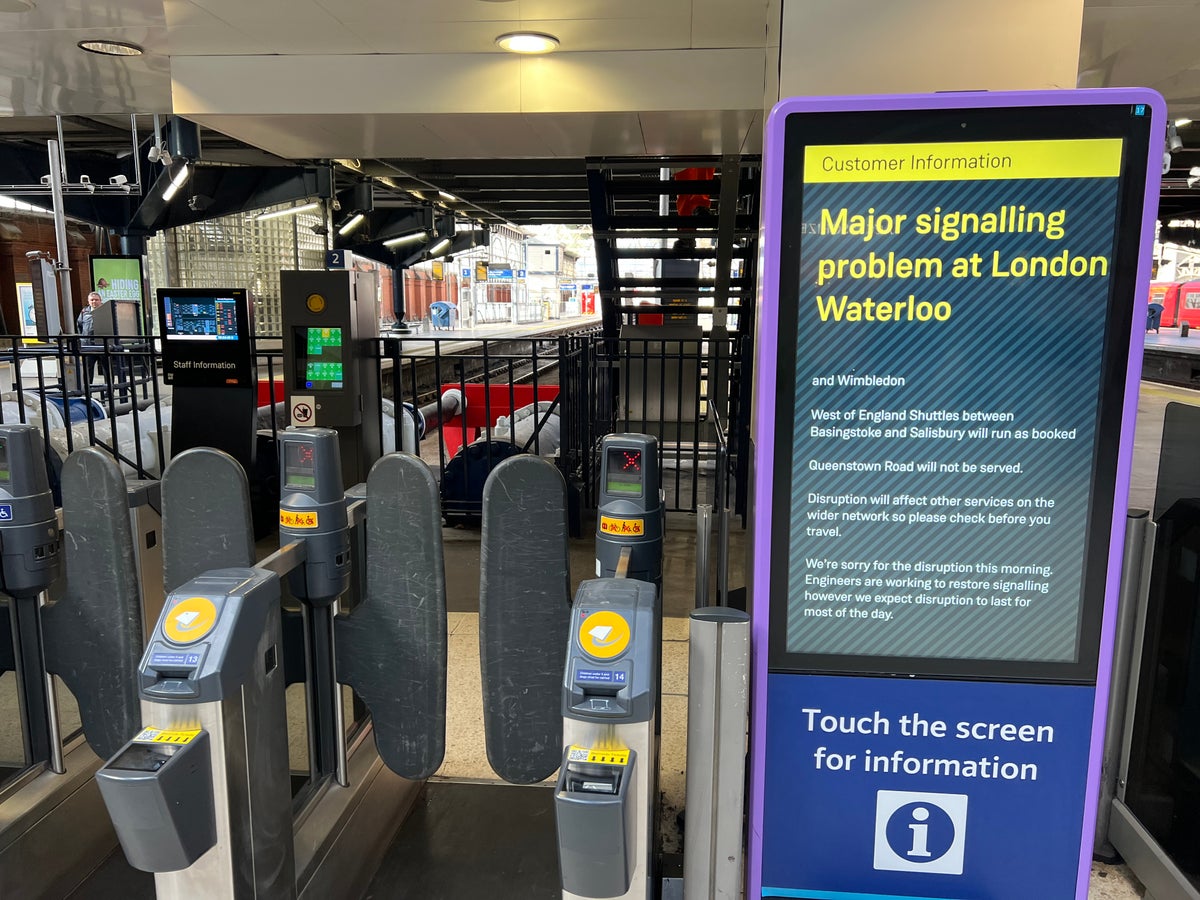 The easiest gig in journalism: writing about how rubbish are the railways in Britain.
Most people are not regular train travellers, and a good few seem to take vicarious pleasure in reading about the misfortunes of those of us who rely on rail. It fits the prevailing narrative that the country is going to the dogs: what more proof do you need beyond evidence that traveling around the country by train is terrifyingly expensive and fundamentally unpredictable?
Now, leaked documents seen by The Independent show that Network Rail has privately admitted that it does not have enough money to continue running the tracks at their current standard, as it battles with rising costs, crumbling infrastructure and the effects of the climate crisis.
Train companies and railway staff extract a remarkable level of performance from our creaking Victorian network, but the signs of physical strain on its infrastructure are already starting to appear – and according to Network Rail's own predictions, it's just going to get worse.
All this comes after a frustrating 10 months for rail passengers, who have been unable to look forward to journeys more than two weeks ahead without the possibility of strikes thwarting their plans.
That long and bitter dispute between the RMT union and the train operators contracted by the government may now be approaching its endgame: an improved offer is being considered by the leadership. Yet even when the RMT and the drivers' union finally settle, bunting will be in short supply, because of the decrepit state of the industry – from toxic industrial relations to the points and signals on the network.
Trans Pennine Express blames "higher-than-normal sickness levels" for its inability to run the planned timetable, necessitating many planned cancellations. Yet the train operator is also canceling many trains on the day. A Monday-evening departure from Manchester Airport via Leeds to York was one of dozens of trains axed at less than 24 hours' notice on 17 April "due to a short-notice change to the timetable".
Unions and passengers will chorus: "Then get more staff." TransPennine Express points to its "training backlog as a direct result of Covid". A much broader direct result of Covid is the collapse in revenue. The UK, like other European countries, has long subsidized many rail services as a social and economic benefit. But changes in travel patterns since the pandemic have triggered what appears to be a permanent additional annual shortfall of £2bn.
Previously the government could rely on season-ticket sales to commuters in Woking, Winchester and Weymouth traveling to Britain's busiest rail station, London Waterloo, to underpin the rail industry's finances. The pandemic accelerated an existing trend towards hybrid working, with staff happy and more productive when they didn't have to rely on South Western Railway five days a week.
The train operator, in turn, has to rely on Network Rail to provide infrastructure that works. On Thursday 13 April, it didn't. "Do not travel" was the message to commuters attempting to reach Waterloo station – ironically the London HQ for Network Rail – when a signal failed.
After hundreds of trains were canceled and tens of thousands of journeys abandoned, the fault was traced to a 610-metre power cable outside Waterloo station. The system was installed in the 1970s, when the railways appeared to be in long-term decline. It desperately needs to be modernised, and the price of unreliability is punitive.
The cancellation of almost the entire morning rush hour at Waterloo cost around £1m in lost revenue – with much greater losses across the capital's economy, from a dentist in London SE1 who had to cancel all her appointments to pubs and restaurants who saw far fewer customers for the now-customary Thursday-evening celebrations.
The longer-term cost of the shutdown is more alarming, feeding the perception that only a fool would rely upon the railway.
Planned engineering works are a nuisance but necessary. Unplanned repairs – such as the sudden two-month closure of a viaduct over the Thames in Oxfordshire – are extraordinarily disruptive.
Travelers crave reliability. Network Rail knows what needs to be done to reduce the frequency with which the big red button marked "Do Not Travel" is pushed. But with ministers understandably reluctant to keep pouring public money into a system with a poor reputation, the hunger for investment will be increasingly unsatisfied.
The railway has appeared to be locked in a spiral of managed decline before. With staff, bosses and government aligned, the system could recover again, and thrive by satisfying existing customers and attracting new ones.
Rail's twin attributes – providing clean and efficient intercity travel while boosting local connections for the nation's social and economic benefit – are needed more than ever.
For now, though, rail is providing commentators with all the ammunition they need to ridicule the state of the industry that built modern Britain.