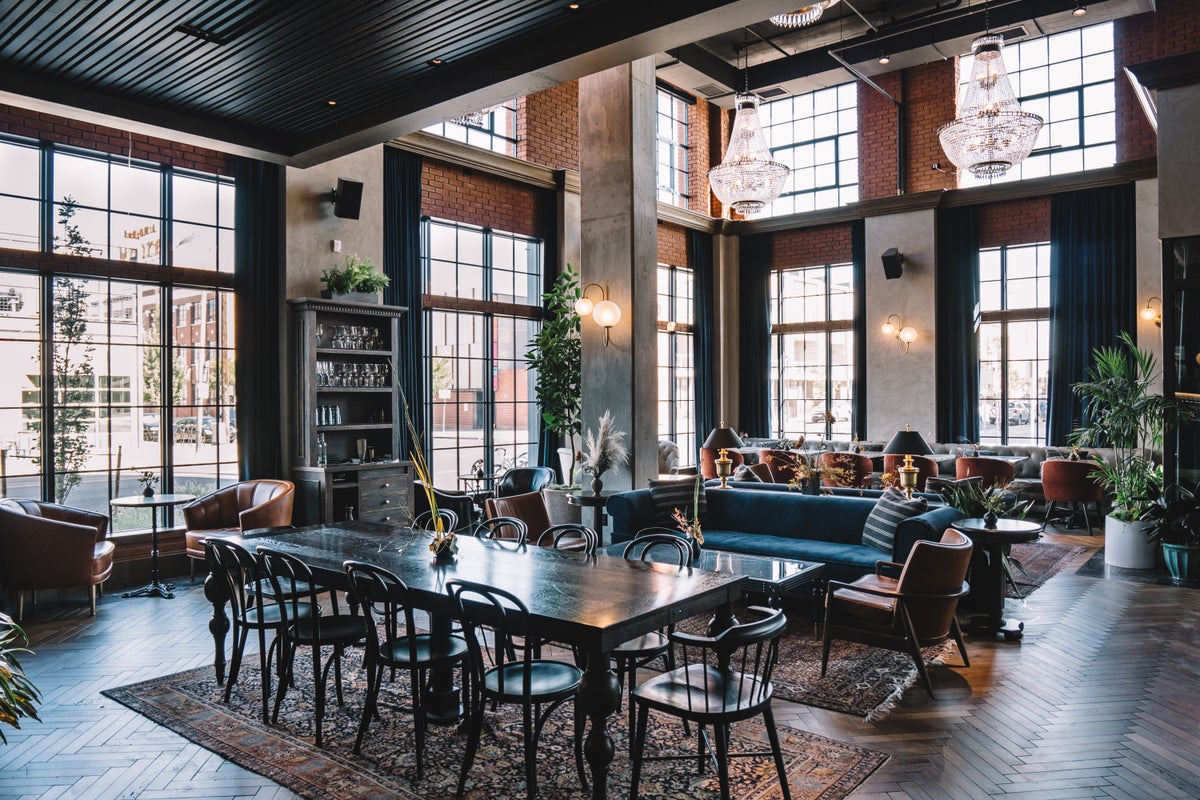 In a nutshell: Opulent yet trendy design meets renowned bar scene at this chic boutique hotel set in Denver's artsy neighborhood
The neighborhood
To put it simply, RiNo (River North Art District) is denver's hipster paradise. Once a busy industrial area of ​​warehouses and factories, today the trendy neighborhood is a haven of vibrant street art, microbreweries, craft cocktail bars, live-music venues and food halls, all conveniently located roughly within a one-mile radius. But don't be fooled by its size. It's easy to lose days just perusing the local art galleries and huge mural walls, sampling food from the late-night trucks and brewery-hopping to try the seemingly endless offerings of local beers. That's not to say the area isn't also the perfect location for first-timers to the Mile High City. With the hotel located just north of Downtown Denver (within a five-minute drive), visitors can be right in the heart of the city in no time, watching the Rockies play at the Coors Field stadium, enjoying a bit of retail therapy in Larimer Square or visiting transport hub Union Station. We took advantage of Denver's climate (it boasts 300 days of sunshine a year) and the great local food spots RiNo has to offer during a leisurely 20-minute stroll – while armed with a flat white and crafted mochi donut – from The Ramble Hotel into the downtown area.
The vibe
Located just over the road from the now-converted Benjamin Moore Paint factory, The Ramble was the first hotel to open in the artsy RiNo neighborhood, back in 2018. The hotel's exterior is designed to fit in with the old warehouses and industrial architecture of the area, but step inside and you're met with a boutique hotel with a difference. Checking in for a stay is more like being welcomed by your host for a drinks reservation at the latest "it bar" in town. And that's because, well, you sort of are. The lobby area doubles up as the Death & Co bar (more about this later), giving the whole place an instant feel of a private members' club – only without the pretentiousness. Plush velvet sofas in jewel tones are scattered around, tan-leather armchairs are willing you to kick back, while chandeliers sparkle understatedly overhead. It's the kind of comforting but luxurious vibe you want to recreate in the lounge of your forever home – but that you know you could never quite manage to pull off.
Friendly, attentive hotel staff are there to greet you behind an on-brand leather desk, seamlessly checking you in while also catering to your drinks reservations for that evening. All in all, it's opulent without being posh; luxurious while staying relaxed; modern and trendy but classic: an ideal choice for a getaway for a couple or group of friends looking for a mix of both exploring the artsy scene and staying in to enjoy all that the hotel has to offer.
Read more of our US hotel reviews
bed and bath
Like the communal spaces, the rooms have also been given that understated but opulent lounge vibe. With rich blue paneled walls, hickory flooring, hand-picked antique Persian rugs and brass accents, you wake up forgetting you're staying in a hotel. We stayed in the Juliette Suite, which was bright and airy thanks to not one but two sets of sliding French doors leading to Juliette balconies and overlooking the interior courtyard below. With a homey reading room area featuring custom-made Denver furniture and a Bluetooth gramophone speaker, as well as the old-world charm bathroom with its large step-in shower and vintage-style vanity area, a cozy night in will likely appeal. The devil really is in the detail, all the way down to the custom tan-leather room key, the curated mini bar from Death & Co, French press coffee maker with freshly ground beans from a local roaster, and Rosemary Mint bath products.
food and drink
By day, DC/AM is a relaxing breakfast and lunch spot serving barista coffee and brunch classics with a twist, such as the breakfast bison burrito – a must-try meat during any stay in Colorado. Expect to see locals and young professionals busy working away on their Apple Macbooks.
By night, it's clear this is the place to be – regardless of whether or not you're staying at the hotel. After all, Death & Co is so much more than a hotel bar. The renowned cocktail institution first opened its doors in New York's East Village in 2006, soon earning the title of one of the 50 best bars in the US. So it's unsurprising that the second outpost, in the heart of The Ramble Hotel, has also made its mark as a leader in the craft cocktail movement. In fact, the bar was the buzziest place in the neighborhood on an otherwise quiet Monday night. The cocktails – we'd highly recommend the Wizard in Black – lived up to the hype, with unique, expertly crafted takes on classics.
We were lucky enough to also try the innovative Neuro Nightcap, an immersive experience born out of a collaboration between Death & Co and the Theater of the Mind. Imagine a mind-bending, sensory DIY cocktail experience-slash-adults-only science experiment, all from the comfort of your suite while relaxing in plush spa-grade robes and listening to a custom-made playlist from Talking Heads frontman David Byrne.
The bar is always finding ways to stay fresh and exciting – to mark the fifth anniversary of The Ramble Hotel and Death & Co Denver in May, the bar will undergo a redesign and launch its Cocktail Cart to bring Death & Co cocktails (along with a talented bartender) directly to the hotel's guestrooms.
Beyond Death & Co, there's also lively Pan-Latin restaurant Super Mega Bien to check out, serving up dim-sum-style dishes from James Beard Award-nominated chef Dana Rodriguez. Hotel guests get priority for all food and drink reservations, so be sure to make bookings at check-in.
Public areas
On top of the above, there's also an intimate courtyard area, The Garden. With its made-for-Instagram "Wish you were here" neon sign, rope lights and sofa seating, it's a cute, more casual space to kick back in during the warmer months. While this area isn't open year-round (Denver was a little chilly during our stay), we were able to pop out and take that all important snap. For those wanting to keep up the fitness goals while on vacation, there's also a small cardio room, while live-music-lovers can take advantage of the hotel's very own intimate music and theater venue.
Nuts and bolts
Room count: 50
Freebies: French press coffee maker with fresh beans ground daily from Queen City Collective Coffee, access to small 24/7 cardio room, 30-day membership to Gravity Haus, a "social club for the modern adventurer".
Wireless: Free
Extra charges: None
Disability access: Three different accessible room types – the Juliette King, Double Queen and Pied-á-Terre. Common spaces include wide openings, braille signage, and grab bars in public bathrooms.
Pet policy: The Ramble Hotel does not allow pets, except for service animals.
Bottom line
Best thing: The public spaces – from Death & Co to The Garden, it's tempting not to even leave the hotel.
Worst thing: For the price, it's a shame your stay doesn't include breakfast.
Perfect for: Millennials who like a trendy, cool environment – ​​but also the finer things.
Not right for: People looking for a quiet getaway away from the hustle and bustle.
Instagram from: The neon "Wish you were here" sign.
Rooms available from{{#price}}{{price}}per night{{/price}}{{^price}}Check availability for dates and prices{{/price}}
{{#amenities}}
{{#amenities.foodDrink.length}}

{{#amenities.foodDrink}}
{{.}}

{{/amenities.foodDrink}}

{{/amenities.foodDrink.length}}{{#amenities.internet.length}}

Internet

Please check hotel for more information on amenities

{{#amenities.internet}}
{{.}}

{{/amenities.internet}}

{{/amenities.internet.length}}{{#amenities.services.length}}

{{#amenities.services}}
{{.}}

{{/amenities.services}}

{{/amenities.services.length}}{{#amenities.parking.length}}

Car park

Please check hotel for more information on amenities

{{#amenities.parking}}
{{.}}

{{/amenities.parking}}

{{/amenities.parking.length}}{{#amenities.health.length}}

{{#amenities.health}}
{{.}}

{{/amenities.health}}

{{/amenities.health.length}}
{{/amenities}}
Read more about USA travel: