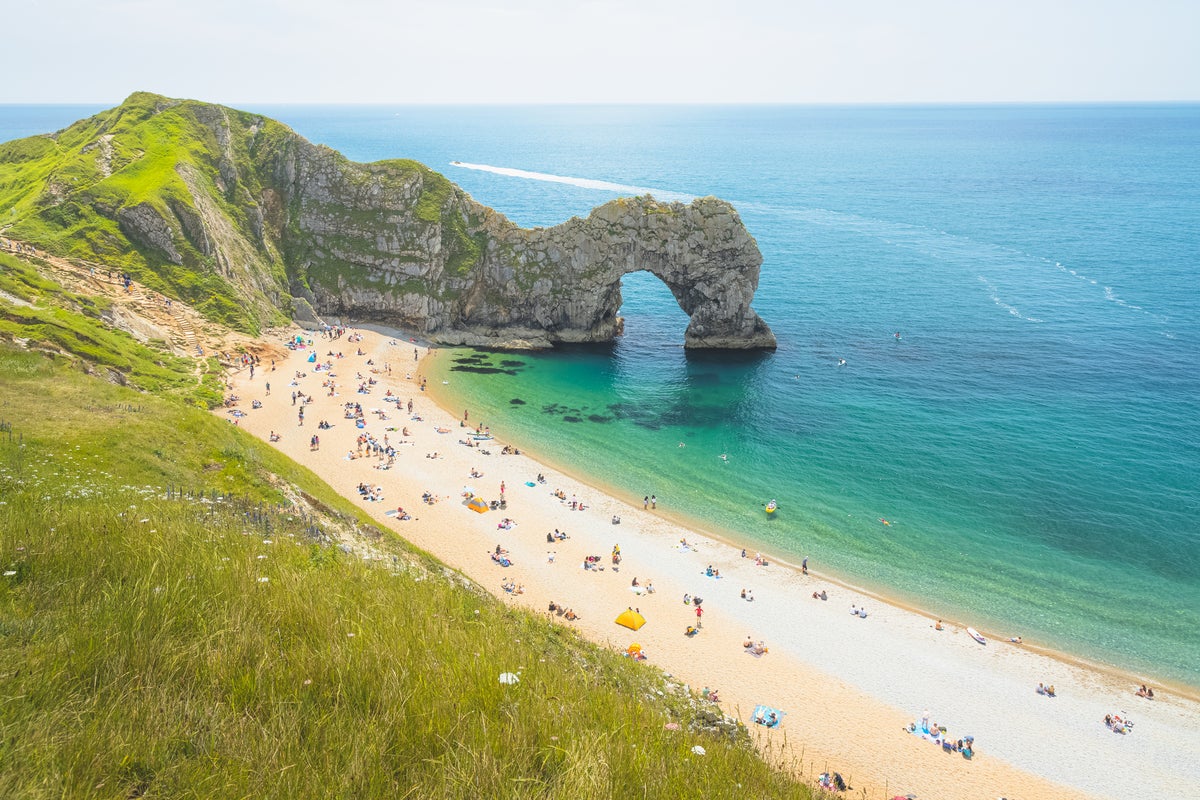 The highest-rated dog-friendly beaches in the UK have been revealed, with new data sourced from online reviews used to find Brits' favourites.
With spring bringing the promise of warmer weather, as well as April being National Pet Monthit's a brilliant time to get out with a four-legged friend.
The top spot went to Durdle Door beach in Dorset, with a dog-friendly score of 8.85 out of 10. It's described as "a perfect seaside getaway for dogs and their owners, the famous limestone arch makes a dreamy backdrop to a game of fetch". The score was based on over 4,298 reviews of the West Country beach.
Another Dorset shoreline spot, Man O'War Beach, cam joint second after scoring 8.3. Also known as East Durdle Doorit's a pebble beach with calm water protected from swells – which means the chance to splash about with your pooch.
It's tied with a haunt on the Welsh coast, Three Cliffs Bay in Glamorgan, the first sand beach on the list. Here the seashore features dunes with plenty of room to roam.
Following in fourth place, with 8.2 out of 10, is Marloes Sands in Pembrokeshire. A stretch of golden beach with a dramatic backdrop of cliffsides, it's "the perfect opportunity to snap a picture with your pup", says the report.
Finishing off the top five is Cuckmere Haven Beach in East Sussex, scoring 8.06. The quiet pebble stretch is neighbor to the white chalk cliffs of the Seven Sisters.
Devon was home to the highest number of dog-friendly beaches on the list, featuring 22 times out of the 148-strong rankings.
Pembrokeshire came in second place with 20 mentions, with Cornwall seeing 14 beaches on the list.
Research cam from Showers to You, which analyzed the Google ratings and reviews for 148 beaches with no dog restrictions to find the most popular destinations. However, beaches that did not have Google Maps ratings and reviews were excluded from the study. A weighted average was calculated in order to attain a weighted overall rating, before a normalized index score was calculated.
The top 10 best dog-friendly beaches in the UK
(Dog-friendly score out of 10)
1. Durdle Door, Dorset: 8.85
=2. Man O'War Beach, Dorset: 8.30
=2. Three Cliffs Bay Glamorgan: 8.30
4. Marloes Sands, Pembrokeshire: 8.20
5. Cuckmere Haven Beach, East Sussex: 8.06
6. Freshwater West, Pembrokeshire: 8.03
7. Seacliff, Lothian: 7.99
8. Porth Joke, cornwall: 7.96
9. Gwynver Beach, Cornwall: 7.93
10. Long Sands North Tynemouth, Tyne and Wear: 7.90