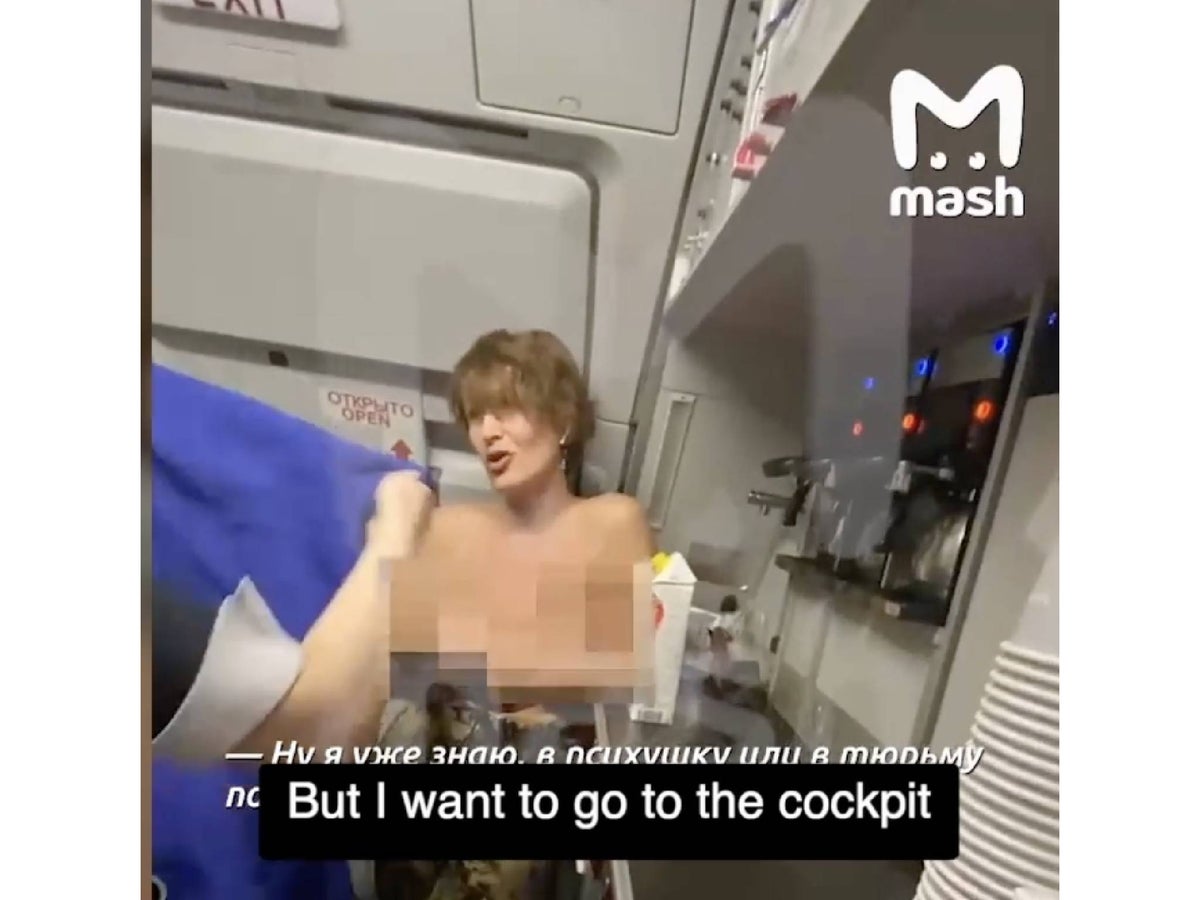 A topless Russian woman requested entry to the cockpit during an Aeroflot flight from Stavropol to Moscow.
Tea incident happened after Anzhelika Moskvitina was spotted smoking in the plane toilet.
It has been widely reported the passenger went to the toilet while the aircraft was experiencing turbulence.
AT video obtained by Russian news site Mash shows the half-naked Ms Anzhelika Moskvitina being told to sit down.
"Lady, take a seat and get dressed," she is instructed, before being asked: "Where are your clothes?"
After Ms Moskvitina appears to ignore the Aeroflot crew member, instead looking at her phone, they say: "Do you understand you're violating the behavior rules on the plane?"
She is subsequently told to respect that there are children onboard.
The video also shows the flight attendant attempting to cover Ms Moskvitina with a blanket, but she refuses and says: "I understand I'll go to the mental hospital or a prison."
"But I want to go to the cockpit," she adds, shaking her head.
Ms Moskvitina was then covered and pinned to the floor,
"Kill me here, but I will smoke," she is heard shouting.
After being told to calm down, staff began trying to restrain her with cable ties, but the footage shows her lash out and bite a crew member.
"Leave me alone," she screams, as the video ends.
The woman was reportedly met by police and detained upon arrival at Moscow Sheremetyevo airport, while the flight attendant received medical treatment.
In a statement shared online, an Aeroflot spokesperson said: "The passenger ignored repeated warnings from the crew and tried to break into the cockpit.
"Due to the passenger's destructive behavior, the aircraft captain decided to use a means of restraint on her.
"Aeroflot emphasizes that this case again proves the urgent need at the legislative level to toughen punishment for rowdy passengers, including creating a single blacklist of destructive passengers for all airlines."
The Independent has contacted Aeroflot for comment.