ATs our Jeep crests the hill we see them, gathering around a nearby waterhole, drinking, grazing, play-fighting. The vast Kruzi plateau stretches before us, edged by the foothills of Mount Cincar, an untamed landscape of scrub and limestone karst in south-west Bosnia and Herzegovina.
"Look, here come more," says Matej, our safari guide, and sure enough a herd of wild horses gallops past, a whirlwind of manes and clattering hooves. Dozens of horses, once used for farming and transport, were set free more than 50 years ago and replaced by machines. Today they number upwards of 700, living in the mountains high above the village of Livno. It's a magical sight, and another surprise on my tour.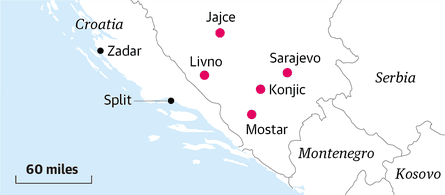 I'd come to the country with tour operator Intrepid and international development agency USAID Turizam, who are working, along with the Resilience Council, to develop sustainable tourism here. A multi-pronged, multimillion-dollar initiative is supporting local businesses and communities to expand what's on offer and encourage visitors to explore rural areas and smaller towns. Today's off-road adventure takes us high up above Glamočko valley – where the views of the Dinaric Alps wow us – and we lunch on local cheese, cured meats and honey grappa in a remote mountain hut.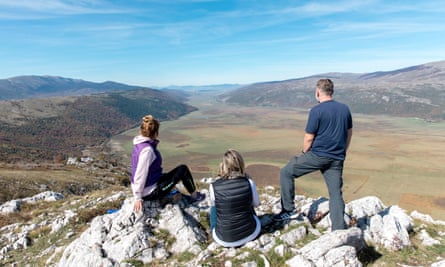 Our trip began two days earlier in Sarajevo – a place that crams in so much history, beauty and heartbreak it can make your head spin. The horrors of the mid-90s – when the city was subjected to the longest siege in modern history during the Bosnian war – cannot be ignored. We tour the streets with Mohammed, who was 10 when war broke out. He points out a "Sarajevo rose", mortar shell marks in the pavement painted red on a spot where 36 people died queuing for bread, and tells of underground classrooms and dodging sniper bullets. We visit the Tunnel of Hope – the only connection between besieged Sarajevo and the outside world for more than three years – and stand on the spot where Archduke Franz Ferdinand and his wife were assassinated in 1914, sparking the outbreak of the first world war.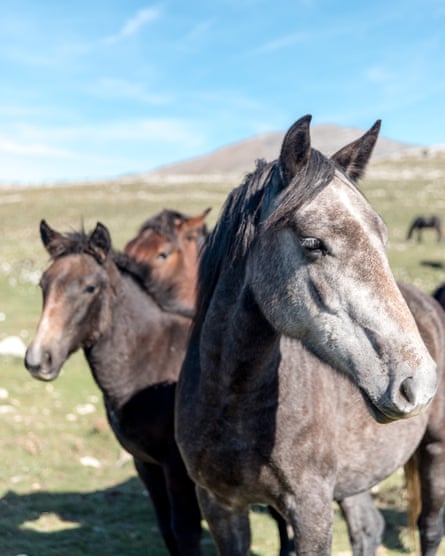 But wandering the mosaic of cobbled streets, with mosques, churches (both Orthodox and Catholic) and synagogues, by turns reminiscent of Istanbul and Vienna, and later sipping cocktails in one of the bars, the darkness of the past feels a world away.
That evening Mustafa and Mersiha welcome us into their home high above town, for a cooking lesson. We feast on burek – pastries filled with meat or spinach and cheese – stuffed vegetables and spicy tarhana soup.
"We want to share our home, our food and our country with visitors," says Mustafa, who started Bosnian Cooking Lessons in 2018. "Tourism can offer us hope, give jobs so people don't have to go abroad, and bring them together to work for the future."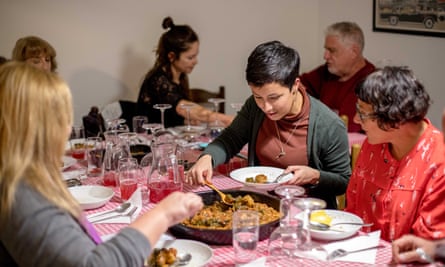 Sarajevo is surrounded by mountains and we're soon driving through incredible scenery after we leave the next day. More than 65% of the country is still forested and I'm constantly floored by the views of tree-covered slopes, deep gorges, wild rivers and waterfalls.
Picturesque Jajce, a small walled mountain town 100 miles from the capital, has a 22m-high waterfall at its heart. The ancient capital of the Bosnian kings, with a fort, catacombs and a multi-ethnic population, it was also the birthplace of the Federal Republic of Yugoslavia, formed during the second world war, and the town's AVNOJ Museum offers a fascinating dive into 20th -century history.
Intrepid works with small, locally owned guesthouses and hotels and we stay outside town right on Pliva lake, where a cluster of wooden watermills on the water's edge date to the middle ages.
Mostar, our next base for a couple of nights, is one of the most visited places in the country. Famous for its Ottoman bridge (rebuilt after the war) and fairytale Moorish architecture, it's popular with day trippers from Dubrovnik.
Part of Intrepid and USAID's mission is to encourage visitors to stay longer, explore the wider area and come out of season, too. There's a lot to see nearby. Blagaj Tekke, a stunning 15th-century Sufi dervish monastery below cliffs on the Buna River, is a short drive from Mostar. Stolac, the oldest town in the country, lies a little further south. We stop to walk by the river, eat fig and honey cake in the tiny main square and climb to Vidoška Fortress, where we have the ruins and amazing views to ourselves.
This area is wine country too, and USAID has helped develop the recently launched Herzegovina Wine Route, highlighting more than 30 wineries of various sizes, with places to stay ranging from campsites to upmarket hotels. Among other plans to diversify the tourism offering is a new Cheese and Honey Trail, with visits to beekeepers. Traditional craftspeople, such as shoemakers in Glamoc, are also being supported with grants to revive their craft and hopefully attract tourists, too. More than 20 new experiences are in the pipeline for 2023.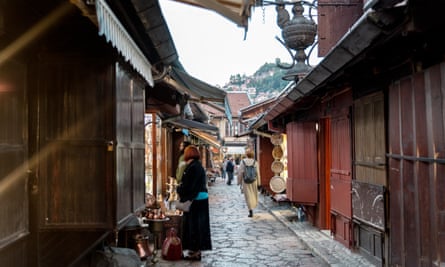 Unsurprisingly, given the country's wild topography, outdoor adventure is a big attraction, with everything from kayaking and rafting to hiking and rock-climbing on offer. Konjic, a town on the Neretva River between Mostar and Sarajevo, is an adventure hub where husband-and-wife team Amela and Sanjin Bubalo are among the new generation of tourism entrepreneurs. Their company, Visit Konjic, offers day and multi-day tours and we join them for an afternoon of white-water rafting. The river is quite low in October but we race between towering limestone cliffs – passing kids jumping off into the water, while heron fly overhead.
It was in this landscape, not far from town, that Yugoslav communist leader Tito built his secret nuclear bunker. The scale and madness of the project is mind-boggling; it took 26 years to complete and could accommodate 350 people living for six months deep underground. We wander through tunnels, past former control rooms and bedrooms. In a fitting twist, the bunker now doubles as an art gallery, with contemporary work in all mediums displayed in the surreal setting.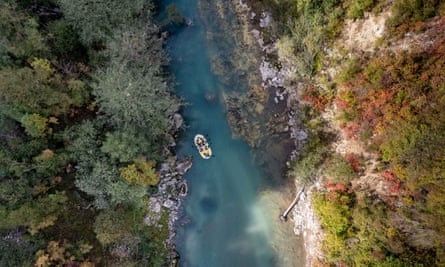 Before we leave, we spend one final day in Sarajevo. The cable car whizzes us from the old town to the top of Trebević mountain in minutes. The Winter Olympics were held here in 1984 and we walk part of the abandoned bobsleigh track – used as an artillery position during the Bosnian war, and now full of colorful graffiti.
As I gaze down on the city below, I can't help feeling that I've barely scratched the surface of this complex country. The divisive political system can sometimes mean progress is slow, but witnessing the energy and positivity of the young people I'd met, and the hard work being done on the ground, I feel sure that sustainable tourism will have a positive role to play in the country's future.
"The past is the past," says Mohammed before we leave. "All I know is I'm proud of my country. And it makes me proud to bring people here. I want to show it to the world."
The trip was provided by Intrepid and USAID Turizam. Intrepid's new eight-day Bosnia & Herzegovnia Expedition costs from £1,107 and includes breakfast and some meals, accommodation, transport and activities. There are five small-group trips in 2023, starting in May (tailor-made private trips also available). Intrepid is working with Byway to suggest rail itineraries to the country