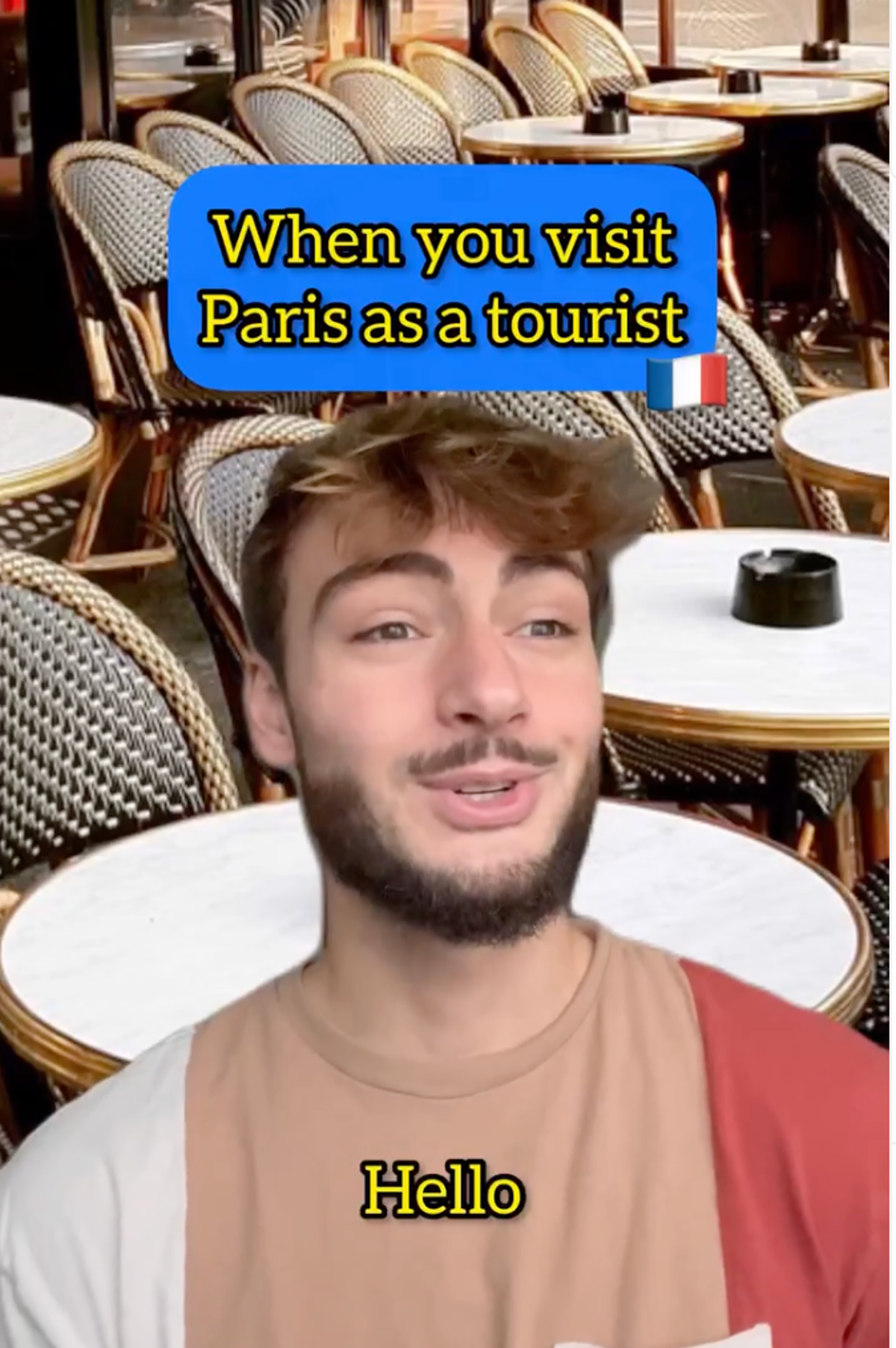 tourists have been warned not to bother trying to speak French in a funny viral video shared online.
The Instagram real, by user @atfrenchies, jokes about people who attempt to order food and drink in the native language when they're on holiday in France.
Beginning with the words "When you visit Paris as a tourist", the video sees the comedian in the roles of both tourists and waiter.
After the American tourist begins the interaction by attempting to speak French, the impatient server interrupts and says: "Oui, oui. I speak English, what would you like to eat?"
The guest then asks for a croissant, pronouncing it "kwassont."
The seemingly annoyed server immediately corrects him to say "un crrrroissant", outlining how the word should be spoken in French.
He sprays the tourist with spittle at the same time, who says: "Oh nice".
While the tourist continues to try to order his meal in French, they are increasingly interrupted by the disgruntled waiter.
The waiter becomes more and more animated with his French diction as the scene plays out, shouting "incroyable," in frustration at one point.
"Good thing we don't have to tip in France," the customer then finishes, throwing his menu to one side.
Captioned "How was your experience at Parisian cafés?", the post gained plenty of traction with previous visitors to France.
It's had over 40,000 likes and counting, with several followers quick to comment underneath.
"You can't win…if you try to speak French and it isn't perfect, this is what you get. If you don't try you get judged, too. It's ridiculous," one wrote.
Another commented: "It's true though — y'all Parisians aren't nice at all. Go to Italy or Spain and they like or at least appreciate that you engage with their language."
However, someone else remarked that during the time they'd spent in France, "every server has been amazingly kind in my experience."
Meanwhile, one person asked: "I'm always curious: Is it better to make an effort in the local language, even if your pronunciation isn't perfect, or to just give up and do it in English?"
TikTok skits about travel experiences are a popular genre; in November one American user of the video app went viral with her series of "Girl that just got back from…" imitations of a returning traveler from France, Greece and Spain.