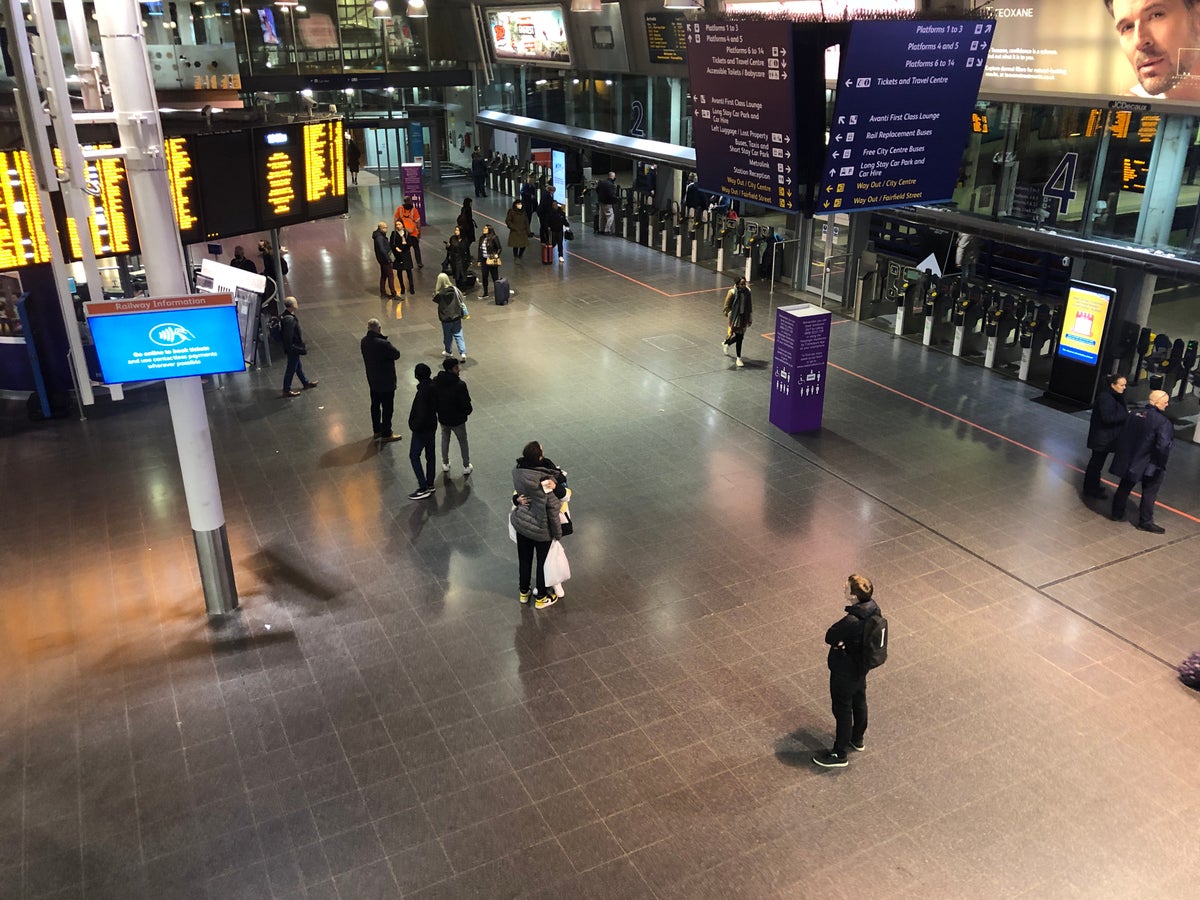 National rail strikes will extend into a 13th month after the train drivers' union, Aslefannounced three more days of walk-outs plus an overtime ban.
Drivers working for over a dozen train operators, including all the key long-distance and commuter rail firms, will walk out on Friday 12 May, Wednesday 31 May and Saturday 3 June.
The first date will affect people traveling to Liverpool for the Eurovision Song Contest; the final takes place on Saturday 13 May.
The last date coincides with the FA Cup Final between Manchester United and Manchester City, which will be staged at Wembley in northwest London. Normally thousands of fans would be traveling by rail to the match. It will also affect racegoers traveling to Epsom Derby.
In addition, a series of overtime bans will cause some disruption.
Since June 2022, national rail strikes in a tangle of disputes about pay, job security and working arrangements have caused problems for tens of millions of train passengers. Stoppages have been called frequently, causing massive disruption and making advance travel planning difficult.
The main rail union, the RMThas staged walk-outs on 24 days in the current wave of strikes, with Aslef stopping work on eight previous occasions.
These are the key questions and answers.
Who is striking and when?
Aslef has instructed all its train driver members working for 16 train operators to strike on Friday 12 May, Wednesday 31 May, and Saturday 3 June.
The train firms are those contracted by the Department for Transport. They include the leading intercity operators:
Avanti West Coast
Cross country
East Midlands Railway
Great Western Railway
LNER
Trans Pennine Express
The vast majority of London commuter operators will also be hit:
Greater Anglia
GTR (Gatwick Express, Great Northern, Southern, Thameslink)
southeastern
South Western Railway
Operators focusing on the Midlands and north of England will be affected:
Chiltern Railways
Northern Trains
West Midlands Trains
There will also be a ban on "non-contractual overtime" – on Saturday 13 May, from Monday 15 to Saturday 20 May inclusive, and on Thursday 1 June.
What will the effect be?
On each of the strike days, thousands of trains will be cancelled, wrecking travel plans for millions of passengers. During previous drivers' strikes, some operators – Avanti West Coast and Southeastern, for example – have canceled all trains.
Others have run a skeleton service on core routes. On GWR, for example, travelers can expect a basic service from London Paddington to and from Bristol Temple Meads and Cardiff Central.
LNER is likely to aim to run as many as 40 per cent of normal services on the East Coast main line, concentrating on the London King's Cross-York-Newcastle-Edinburgh spine.
The vast majority of services in Scotland and Wales will operate normally as ScotRail and Transport for Wales are not involved in the dispute with Aslef. Trains run by these companies are likely to be more crowded than normal on routes usually shared with train operators whose staff are striking, such as London-York-Newcastle-Edinburgh and Swansea-Cardiff-Newport.
Passengers can also expect normal service on:
Caledonian Sleeper
Grand Central
Heathrow Express
Hull Trains
London Overground
Lumo
merseyrail
The overtime ban is likely to particularly affect long-distance train operators such as Avanti West Coast and TransPennine Express.
In addition, some evening services before the strikes and early morning trains after the walk-outs will be cancelled.
Will Eurostar be affected?
No, but connections to and from the train operator's main hub at London St Pancras International will be difficult because union members working for all three domestic train operators (East Midlands Railway, Southeastern and Thameslink) serving the station will walk out.
Why are they taking industrial action?
On the afternoon of Wednesday 16 April, the Rail Delivery Group made a proposal on pay that the train drivers' union described as "derisory".
Mick Whelan, Aslef's general secretary, said: "We do not want to go on strike – we do not want to inconvenience passengers, we have families and friends who use the railway, too, and we believe in investing in rail for the future of this country.
"But the blame for this action lies, fairly and squarely, at the feet of the employers who have forced our hand over this by their intransigence.
"The proposal – of just 4 per cent – ​​was clearly not designed to be accepted as inflation is still running north of 10 per cent and our members at these companies have not had an increase for four years."
Mr Whelan said the companies involved are "letting down passengers, and taxpayers," and that "proposals to modernize Britain's railways and help them run more efficiently" had been rejected.
What do the train firms say?
A spokesman for the Rail Delivery Group, which represents train operators, said: "This is disappointing news for our customers and staff, more strike action is totally unnecessary and will only heap more pressure on an industry already facing an acute financial crisis.
"Senselessly targeting both the final of Eurovision and the FA cup final is disappointing for all those planning to attend.
"After many weeks of negotiations with the Aslef leadership, we made a revised and fair offer including a pay rise of 8 per cent over two years. It would have introduced overdue, common-sense improvements already in place in parts of the network, which would see more trains running on time for passengers. Sadly, this has been rejected.
"We urge the Aslef leadership to re-join us at the negotiating table and work with us to find a solution to the issues our industry faces and so we can give our people the pay rise we have always said we wanted to do."
Train operators say the deal is "based on the successful outcome of reform discussions".
These include a reduction of the time spent learning new routes and moves towards making Sunday part of the working week where it is not already.
The RDG says passenger numbers on Sundays are 18 per cent ahead of pre-pandemic levels. On working days, especially Mondays and Fridays, ticket sales are way below levels in 2019, with a consequent collapse in revenue.
Could the Aslef strikes be called off?
It seems unlikely, given that the offer Aslef has damned as "derisory" came after a long series of talks involving the train drivers' leadership and representatives of the employers between early February and 26 April.
I have a ticket booked for one of the strike days. What can I do?
Passengers with Advance, Anytime or Off-Peak tickets can have their ticket refunded with no fee if the train that the ticket is booked for is cancelled, delayed or rescheduled.
Train operators are likely to offer flexibility to travel on a wide range of non-strike days.
Passengers with season tickets who do not travel can claim compensation for the strike dates through Delay Repay.
What about the RMT?
An improved deal from the train operators is being considered by the union leadership and National Executive Committee.
The RMT is demanding "an unconditional pay offer, a job security agreement and no detrimental changes being imposed on members terms, conditions and working practices".