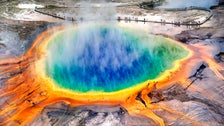 When you think of UNESCO World Heritage Sites, iconic international destinations like Machu Picchu, the Taj Mahal and the Acropolis likely come to mind. But did you know there are some amazing sites on the United Nations Educational, Scientific and Cultural Organization's list right here in the US?
As of 2023, 24 World Heritage Sites are located in the US and another 19 are on the country's list of properties under consideration to be nominated for official designation in the future.
Below, we've rounded up 15 highlights to inspire your next domestic vacation.