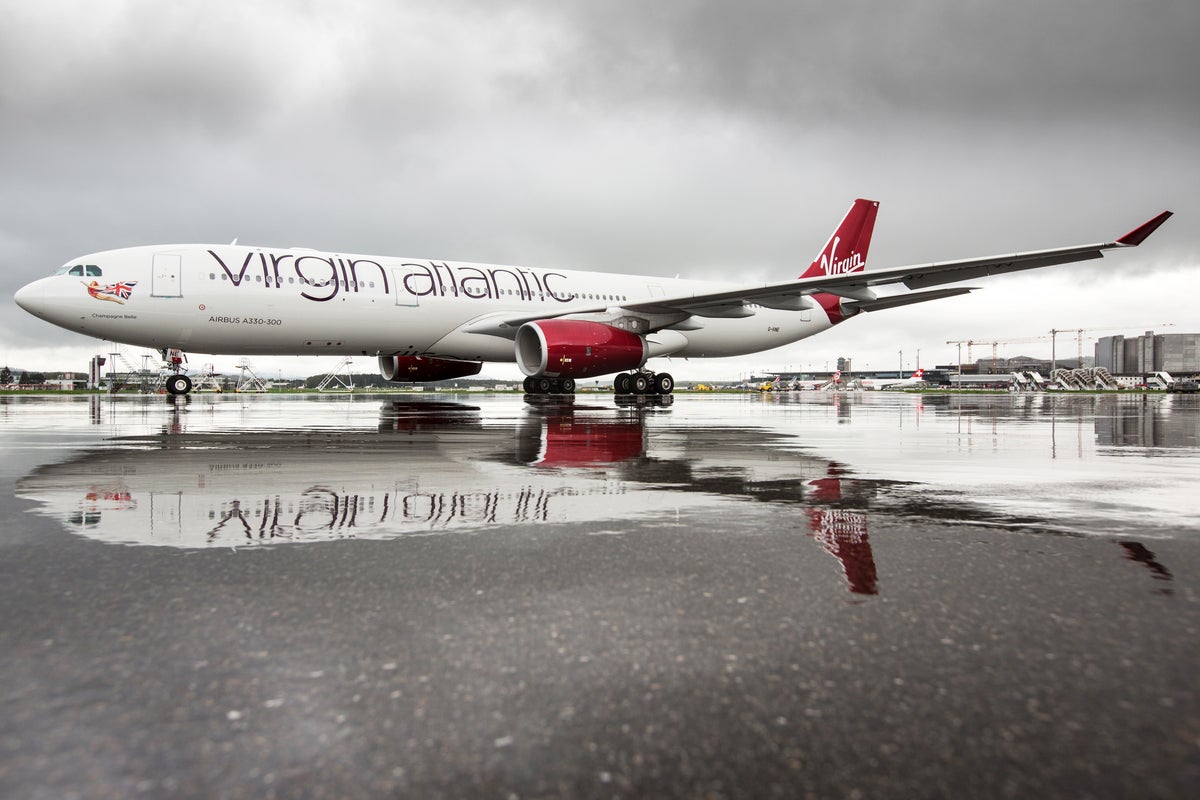 AT Virgin Atlantic flight from johannesburg to London Heathrow that was forced to divert to Barcelona has left more than 300 passengers stranded for 29 hours and counting.
Flight VS450 landed at the Spanish airport due to a technical issue with the engine in the early hours of Wednesday 8 March.
After a wait of 18 hours, a "rescue plane" was deployed to transport the travelers to their final destination – but this, too, experienced a technical issue and was unable to depart.
According to Paul Smit, a passenger onboard the flight, more than 300 passengers landed in Barcelona at 4am on Wednesday morning, receiving no information from Virgin Atlantic "for hours".
Calls to Virgin Atlantic were allegedly "useless", with customers instructed to await further communication from the airline.
After 15 hours, passengers were still awaiting an update on a possible departure time. "They said they were sending a rescue flight at 8pm, now revised to 9.45pm," the 66-year-old retailer from Leicester told The Independent.
"It took them eight hours for first communication and to issue a €24 food voucher." He added that Spanish customs would not let passengers out of the transit terminal.
After finally boarding the replacement plane at 1am on Thursday 9 March and waiting onboard for 90 minutes, passengers were told this aircraft had a technical fault too and were forced to disembark and return to the terminal once more.
Mr Smit said travelers were "assured that Virgin Atlantic ground crew would stay with us and ensure we were looked after and put into hotels".
After traveling through passport control, however, Mr Smith claims they did not see Virgin Atlantic cabin crew again.
"After two hours wandering around an empty airport asking local staff if they could help, we eventually found a desk which gave us a bus and hotel voucher," he continued.
"We were sent to a car park to wait for a bus which arrived at 4am and wasn't big enough for all the passengers, so a group of us were left behind. We took a taxi to the very basic hotel 40km from the airport. We arrived at 5am. The hotel said a bus would pick us up at 12.30pm today. We have since had a text to say the flight is now rescheduled to 16.50 to allow crew recovery. Still no sign of the Virgin Atlantic staff."
A spokesperson for the airline confirmed to The Independent that the recovery flight is not due to leave Barcelona until 4.50pm local time today (Thursday 9 March).
Meanwhile, we Twitterthe aunt of a passenger who was also traveling from Johannesburg on the same flight recounted a similar experience.
"Passengers – including my niece – have been left stranded in Barcelona Airport for 18 hours after enduring a traumatic emergency landing on the way from Johannesburg. This was due to engine failure. Disgusting treatment by @VirginAtlantic."
She claimed that "traumatized and vulnerable" passengers were abandoned "while First Class passengers were en route to London within two hours. It's [a] disgraceful treatment of people."
"A woman with a baby, a blind person and an 86-year-old woman were not allowed on the plane and have had to wait almost 24 hours in Barcelona airport. Absolutely disgusting.
"My relative finally got accommodation after hours of waiting but those without UK passports were forced to spend the night in the airport. I will never travel with @VirginAtlantic."
A spokesperson for Virgin Atlantic told The Independent that "any passengers who left early did so via their own arrangements. It is incorrect to suggest that Upper Class passengers were prioritized".
They added that "the vast majority (including those with non-UK passports) could leave the airport to hotels overnight.
"However, due to immigration challenges, Barcelona Airport advised that a very small number of customers were unable to depart from the international departure lounge and exit the terminal.
"All customers were provided with refreshments on board and further vouchers to be used at outlets in the airport. Virgin Atlantic has flown in specialist teams to support those unable to leave the airport."
Clarifying the cause of the delay, they added: "As a precautionary measure, the VS450 from Johannesburg to London Heathrow diverted to Barcelona yesterday morning (Wednesday 8 March) due to a technical issue.
"The safety and security of our customers and crew always remains our highest priority and wasn't compromised at any point.
"Unfortunately, our recovery flight to London Heathrow has been delayed and is now due to depart Barcelona later today (Thursday 9 March.)
"The majority of our customers have been provided with overnight hotel accommodation ahead of their onward journey today. We'd like to sincerely apologize for the delay and any inconvenience caused."
They added that some passengers have "chosen to fly back on other airlines" and that "all out of pocket expenses will be compensated".