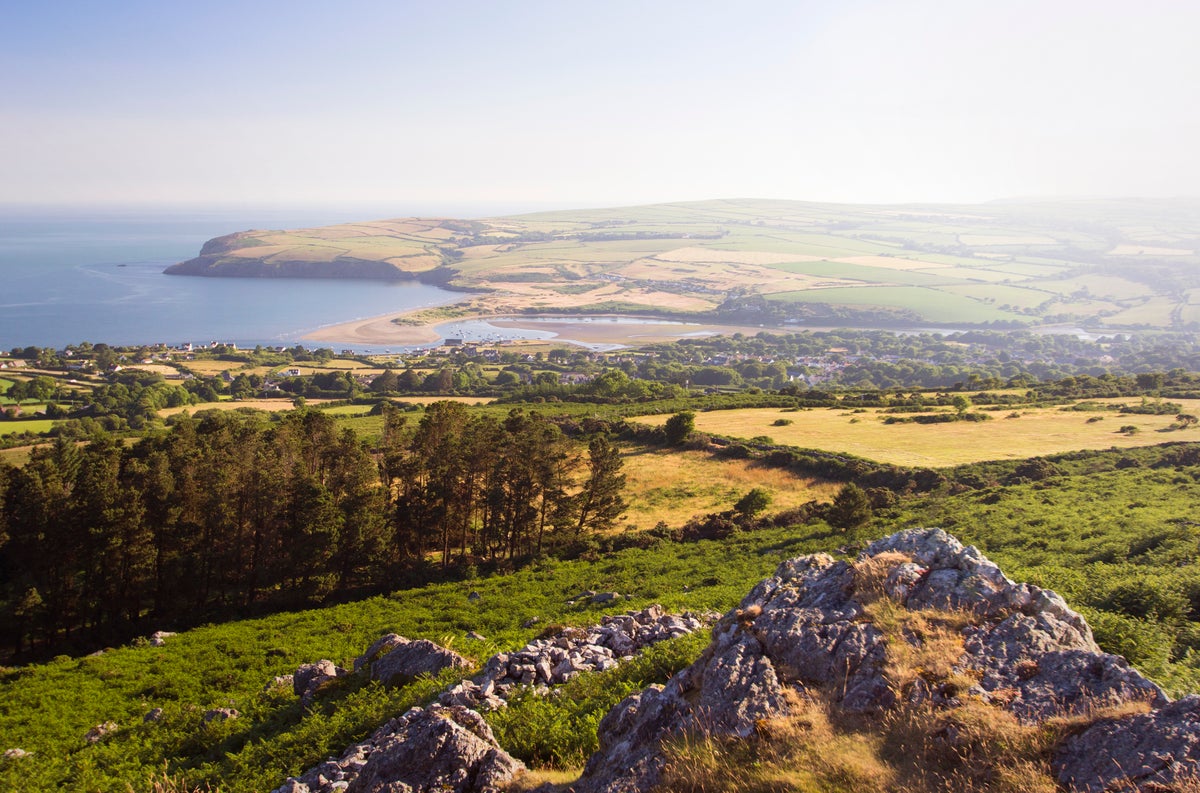 In waleswe have a word: hiraeth. It has no direct English translation, but to the Welsh it means a nostalgic longing for your homeland. It's easy to see why Wales would evoke an untranslatable yearning, with its rich Celtic history packed with legends, a distinctive language and wild landscapes. There really is no place like Cymru.
You'll discover market towns and contemporary citiesmedieval castles and rugged coastlines, craggy peaks and the thundering roar of crowds singing "Calon Lan" ("A Pure Heart") as rugby season. Whether you're seeking a city break, hiking adventure or quiet coastal escape, there's a huge variety of things to do in this small – and immensely proud – country.
Travel restrictions and entry requirements
The Covid-related rules in place for international travel and arrival into Wales have been removed. While Wales typically faced longer and stricter lockdowns than Englandthere are no longer any legal requirements around coronavirus.
best time to go
Summertime in Wales holds no guarantee of sunshine – the weather is unpredictable year-round, so you'd be sensible to plan for showers. Shoulder season is often the best time to visit, with daytime temperatures reaching around 14°C, fewer crowds and lower prices in the tourist hotspots.
March and November are always a great time to visit as thousands of Welsh rugby fans descend on Cardiff for Six Nations matches and autumn internationals. While it's a pricey time to stay in the capital, the atmosphere is thoroughly joyous; expect a sea of ​​fluttering dragon flags, red shirts surging into the stadium and bars, and the sounds of rugby anthems.
Top cities and regions
Cardiff
Europe's youngest capital city has a long history of industry and mining, and experienced massive growth thanks to the Industrial Revolution in the late 18th century. This former port city has undergone a drastic redevelopment over the last few decades.
You'll find modern shopping streets, a chic marina and a huge selection of busy bars, cafes and restaurants. While the usual high street stores are here, there are also plenty of local quirks: browse boutique shops in Victorian shopping arcades, discover Europe's finest impressionist art collection in the National Museum Cardiff and visit the landmark castle, which was given to the people of Cardiff in 1947.
Cardiff Bay is where to go for smart waterfront dining as well as arts and entertainment at the Wales Millennium Centre. Locally nicknamed "the Armadillo" for its unconventional design, this landmark arts center stages musicals, opera, ballet and popular West End shows on tour.
The sports offering in the marina has also been vastly improved, with a white-water adventure center offering thrilling rafting and an Olympic-sized swimming pool now occupying the site of a former industrial area. For a swish bayside stay, head to voco St. David's Cardiff Hotel, which has just undergone a spa refurbishment and restaurant redesign.
Read more on Wales travel:
Eryri (Snowdonia)
Mountainous Eryri, formerly known as Snowdonia, has long positioned itself as the main hub of adventure activities in Wales. Tea North Wales region has capitalized on its raw beauty and undulating landscapes to offer adrenaline-pumping outdoor activities year-round.
One of the most popular things to do in the national park is hiking to the summit of Yr Wyddfa, or Snowdon. The highest mountain in Wales towers 1,085 meters above sea level and has six main paths to the top – each one offering different natural features and challenges.
Alongside epic hiking and mountain biking routes, visitors can also surf in a man-made lagoon, take a zip wire over a former slate quarry, and abseil into icy plunge pools.
Pembrokeshire
Home to 186 miles of wildflower-covered coastline, golden sand beaches and the Pembrokeshire Coast National Park, this county is wildly popular with visitors. Affectionately known as "Pembs", you'll find expansive ocean views, clifftop hiking trails and picturesque fishing towns.
Water sports are popular here and many local companies, such as Milford Beach Activity Centre, offer guided kayaking and stand-up paddleboard trips around bracing bays and rocky headlands, where you can try and spot Atlantic gray seals.
Pembrokeshire is enjoying a growing reputation for culinary excellence and quality local produce. Feast on local lobster, gin made from hand-foraged seaweed, artisan ice cream and more in the many indie cafes and restaurants. I recommend picking up a delicious crab sandwich and some local gin from Lobster and MôR, in the twee seaside village of Little Haven.
Read more on the best hotels in Pembrokeshire
Carmarthenshire
Celtic Carmarthenshire – thought to be the fabled birthplace of Merlin the magician – is where castles meet coastline. This historic county is packed with local legends, with evidence of its long history and heritage scattered throughout. You'll find ruinous Roman hillforts and the grass-covered remains of the Moridunum Amphitheatre, one of only seven surviving examples in the UK. Castles and historic houses are plentiful, with Kidwelly, Dinefwr and Laugharne among some of the more well-preserved Welsh strongholds.
Alongside coastal walks and proper pubs, you can also hunt for your own seafood supper on a coastal foraging experience with Craig Evans. Craig and his canine companion Llew will expertly guide you around the shoreline to seek out – and cook – a haul of cockles, mussels and sea vegetables right on the beach.
Best under the radar destinations
Vale of Glamorgan
This county borough in the southeast is home to several beaches and seaside towns, as well as the Glamorgan Heritage Coast. It stretches 14 miles, Aberthaw to Porthcawl, with a variety of secluded bays, historical maritime features and a Victorian pier.
While tourist crowds converge on Eryri/Snowdonia and Pembrokeshire, the Vale offers space for blustery walks along waymarked coastal trails – especially in the quieter shoulder season. Try surfing in Rest Bay, one of the more consistent surf breaks in south Wales, and hunt for 300-million-year-old fossils on bedrock beach of Monknash Coast.
Read more on the best hotels in Monmouthshire
Elan Valley
The Elan Estate in the Cambrian Mountains covers around 70 square miles of dams, reservoirs, cycle routes and walking trails. When conditions are right, you'll find world-class stargazing opportunities, having achieved "International Dark Sky Park" status in 2015; the estate's 45,000 acres are now carefully protected against light pollution.
There are several spots in the area where star hunters can take a moment to connect with the cosmos, or even attempt a spot of milky way astrophotography.
Machynlleth
A sustainability-focused and off-beat market town located within the Unesco Dyfi Biosphere, a protected reserve for rare birds, insects, mammals and plants, Machynlleth is home to the innovative Center for Alternative Technology, a hub of eco-education.
"Mach" prides itself on its impressive array of independent shops, antique stores and cafes – there's not a Starbucks to be found. Plenty of public green initiatives are also available, including seedling swaps, clothing repairs and herb picking. Culture is another big draw, with a yearly comedy festival and an excellent collection of contemporary Welsh art inside MOMA Machynlleth, home to contemporary Welsh art and culture.
Stay at The Wynnstay, a traditional coaching inn, and dine from creative menus (and an impressive wine list). Head chef Gareth Johns uses local produce where possible, including hand-foraged samphire and tender Welsh lamb.
Milford Haven
Having gone from a 17th-century whaling town and shipbuilding outpost to a modern marina, Milford Haven is now a chic destination with indie shops and restaurants. As part of a multi-million-pound redevelopment programme, Milford Waterfront and Milford Marina are fast gaining a reputation as an emerging spot in Wales – and still function as a fishing port today.
Its proud marine heritage is reflected in the many fish and seafood offerings on menus at Milford's waterfront. The catch of the day is as fresh as they come and usually reasonably priced – try seafood cawl at Tŷ Hotel Milford's on-site restaurant, Dulse, named after Pembrokeshire's abundant edible seaweed.
Best things to do
Hiking in the Brecon Beacons
Head out to the popular peaks in the Brecon Beacons and traverses miles of scenic trails in the national park. The trek to the top of Pen y Fan– the highest mountain in southern Britain, is the most popular walk and offers spectacular views (especially if you reach the summit at dawn).
The Craig Cerrig Gleisiad circular ridge and valley walk is a pleasant alternative. This steep glacier-carved valley is covered with scented hawthorn, lichen and bilberry, and is a haven for birdlife.
Wild swim in waterfalls and lakes
Wales has plenty of outdoor swimming spots to choose from, including deep lakes and cascading falls. The Watkins Path waterfall in Eryri/Snowdonia National Park is where you'll find crystal clear waters falling into a series of plunge pools. Keepers Pond is a popular swim spot and part of the Blaenavon World Heritage Site; take a dip in the lake, originally created in the 19th century to provide water for a local forge, and take a moment to connect with your surroundings.
Check out dreamy Portmeirion
You won't find any residents in the surreal village of Portmeirion, near Porthmadog. Inspired by the pastel-coloured and ornate piazzas of Portofino in Italythis tourist village was created by architect Clough Williams-Ellis, who acquired the site in 1925. Blending Wales' natural beauty with a mellow Mediterranean feel, this ticketed attraction now offers hotels, shops, restaurants and even an upscale spa.
Getting around
Public transport can be limited in Wales, especially in the more remote areas, meaning it can be tricky to travel without a car. Trains connect south and west Wales to some degree, allowing travel between Chepstow, Newport and Cardiff to Swansea, Carmarthen and Pembrokeshire. Local and long-distance buses are another way to get around and some do travel to the more sparsely populated areas.
Money-saving tip
Try booking self-catered accommodation to save money on eating out. Wales has plenty of reasonably priced local producers and delis to try, so stock up on Welsh provisions and make your own fancy picnic lunches to take on day trips.
FAQ's
What's the weather like?
Wales has the capacity for pleasant days but you should always pack for an unexpected downpour – even if the sun is shining.
What time zone is it in?
GMT+/-0
What currency do I need?
GBP. Most places accept a combination of cash and cards, and an increasing number of businesses prefer contactless payments.
What language is spoken?
English and Welsh. More than a fifth of the population of modern Cymru can speak or use Welsh, and you'll hear the beautiful lilt of this ancient Celtic language all over the country.
Read more on the best hotels in Wales