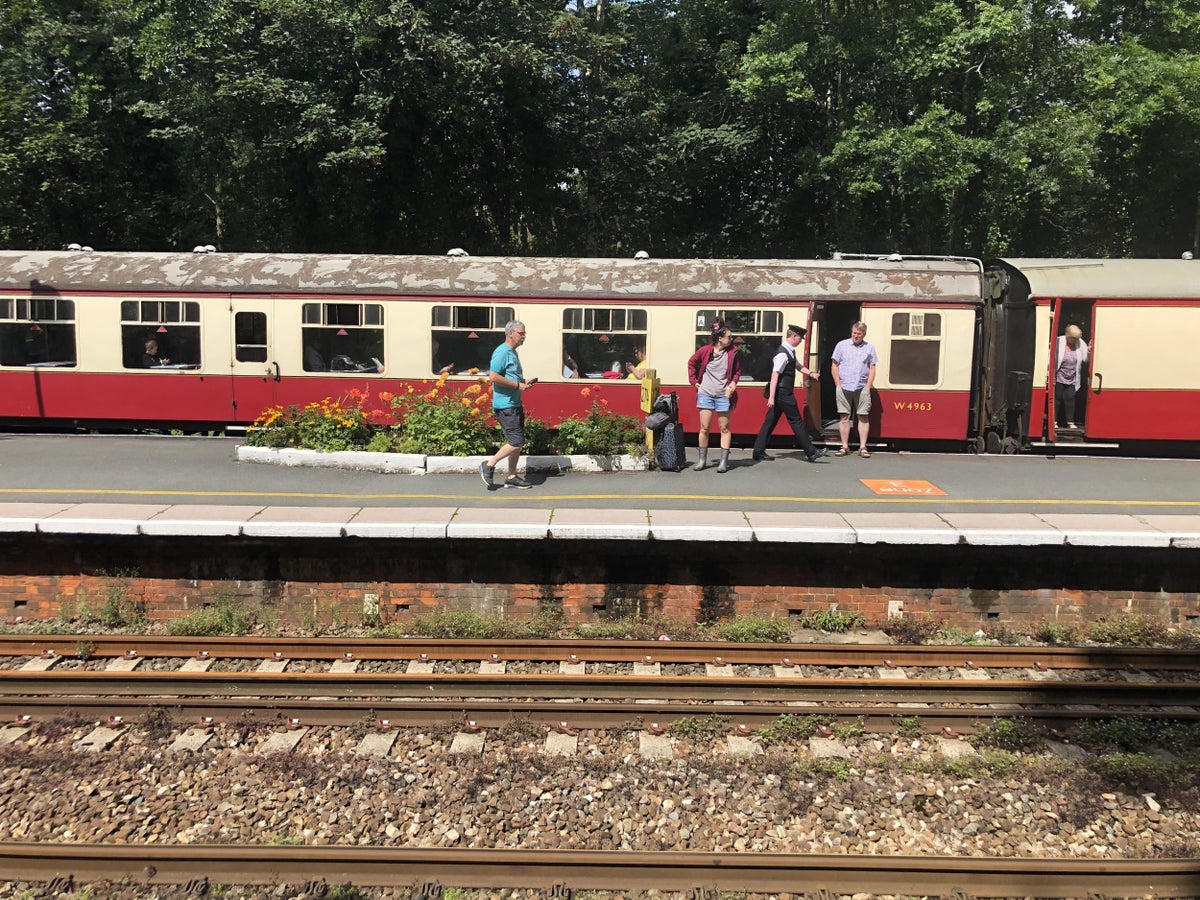 Simon Calder, also known as The Man Who Pays His Way, has been writing about travel for The Independent since 1994. In his weekly opinion column, he explores a key travel issue – and what it means for you.
The best way to get around Britain, the prime minister has demonstrated, is by business jet supplemented by chauffeur-drive limousine – though you have to watch out for those pesky seat-belt rules.
Rishi Sunak made a high-speed tour of the North of England on Thursday, which involved flying from Blackpool to Teesside and filming belt-free promotional videos. The purpose: to publicize the largesse represented by the government's "flagship Leveling Up fund". More than 100 projects around the UK were awarded an average of £19m each.
"We will build a future of optimism," the PM promised. Well, I have studied them all so you don't have to. Three big-ticket transport projects – all £50m or so – caught my eye.
Transportation unlocks everything and enhances lives. So I am predisposed to approve of infrastructure improvements. But each of these raised my eyebrows and lowered my spirits.
Let's start in Kent: "£45 million for Dover to improve the flow of traffic from the UK to the EU, with more border control points and a new exit route to help the port operate more efficiently and reduce congestion on local roads."
The people who worked passionately to seek a slice of the Leveling Up Fund for their local projects, only to be turned down, must be appalled.
This £45m should come straight from the Making Good Adverse Consequences of Brexit fund. The only reason Dover needs tens of millions of pounds to try to cram more traffic in is because the government negotiated to ensure a hard border with the European Union was created beneath a cliff in east Kent.
Surely arch-Brexiteer Sunak recognized the traffic chaos the decision would cause and made financial provision for easing the gridlock while chancellor?
Next: "£48m to build a new entrance and footbridge for Peterborough train station, creating a new gateway to unlock the vibrant city center for local people, commuters and visitors."
The Conservative council leader and local Conservative MP took the opportunity to pose outside the ugly 1970s station entrance to the East Coast Main Line station with one of those silly giant checks made out for £48m and emblazoned "Conservatives". Let's assign that to the Assigning Taxpayers' Money for Party Political Purposes Fund.
In the far South West, meanwhile, who could criticize a Mid-Cornwall Metro? The government promises "Nearly £50m to create a direct train service linking Newquay, St Austell, Truro, and Falmouth".
As it turns out, many people – including my colleague, Alastair Jamieson, who uses rail in mid-Cornwall but still sees the plan as pointless. He describes it as: "An absurdly slow S-shaped service between Falmouth and Newquay on existing track that will mostly be traveling in the wrong direction, reversing at Par.
Alastair tells me: "It is one of those things that ticks all the boxes on paper – through service with fewer changes, linking towns, clock-face timetable – but is bonkers on the ground.
"Falmouth-Newquay is already served by high-frequency buses that are cheaper, quicker and go from town centres. Meanwhile, Falmouth has a crumbling pier and a closed leisure centre."
In search of someone signed up for the "future of optimism", I then contacted Andy Bowes-Roden, the Cornwall-based deputy editor of Modern Railways. He ran the campaign that saved the Night Riviera sleeper between London Paddington and Penzance, and is now making the case for an additional route from Exeter to Plymouth via Okehampton.
Surely anything that helps his county's underpowered rail network has to be a good thing?
"Right now it's probably the only game in the Duchy that can be delivered reasonably so in that context, probably it is," he says. "However, If you had £50m to spend on rail in Cornwall, perhaps not. I'd be seriously tempted to take a very close look at how you might return passenger services to Fowey."
The prettiest Cornish town has a dreadful problem with road access and parking – yet freight trains run frequently along a branch from the main line at Lostwithiel to the outskirts of Fowey.
"It would have a huge benefit," Andy says. "Imagine St Ives without its branch line these days."
One for the Making Good 20th-Century Railway Cuts Fund. Transport is too important to be relegated to what amounts to a national lottery of good works.