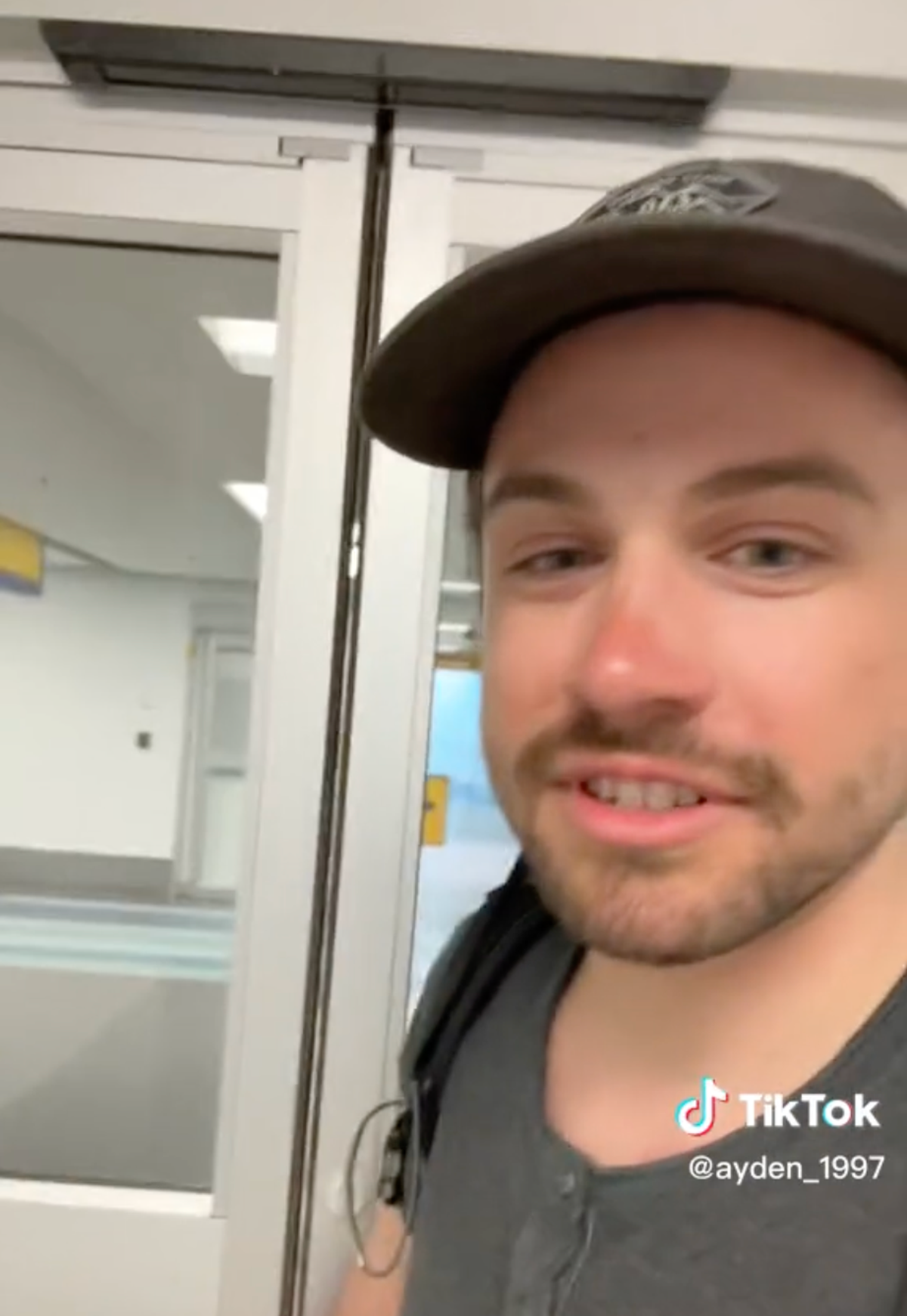 A law student who was trapped in an airport hallway for two hours after airline staff led him the wrong way has been commended for his "chill" outlook to a stressful situation.
Ayden Schumacher, 25, from Winnipeg was traveling to Vegas on 28 February when the unfortunate incident happened.
After arriving in Calgary to transfer flights, a WestJet crew member directed Mr Schumacher the wrong way down a corridor then left, leaving him trapped and alone in an airport hallway for two hours.
Upon realizing that both doors were locked, Mr Schumacher decided to document his experience on TikTokwhere it has been viewed nearly five million times.
"You know, sometimes life just surprises you," he begins with a smile.
Posting regular updates, he goes on to describe how he captured the attention of a woman walking past who listened to his predicament, but refused to let him out.
"They're lucky I'm a really chill guy, because some other people would be panicking right now," he jokes.
In a further update, he reveals that a second person opened the door and spoke with him, "but then they said that they couldn't let me out", he shrugs, apparently calmly accepting his fate.
"Maybe they'll come back, maybe not, this is maybe my home, this hallway."
However, after "calling America, customs", someone eventually arrives to release him from his accidental imprisonment.
Commentators on social media remarked on his upbeat attitude and demonstrable lack of frustration at the irregular occurrence.
"This is a very Canadian reaction to being trapped," wrote one, while another added: "If only I had your patience…and bladder."
"WestJet got real lucky inconveniencing the chillest dude on the internet," one person commented, while another said: "What's the opposite of a Karen?"
In an update video, Mr Schumacher revealed that after escaping the corridor, he went to the WestJet customer service desk – "the lady was super nice" – and after explaining his predicament, she replied, "Oh, you're the hallway guy! I heard about you!"
Mr Schumacher was booked onto a flight the following day and provided with overnight accommodation and food vouchers.
After posting his video online, which swifly went viral, he revealed that WestJet messaged him on instagram and gave him $50 (£30) in WestJet vouchers, a sum that many social media users felt was "insulting".
"You were stuck for two hours, talked to multiple people who wouldn't let you out and @westjet only gave you $50? That's an insult, especially after you were so nice about it. I feel like they could and should do better than that!" wrote one user.
Finishing up his video, Mr Schumacher said that he "didn't make the video because I was mad or wanted anything – I just wanted to share a funny story that was happening in that moment," he said.
He added that the $50 credit was "nice of them" and that he "appreciated" it.
The Independent has approached WestJet for comment.