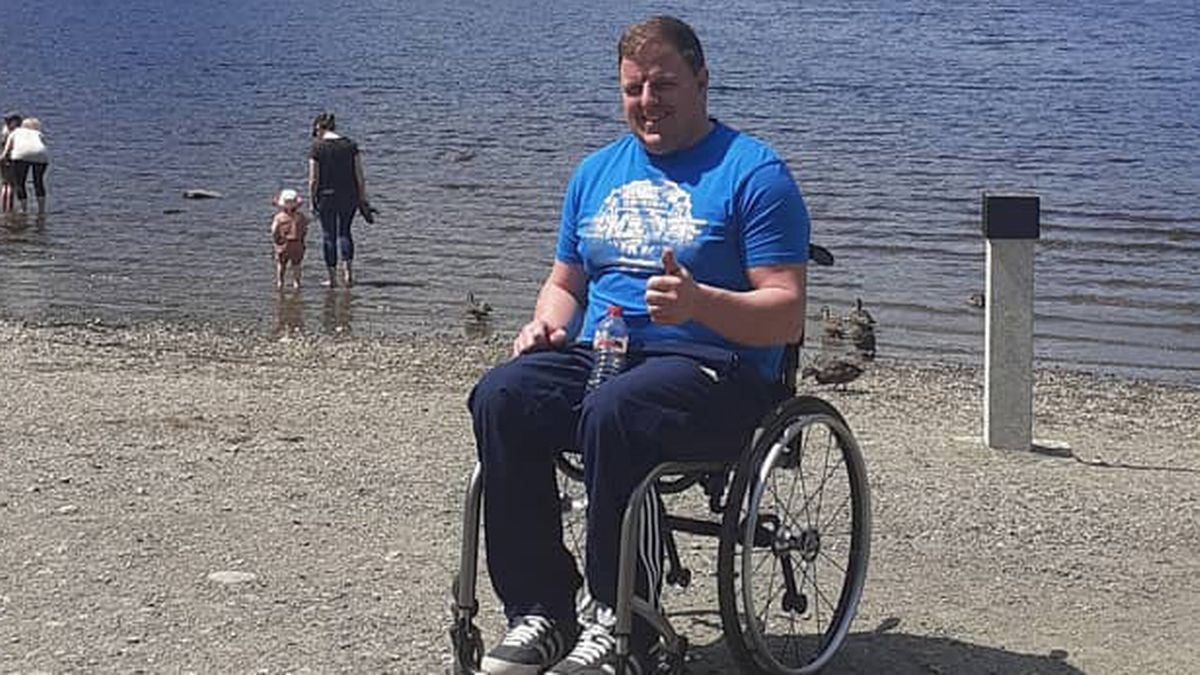 A wheelchair user was left "humiliated" after he was forced to crawl off a Ryanair flight and down plane steps after an "unacceptable" delay in assistance.
Adrian Keogh, 37, said he wants airports and airlines to do more for people with disabilities after his ordeal at a Landvetter Airport in Sweden on Saturday.
Mr Keogh, from Wicklow in Ireland, said he had booked for priority to ensure he got the support he needed when flying.
He was told when he landed in Sweden that the lift that would allow him to be taken off the plane in his wheelchair would take at least an hour to arrive.
He said he decided to crawl off the plane because he was in pain and did not want to have to wait until midnight to leave.
The tourist, who flew from Ireland, told The Independent: "It was very destroying to be honest going through that because everyone wants is to be treated equally.
"For someone to say you have to be an hour waiting on the plane for no fault of my own is totally ridiculous.
"A person in a wheelchair has different issues, I have spinal injuries personally myself, some people have other issues but with any disability we just want to be treated equally."
Mr Keogh said he started to "bum shuffle" down the steps.
He added: "My brother wanted to lift me down but I decided not to because it's too unsafe in case we fell.
"He was at the bottom of the steps making sure my wheelchair was ready."
Mr Keogh also shared his experience on social media.
In an Instagram post, Mr Keogh shared images of how he had to make his way down the metal steps in a seated position.
The post said: "Please excuse the bad picture but this is a photo of myself having to crawl off a Ryanair flight which landed in Landvetter Airport tonight at 11pm.
"I am as some may know a full-time wheelchair user and paid extra for special assistance to be lifted off the plane down to my wheelchair.
"It's unacceptable to expect me to crawl down the steep metal steps but on arrival I was informed that it would be at least one hour before they would have the lift available to help me off the plane so what option had I but to crawl off the plane."
Landvetter Airport commented on Mr Keogh's post apologizing for the delay in assistance and said delays occurred due to another medical emergency.
The airport said: "Dear Sir, we are sorry for your experience. Due to some delays last night, there were more planes landing around the same time as your flight. With several booked assistants requirements, including yours, and a medical emergency simultaneously, caused a push [sic] forward."
In a statement to The Independentthe airport added: "We deeply regret Mr Keogh's experience at Gothenburg Landvetter Airport on Saturday.
"Due to several unforeseen events the assistance service at the airport was affected with longer waiting times and not up to our usual standard of service, although airport procedures were followed. As a consequence, the assistance service was delayed however by no means 'forgotten'."
Mr Keogh said he hopes this incident is the last time it happens, adding that disabled people receive this treatment across the world.
A Ryanair spokesperson said: "Special assistance at Landvetter Airport is managed by a third-party provider – not Ryanair.
"We regret that Landvetter Airport failed to provide Special Assistance to this passenger upon arrival at Landvetter on 29 Apr and we are working with Landvetter Airport to ensure this does not recur."