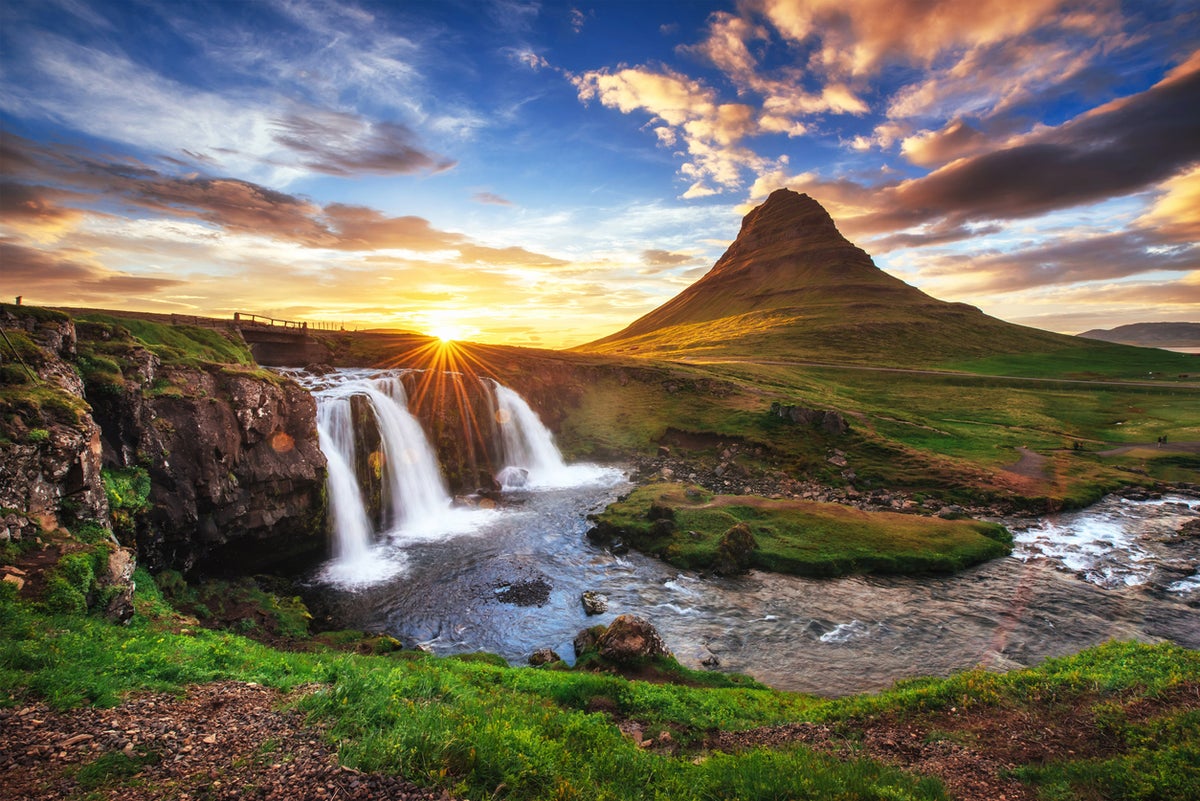 It was about halfway along the narrow mountain road that I knew we had made the right decision. Suddenly, the grassy terrain to our left dropped off dramatically. The sky yawned open. Below appeared an expanse of farmland, churning sea and a craggy volcanic range, from which a silvery waterfall tumbled. There were sheep and horses but, aside from ours, not a single car facing the whole, epic panorama, lying gold-tinged in the late afternoon light. With scenery like this, coming to the Snaefellsnes Peninsula was clearly A Good Idea.
Iceland packs in a whole lot of wonder. Thundering waterfalls. Glacier-capped volcanoes. Moss-covered lava fields. Adorable shearwaters and luscious-maned Icelandic horses that gallop dramatically through fields. This cinematic country offers big adventure – but that doesn't mean you need a huge amount of time to see it.
My husband and I wanted to experience epic Iceland. Not just the quirky capital, Reykjavik, or the touristy (albeit impressive) Golden Circle driving route. We wanted to delve into the wilds, experience the jaw-dropping primordial landscapes this nation is famous for. But thanks to mounting workloads and dwindling annual leave days, we didn't have the time (or the funds; Iceland is notoriously expensive) to do the popular week-long Ring Road, where most of the big-hitter sights are located. All we had was three short days.
The Snaefellsnes Peninsula was our answer. Just two hours' driving time from Reykjavik, it is nicknamed "Iceland in miniature" – because it basically has it all. There are craggy mountains lined with crashing waterfalls, glassy fjords and farmland studded with tiny churches. Black beaches home to chubby seals, cute fishing villages and column-like basalt rock formations too. Right at the peninsula's tip sits a 700,000-year-old glacier-topped volcano; it hardly gets more theatrical.
What – in our experience c Snaefellsnes didn't seem to have was an unwieldy amount of tourists. After a day spent in Reykjavik, wandering along the seafront, gazing up at otherworldly Hallgrímskirkja and popping into the shops of Laugavegur, we drove our hire car towards the peninsula as late afternoon was setting in. Groceries for self-catering in the boot, we made our way north, then west, along the two-lane road. And in the 45 minutes from when we officially entered the peninsula to our accommodation in westerly Hellnar we saw just three other cars, all going the other way.
Hellnar is the end of the line, the last village at the southwestern tip of the peninsula, before the road curves north round the volcano. Next stop west of here is Greenland, and truly it feels like the end of the world. We arrived at flower-studded meadows, views over the coast and the glaring white cap of the volcanic glacier high above. Our cozy Icelandic cottage – fittingly named Glacier Lodge – looked perfection against the natural backdrop, with its black ribbed exterior and doll's house windows.
As afternoon turned to night, we settled into our surroundings, lighting candles, cooking up a pasta with langoustines (Iceland's favorite seafood). When the pitch-black night finally descended and hundreds of stars glinted above, we sat on the deck huddled under blankets, hot chocolate in hand, searching the sky for flickers of the aurora borealis. We slept to the soundtrack of the whistling wind.
It takes just three to four hours to drive around the entirety of the peninsula, and with two full days to explore, we had plenty of time to take things at our own pace. So we did. The next morning, under a cloudless blue sky, we kicked off with coffees overlooking the water in Hellnar's café. We followed the coastal walking path north for 45 minutes to neighboring town Arnarstapi, where photogenic rock archways and cute houses prompted us to snap endless pics. If this was just our tiny corner of the peninsula, what else was in store?
Volcanoes, it turned out. That afternoon, we followed the road around the peninsula's tip into the national park, and saw the raw, blemished face of a two-thousand-year-old volcanic eruption. Jagged black boulders and ash-hued terrain, covered with stunted green foliage, littered the stretch to the sea. Gray rock, ribboned like lava frozen in motion, clung to the peak's western face.
Beaches with the ghostly remains of a shipwreck; nesting seabirds; ancient wells; we saw it all on the 30km or so stretch of road to the peninsula's northern side, always in the shadow of Snaefellsjökull, the volcano. We became literally immersed in the landscape when we stopped two-thirds of the way along to scramble up the side of extinct Saxhóll crater, peering into its bowl-shaped core and taking in a sweeping view to the sea.
The north coast, which we explored in chunks over our two days, had its own character. In contrast to the flat, horse-studded farmland we had driven through in the south on our way to Hellnar on the first evening, it was a masterclass in mountains. Cliff-hugging roads, luminous fjords, little towns clinging on with fishing boats bobbing beyond. And, rather unexpectedly, large-scale street art in Hellissandur, home to a rare petrol station and grocery shop.
After passing the Giant Padlock – a bizarre landmark that's exactly what it sounds like – we reached the distinct triangular form of Kirkjufell mountain and neighboring multi-tiered Kirkjufellsfoss waterfall. This was just about the only place we encountered any kind of "crowd", by which I mean a couple of dozen people craning for photos. This, I suspect, was less to do with the undeniable beauty of the place and more to do with the fact that it featured in Game Of Thrones; posing as the foreboding Arrowhead Mountain, beyond The Wall.
Along the way there was time not only to take in the majesty of the Icelandic scenery – exactly what we had come for – but the subtle details; moments that at first may have seemed unremarkable but later formed vivid memories. We spent a lazy hour in a knitting- and book-themed café, sipping tea and eating cakes as silver-haired local ladies chattered. We explored the quaint Maritime Museum, and visited the Shark Museum so my husband could sample fermented shark (his verdict: "I think it's an acquired taste"). We chatted to the sheep farmer running the peninsula visitor center about his flock, and bought a fluffy wool-trimmed stool as our trip souvenir.
Right up until we left for the airport, we were cramming in that Icelandic wonder. As we drifted back towards Reykjavik there was the opportunity to hike in a mysterious gorge, before seal-spotting at Ytri Tunga Beach. Finally, just before saying goodbye to Snaefellsnes, we stopped off at a tiny mineral-water pump surrounded by farmland.
We tossed in a few Icelandic króna as a donation and filled our bottles with the cool, slightly fizzy and iron-rich water. We drank deeply. And both agreed: it was a taste of the island we'd never forget.
Travel essentials
Discover the World has holidays to Iceland including flights, hire car and stays at self-catering Glacier Lodge. Icelandair Fly to Keflavik Airport near Reykjavik from London, Manchester and Glasgow.