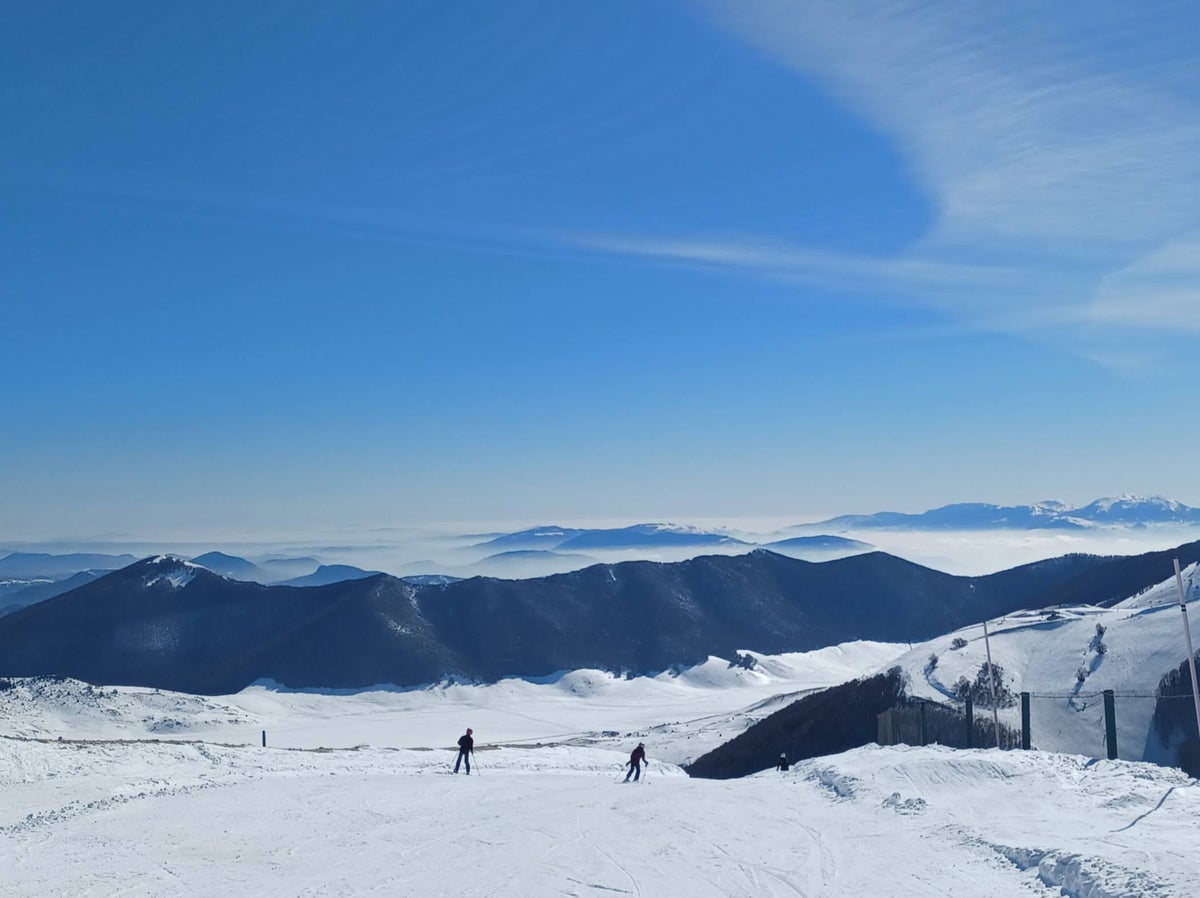 The Romans and Neopolitans love Roccaraso. At weekends and bank holidays, the come on moda set converge on this ski resort, located just two hours from Rome and Naples, in search of The good life.
Yet despite being Italy's fifth largest resort, the 100km of the Alto Sangro ski area remains practically unknown to Britons.
Most skiers know that Italy is less expensive than France, Switzerland and Austria, but few are aware of the Apeninne mountains – a range that extends 750 miles along the length of peninsular Italy – let alone that there is skiing there.
But families looking to solve the twin problems of skiing in school holidays – interminable queues and stratospheric costs – should try looking south of the Alps for a solution.
Significantly less expensive and less rammed than half-term flights to Geneva, I flew with my family to Italy's southern capital of Naples, before driving the 86 miles to Rivisondoli, one of the three pretty hillside villages that serve the ski area.
I'd been warned about the "erratic" driving of the locals. Armed with upgraded car hire insurance that reduced our excess to zero, I stirred my courage to tackle the traffic out of Naples. It turns out that "erratic" is an accurate description of Neapolitan driving. "Chaotic" works too. In the UK you rarely see cars weave from the fast lane to the hard shoulder and back again at unrelenting high speed. It's no surprise that I have never seen so many cars sporting teeth in their bodywork.
Read more on italy travel:
Would they ski like this too? We never truly had the chance to find out, as we had planned our four days of skiing for mid-week, when the slopes were practically empty. There's no "holiday" for Italian children in mid-February and, while the fur-collared, designer-dog, Dior-wearing brigade were visible, they were mainly sunning their already-tanned faces on the south-facing terraces, rather than queuing for lifts.
Not that the Italian influence was unwelcome. It's not just in superlative cuisine and low prices that Italy shines compared with other European ski destinations: listening to Italian being spoken is, well, bellisima.
Even their names are poetic. Bonaventura Margadonna sounds like he should be an opera singer, but is, more prosaically, the president of the Alto Sangro lift company.
"In the last four years, we have invested €36m in new lifts and €8m in snowmaking," he told me proudly through my translator, Fiona Attrell from SkiAbruzzo.com. "Christmas and New Year were difficult for us. We suffered the same later start to the season as the Alps. That probably cost us 40 per cent of our annual lift pass income. But we Abruzzese are strong and kind – we always continue!"
Roccaraso may be south of Rome, but it is similar in latitude to the Pyrenees. The lifts start at 1,300m, higher than either Courmayeur or Cortina, and although the highest point in the ski area is just 2,140m, it has a good snow record. On our visit the pistes were in excellent condition after good snowfall in January.
The resort's slopes are divided into three main areas: Aremogna, Monte Pratello, and Pizzalto. Aremogna is the largest and offers flattering, wide blue runs, ideal for beginners and intermediates. Pizzalto has a mix of runs suitable for all levels and is ideal for families with children. Meanwhile, Monte Pratello is better for advanced skiers, with some seriously steep blacks and challenging off-piste options through the forests of beech trees.
We finished our week's skiing early to avoid the weekend crowds and add a cultural bonus to our ski trip. Neither too hot, nor too crowded, February is the perfect time to visit the petrified remains of Pompeii, buried under volcanic dust and scorching lava from nearby Vesuvius almost 2,000 years ago.
Our final day was spent exploring the narrow, cobbled streets of old Naples, meandering past tributes to their revered Diego Maradona (captain of Napoli football club when they last won Serie A) and tiny windows that looked in on multi-generational families engaged in what could have been a fiery argument, but might also have been an everyday Neopolitan conversation.
We settled in for our final meal at one of the many family-owned pizzerias the city is famous for. It could be recency bias, but all four members of our family ranked their pizza as the best they'd ever eaten.
Skiing on a budget and a perfect pizza? The good lifeindeed.
Travel essentials
Iain stayed at the Grand Hotel Europe in Rivisondoli and rented skis at Nolo Sci Da Patrizio in Roccaraso. Tea Alto Sangro Ski Pass costs from €202 for four days in high season. Find out more at Ski Abruzzo.
Read our hotel reviews in Italy