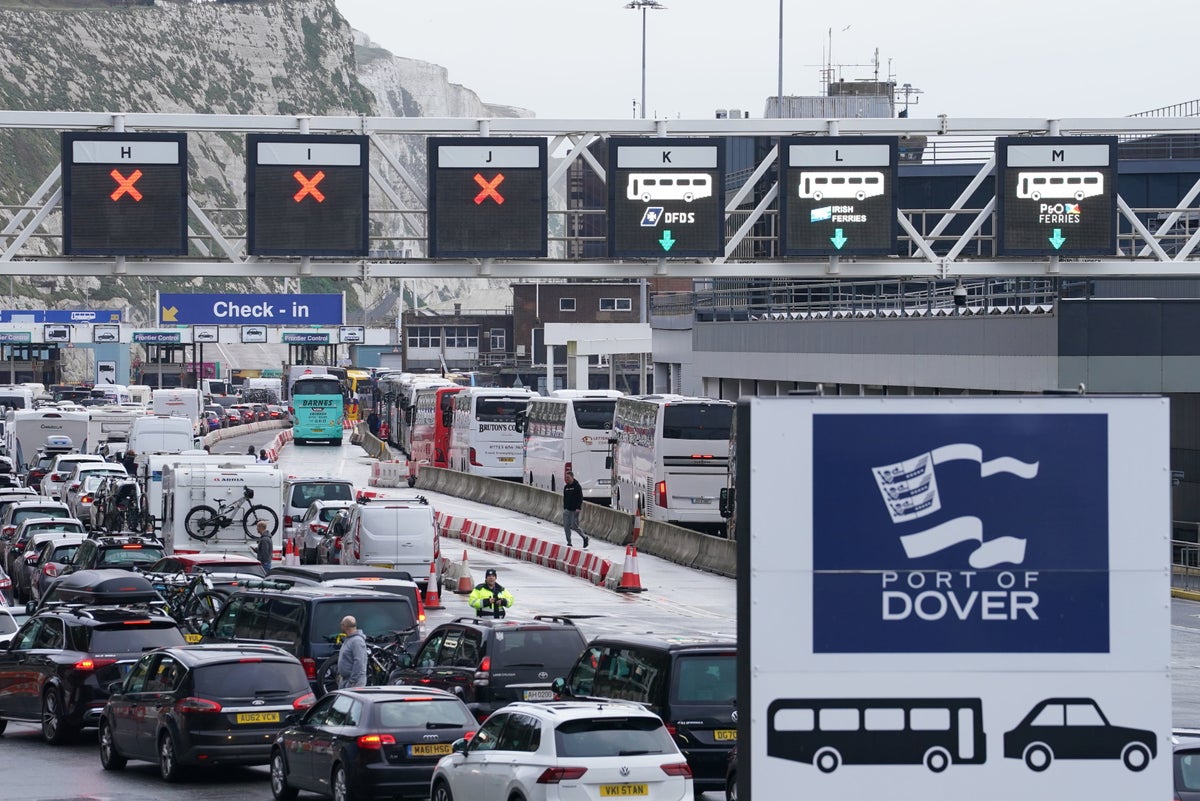 As many as 20,000 coach passengers hoping to sail from the UK's leading port to Calais and Dunkirk this weekend have endured extremely long waits at Dover – in some cases up to 18 hours – before leaving by ferry to France.
The delays coincided with the start of the Easter holidays for many schools, which brought a surge of coaches to the Kent port.
The Port of Dover declared a critical incident and says it has been "working round the clock with the ferry operators and border agencies to get coach passengers on their way, with extra sailings being put on overnight to help clear the backlog".
There is no longer a backlog of cars and trucks, but late on Sunday night it appeared that the wait was still around six hours.
Some 300 coaches departed from Dover on Saturday, with 140 more expected to sail on ferries on Sunday.
It is hoped the backlog will be cleared by Monday.
What caused the problems?
Poor weather and delayed ferries on Friday and Saturday may have had a marginal effect, but according to the boss of the Port of Dover, the main issue has been passport control in France.
For the past 20 years, management of the border with France has been "juxtaposed", with Border Police (France's Border Force) officers stationed in Dover and Folkestone, and UK Border Force staff in Calais and Dunkirk.
Until 2021, there was a "light touch" approach, with many vehicles simply waved through. Even if the French officer did look, the only formality for British citizens was a simple verification check: "Is this a valid EU travel document, and is this the holder?"
But the UK signed up for a hard European Union border to be installed with our nearest continental neighbor – like the borders the EU has with Russia and Turkey.
Every UK passport holder – and these make up two-thirds of Dover's tourist traffic – must now have their passport examined and stamped.
The Port of Dover said the latest gridlock was caused by "a mix of long immigration processes at the border and sheer volume of traffic".
DFDS said: "The company is very sorry that passengers traveling this weekend have experienced such long delays at passport controls."
So is it a Brexit consequence?
Not according to Rishi Sunak, who commented last July, before he became prime minister, when families heading abroad on summer holidays encountered gridlock.
Mr Sunak told the French "to stop blaming Brexit and start getting the staff required to match demand". Liz Truss, who was to become prime minister six weeks later, said: "We need action from France to build up capacity at the border, to limit any further disruption for British tourists and to ensure this appalling situation is avoided in future."
They are now joined in their dismissal of the idea that Brexit is the cause of the problems by the home secretary, Suella Braverman. She told Sky's Sophy Ridge on Sunday: "I don't think it's fair to say that this is an adverse effect of Brexit. It's a very busy time of year, and there's been some bad weather.
"We've had many years now since leaving the EU, and there's been, on the whole, very good operations and processes at the border."
Is the home secretary correct?
Ms Braverman said it had been "many years now since leaving the EU". For practical purposes, the UK left the European Union in January 2021, ie two years and three months ago.
She went on to say that "there's been, on the whole, very good operations and processes at the border". But for the first 19 weeks of that year, international leisure journeys from the UK were illegal under draconian Covid travel restrictions. Some restrictions remained in place until March 2022. There were relatively few holidays planned by ferry during Easter last year, as school trips had virtually vanished as a result of Covid.
The first contact with peak demand was in July 2022, when – at the start of the main summer holiday – a surge of outbound families combined with delays in French officials reaching their border posts in Dover, creating gridlock.
As we discovered then, and again this weekend, it is impossible to process travelers at anything like the same rate as before Brexit.
A family of four in a car takes 90 seconds to pass through French immigration, according to Doug Bannister, chief executive of the Port of Dover. Previously, the encounter would last just a few seconds.
Scaling up to a 53-seat coach, the time taken represents 20 minutes per vehicle.
Demand on Saturday amounted to around one coach every five minutes, and there is not enough space for four coaches to be checked at the same time.
What does the government say?
A spokesperson said: "The UK Government remains in close contact with ferry operators, the French authorities, and the Kent Resilience Forum, regarding delays at the Port of Dover.
"The port has advised that it remains busy but has improved significantly since yesterday with coaches being processed at a much quicker rate.
"We recommend passengers check the latest advice from their operators before travelling."
So could every holiday peak bring gridlock?
Not according to the home secretary. She insists: "I don't think this is the state of affairs to go forward."
After their experience at the start of April, some travelers will move to other ferry routes, such as those operated by DFDS from Newhaven to Dieppe, or by Brittany Ferries from Portsmouth, Poole and Plymouth to a range of French and Spanish ports.
Others will abandon coach and car travel, choosing to fly instead.
What about Dover itself?
The Port of Dover sits in an extremely constrained location beneath the White Cliffs, with no room for expansion, which means that little can be done in terms of infrastructure. So the answer lies in limiting the number of people passing through. Rigorous controls could be introduced to limit the number of cars and coaches hoping to depart from Dover.
There is an analogous problem at the Eurostar terminal at London St Pancras International, from which trains depart to travel through the Channel Tunnel to Paris, Brussels and Amsterdam. The departure area simply does not have enough space to handle pre-Brexit numbers of passengers.
Eurostar solved that problem by sharply reducing the number of passengers it will allow on its trains, particularly at peak times.
I predict the same will happen on the ferries (and with Eurotunnel, which takes vehicles from Folkestone to Calais), with the Port of Dover imposing limits at peak times.
What will that mean for passengers?
Less choice and higher prices. Any reduction in capacity will, as Eurostar has shown, lead to an increase in fares.
Any other solutions?
New or reinstated ferry routes from other British ports could help, such as Ramsgate to Ostend or Harwich to Bremerhaven. But these are unlikely to become available in the short term.
The senior Conservative MP and keen Brexiteer, John Redwood, tweeted an alternative: "Why not take a holiday break in the UK to avoid the delays into France? Plenty of great places to stay."
And longer term?
From late 2023 or 2024, the UK will, as requested, become subject to the new EU entry-exit system – which will gum things up still further. Facial biometrics and fingerprints will be required for every visitor to the EU. Mr Bannister at the Port of Dover says that the average processing time for a car could rise from 90 seconds to 10 minutes.
That translates to over two hours for each coach.
The new rules will not apply to EU citizens.