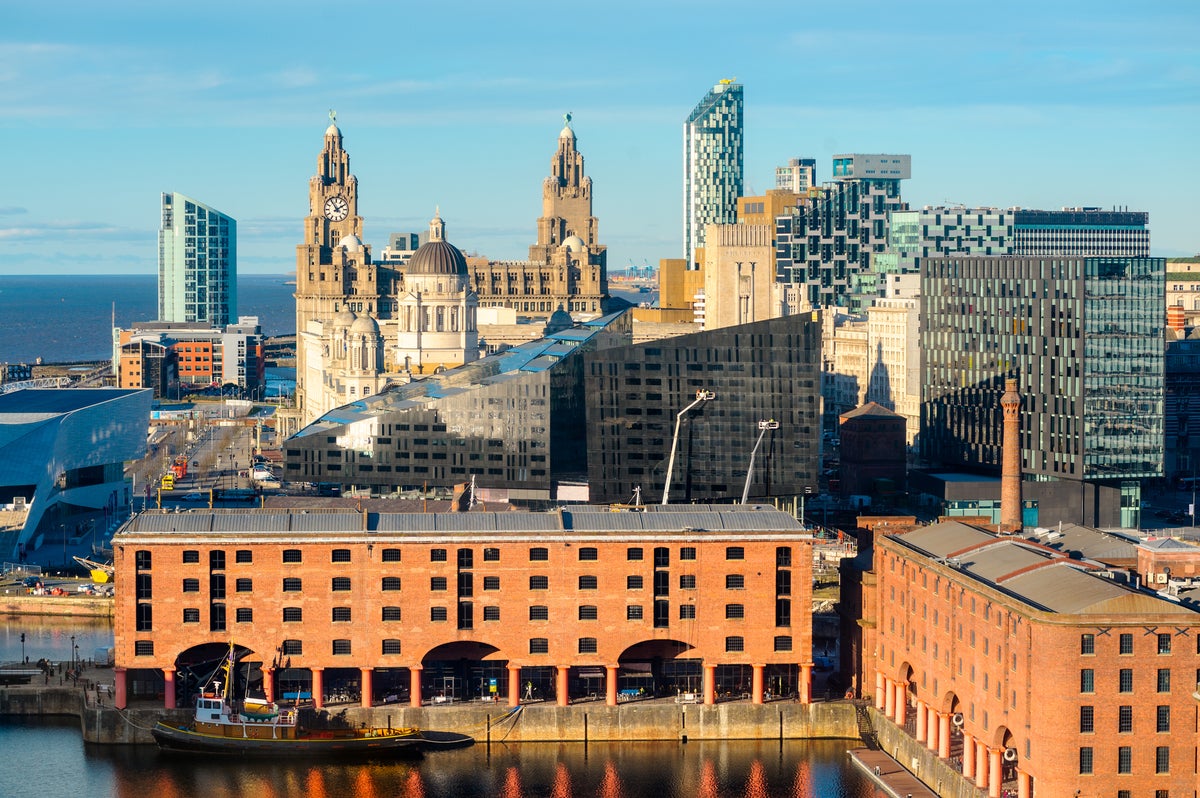 "The best pub in the world is just around the corner," I was eagerly told by the receptionist when checking into my hotel.
A joke? No, he's serious; an audacious claim indeed. But a fine first impression of liverpool. I swiftly added drinks at the Red Lion to my plans while visiting the city gearing up to welcome this year's Eurovision Song Contest.
Ahead of this year's Europe-wide music extravaganza, with north-west England standing in for last year's winners Ukraine due to the invasion by Russia, I arrived – my first time here – hoping to get a sense of what this one-time second city has to offer potential visitors.
It's not like I was the only one up from the south. While I was beginning one of many strolls along the River Mersey, King Charles III and Queen Camilla were unveiling the stage for Eurovision at the M&S Bank Arena, which is hosting the semi-finals on 9 and 11 May, as well as the grand final on 13 May.
Alas, different itineraries meant I didn't pass the soon-to-be crowned king tucking into schweinshaxe at a new German restaurant or hunting for knick-knacks in 69A Intandane like I did in the city's Ropewalks area, liverpool's boho heart.
I began and ended my days here, staying at The Resident on Seel Street, which, like much in the district, is housed in a red-brick warehouse building dating back to the 19th century that was once used for making rope (hence the name ); it's this industry that also gives Ropewalks its distinctive layout of long, parallel streets.
Read more on UK travel:
Gone are the workers twisting fibers together. They've been replaced by gaggles of students, couples on dates, friends buying rounds. Shops are seriously outnumbered by restaurants and cafes, bars and pubs, from cocktails to craft beers, Japanese noodles to Lebanese mezze. Bold Street is the best-known thoroughfare here, leading from Liverpool Central railway station to the Church of St Luke, also known as the "bombed-out church" (it was hit during the Second World War and kept as a ruin).
Ropewalks is as pretty in the day as it is boisterous by night, especially spilling out of the Concert Square; fine for an al fresco cocktail or clubs if you're desperate, but you're better off at the many, many boozers nearby. There's an upstart challenging for its crown of "the place to be" in the form of the Baltic Trianglewhere a decade-long transformation has turned warehouses into creative spaces, bars and restaurants.
Further north, there's a genuine buzz across the city centre. Far too many city and town centers have become drab, especially in the aftermath of the pandemic; here, it's lively throughout the week, with high-street chains and indies (plus a statue of Beatles manager Brian Epstein) all swirled around the 138m-tall St John's Beacon.
There's the waterfront too, a pretty network of docks and canal links around Pier Head. I stopped for lunch at Malmaison, eating in the hotel's newly revamped restaurant beside the water. The colorful, high-ceiled dining room looks wonderful, and the addition of a Josper grill to the kitchen makes it an obvious choice if you're in the mood for steak.
Its status as Eurovision host has given Liverpool the chance to show how it can confidently step into the spotlight as the UK's modern city break destination. More than 100,000 visitors are expected for the week-long competition, with NatWest estimating that the event could bring in as much as £40m in visitor spending. This could be a legacy-building event for Liverpool, coming 15 years after it was European Capital of Culture.
Dr Michael Jones, a senior lecturer in music industries at the University of Liverpool, told the BBC that Eurovision is a "tremendous shot in the arm" for the city, one which is "an expression of self-confidence".
And there's a long list of reasons why Liverpool should stand tall following a post-industrial decline and take its place among the most attractive weekend getaway destinations.
That it's a compact city ticks one of the box important boxes for a short break, alongside a decent Metro network and the fact you can easily navigate on foot. Walking is also the best way to get your fill of another highlight: the jumble of incredible architecture. The Three Graces are the obvious stars, three 20th-century icons of the Liverpool skyline that are best appreciated from a ferry on the Mersey.
But just as impressive are the Neoclassical splendor of St George's Hall and Royal Albert Dock, the latter being the largest collection of Grade I listed buildings in the UK, impressively unsullied by the stripping of its Unesco World Heritage Site status.
Liverpool has claimed to have more museums and art galleries than any British city outside of London and, outside of the capital, the attractions were the most visited of any city before the pandemic. Entry to most are free, including the brilliant International Slavery Museum, which confronts the past sensitively, and the Walker Gallery, where you'll find works by Rembrandt, Rossetti and Monet in an absurdly beautiful Victorian building close to Lime Street station.
There are some brilliant food options to be found too. Wreckfish, from chef Gary Usher, is one of the best, serving up imaginative bistro-style food without overcomplicating things. Another lauded choice is Roski, a small space that offers exciting tasting menus with excellent wine pairings; running the kitchen is Masterchef: The Professionals 2012 winner Anton Piotrowski.
For something straightforward, Leaf on Bold Street is worth visiting; it's a cafe specializing in teas during the day, and at night turns into a laid-back restaurant with cocktails influenced by various loose-leaf tea. The menu is a mash-up of cuisines, which hopefully means there's something to suit all tastes.
And as for the Resident Hotel, just around the corner from Leaf, you can't fault its location: right in beside the bustle, with "barcades" and clubs all close, but still quiet once you get inside. Rooms, which all feature a mini-kitchen (microwave, fridge and kettle), are comfortable but lean towards the functional. Downstairs feels more on-trend, and staff appear to really know their stuff when it comes to advice on what to do locally.
But what Liverpool does really well is drinking haunts. "Dirty Old Town", made famous by The Pogues, blasts out of Irish pubs as the doors swing open; sports bars swell with football-shirted fans when Liverpool or Everton are playing; natural wine flows at Bunch Wine Bar; and speakeasy-style cocktail spots are springing up all over.
I ended up spending more time than planned at the Red Lion, the so-called "best pub in the world". It's a cracking hangout: real ales on tap, home-made sausage rolls to snack on, and brightened up interiors that stay true to the joint's traditional pub roots. Outside, I find myself in conversation with a group of twenty-somethings who have Eurovision on their lips. One succinctly tells me: "A bank holiday going into Eurovision fun – it's mad."
One pint turns to three, and there's no shortage of pride in their adopted city (of four, only one is a born and bred Liverpudlian). That's the sort of confidence that Liverpool needs to harness.
As to whether the Red Lion is the best pub in the world, I'll leave that for you to decide. But with the confidence of the Scouser who proclaimed it, I heartily suggest you book a stay in this northern powerhouse, even after the Eurovision circus has left town.
Travel essentials
The Resident Liverpool offers double rooms from £49 a night. Those who join The Resident's membership scheme can get 15 per cent off bookings, room upgrades, 25 per cent off drinks and snacks, and early check-in and late check-out. residenthotels.com
Rooms available from{{#price}}{{price}}per night{{/price}}{{^price}}Check availability for dates and prices{{/price}}
{{#amenities}}
{{#amenities.foodDrink.length}}

{{#amenities.foodDrink}}
{{.}}

{{/amenities.foodDrink}}

{{/amenities.foodDrink.length}}{{#amenities.internet.length}}

Internet

Please check hotel for more information on amenities

{{#amenities.internet}}
{{.}}

{{/amenities.internet}}

{{/amenities.internet.length}}{{#amenities.services.length}}

{{#amenities.services}}
{{.}}

{{/amenities.services}}

{{/amenities.services.length}}{{#amenities.parking.length}}

Car park

Please check hotel for more information on amenities

{{#amenities.parking}}
{{.}}

{{/amenities.parking}}

{{/amenities.parking.length}}{{#amenities.health.length}}

{{#amenities.health}}
{{.}}

{{/amenities.health}}

{{/amenities.health.length}}
{{/amenities}}
Read more on the best UK hotels