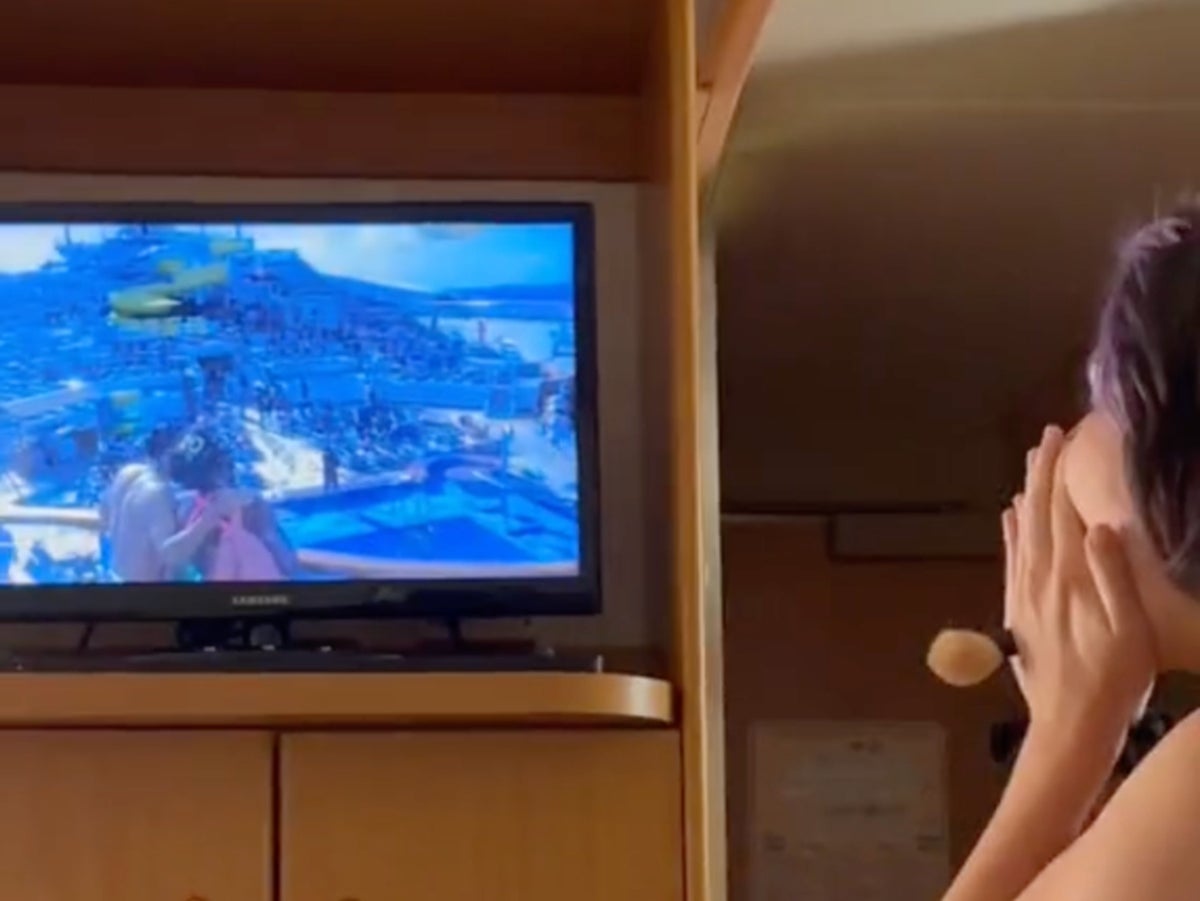 AT TikToker has claimed she caught her partner cheating on a security camera that was live-streamed to her room's television while on a cruise.
In a series of four videos posted to the social media channel, Kayla Gardner begins by explaining the "gut-wrenching" moment when she realized her partner wasn't getting food, but trying his luck with another woman.
Ms Gardner and her friend were in their cabin flipping through channels when they found a livestream of different parts of the ship.
"She comes to the channel that shows you what's happening live on each deck of the ship, and she notices your man, not getting food, but getting another woman's number, flirting with her, putting his arm around her," Ms Gardner says in the clip
In the second video, Ms Gardner's friend can be heard saying, "Who is she?!" as the camera captures her friend's alleged partner talking with an unknown woman.
"No, that can't be him," Gardner replies, to which the friend says: "It looks just like him".
The pair then enter the main frame of the camera, before he puts his arm around the woman and they begin to exchange numbers, causing the two women watching the stream to gasp and scream.
"That's the girl, oh my god, oh my god, this is not happening," she yells at the screen.
In the third video, which has been viewed 3.4 million times, an element of doubt creeps into proceedings, as Ms Gardner then uses a radio to alert her friends to the situation unfolding.
"Guys, guys, come in, we have a 911 on the upper lido deck," she says, urging them to meet her there.
Ms Gardner can be seen racing out the room to confront her partner, while her friend screams "he's got her number!".
In a fourth clip, a comment reading, "What happened with the cheater on the cruise? Hope you threw him offboard" can be seen over video footage of a City of Miami Fire and Rescue boat approaching the ship.
Ms Gardner adds the caption: "You saying that like it's a joke? This is all imma say on it.
"Use your powers of deductive reasoning to piece together what happened."
The dramatic sequence of events has enthralled social media users, however, with many stating they were "invested" in the story.
"I can't use my deductive reasoning!" wrote one. "I need actual answers, the characters, the whole story!"
A second wrote: "I need part five after this. What did you say to them, girl?!"
A third was more skeptical as to the authenticity of the story, however.
"So many parts and not saying anything at this point, I think it was just a skit," they commented.
With the most recent video uploaded just eight hours ago at the time of writing, other users were desperate for more information.
"How dare you leave us in so much suspense. This is illegal," wrote one scandalized viewer.