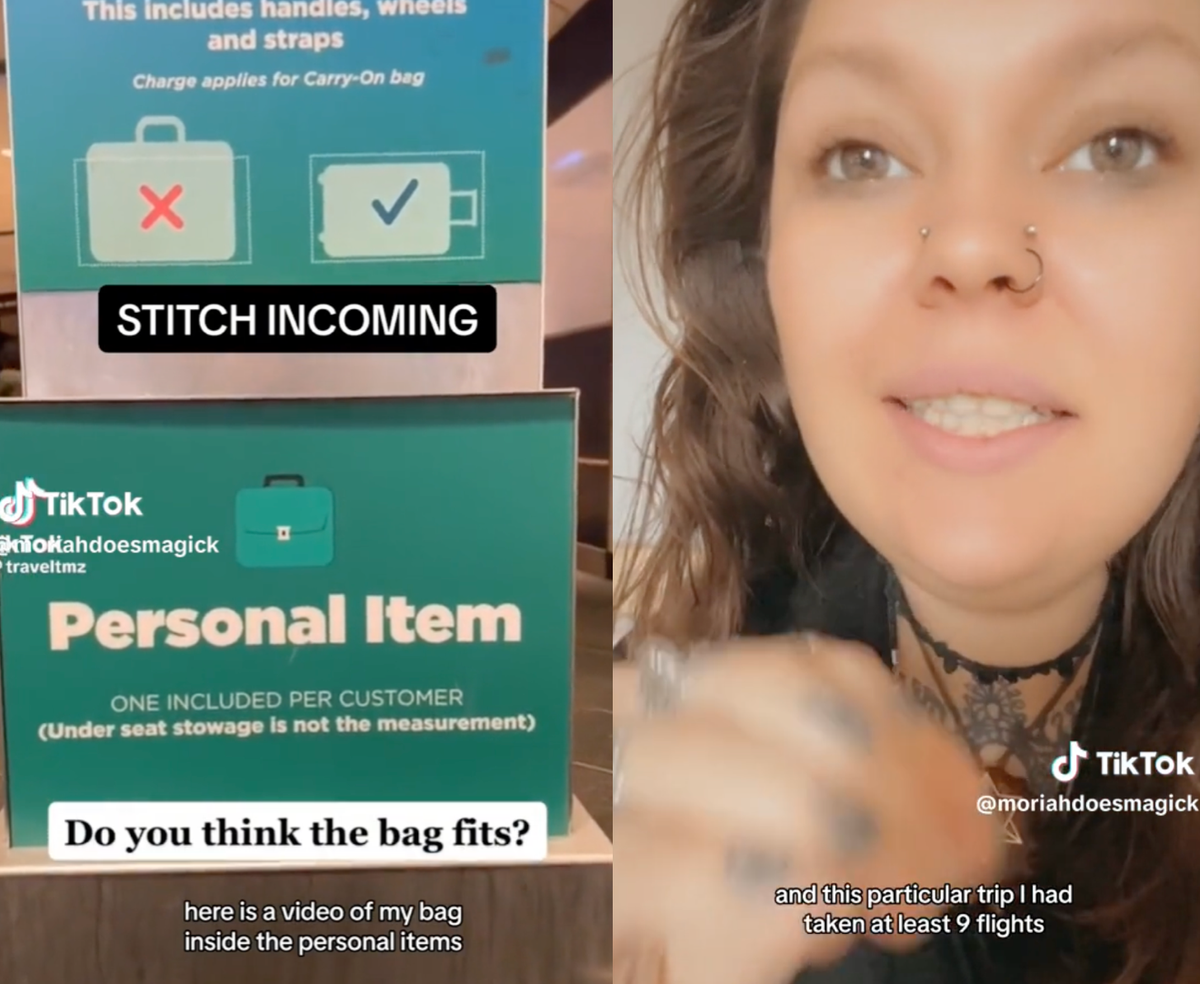 A woman has criticized Frontier Airlines' luggage policy, with claims that the company "gaslit" passengers into paying to bring their bags on a flight.
Moriah, who goes by the username @moriahdoesmagick, reflected on her flight with Frontier from Las Vegas, Nevada to Charlotte, North Carolina in a recent video on TikTok. She said that two days before the flight, she discovered her reservation was separated into two and that she was making a stop in Denver, Colorado, where she'd get a connecting flight to Charlotte.
As a result, she claimed that she and her friend had to "re-check" their bags and each pay for "two sets of bags", resulting in $250 spent on luggage.
"Every single person who got on that plane, [the airline] was making them put their stuff in the personal storage container," Moriah explained. "And literally, we're looking at people whose bags were completely in the storage container, and [workers] being like, 'It doesn't fit.' And the person who they were talking and everyone around them were like: 'What the f*** are you talking about? Like it fits perfectly. They were just gaslighting these people."
According to the company's official website, passengers on Frontier are allowed one personal item that is "14"Hx18"Wx8"D, including handles, wheels and straps". If the items are not this size, they will be charged an additional cost during boarding. Passengers can check their bags or bring another carry-on on the plane for an additional cost.
In her video, Moriah claimed that the bags fit in the sizing tool, which is what is used to determine if personal items are too big for the plane. However, she claimed that airline workers still told passengers that the bags were too large and they had to pay.
"They were just gaslighting these people. They were like: 'You can go and pay at the desk or you're not getting on the plane,'" she said. "I watched them do this to literally so many people."
She said that when she and her friend got on the plane with their "backpack style purses", they noticed a woman ahead of them who "repacked her backpack" four times to make it fit in the size container, even though it allegedly already fit in the first place. Moriah said that when she told the Frontier employee that she couldn't afford to pay for her carry-on, they told her it was "not [their] trouble".
From there, Moriah offered to help and told the woman to give her some of her clothes, since the stranger initially said that she "was going to throw her clothes away" to make the bag smaller. However, the TikTok user claimed that Frontier wasn't happy when she offered to store these clothes in her bag.
"So she hands me like a couple pairs of jeans, a top, whatever, right? And we worked it out," she said. "Those people saw me do that and get angry. They get upset."
She also claimed that the Frontier workers responded by asking her to take off the layers and accessories that she was wearing, including her belt and sweater. She said that she only kept on her t-shirt and pants, before Frontier told her to put those other clothes in her bag and then in the bin sizer.
"They told me that if all of that stuff and more [the woman's] stuff could not fit into the personal bin, they would not let me on the plane, or I had to pay," Moriah added.
She went on to acknowledge that as someone who travels a lot, she has realized that "the low cost flights" on airlines like Frontier "are not worth your time", due to the money she paid for luggage.
Speaking to The Independent, Moriah said that she didn't end up having to pay extra for her personal items. "My best friend and I split what I had so that we each had a reasonable amount of things in the bin sizer," she said. "Frontier was absolutely not happy about helping me and none of us paying. The glares from employees were sharp and the anger was palpable."
She also described how shocked she was by Frontier workers' reaction to the woman who said that she couldn't afford to check her bag.
"I think the most appalling part of the incident was how genuinely mean these employees were. This woman was almost in tears. I'm not a person who is afraid of confrontation and I can not imagine that situation had I not been there," she said.
As of 25 May, Moriah's video has more than 179,500 views, with viewers in the comments criticizing Frontier and its bag policy.
The Independent has contacted Frontier.
This isn't the first time that travelers have spoken out about their experiences with Frontier. Last month, a man named Cole shared a video to TikTok to recount the "craziest experience" he had with the airline, in which Frontier lost his checked luggage, before the airline employee's grandfather brought it to him. During the video, he also claimed that when passengers boarded the plane, airline workers told them that their personal items wouldn't fit and needed to be checked.
"They feel everyone to the counter," he claimed. "People were, like, filming. Some people were crying because they were being so sticklers, and people's bags were, like, actually fitting."
In March, the budget airline also came under fire after a passenger claimed to have been charged $100 to check a bag that appeared to fit the size requirements. Dyana Villa shared a video of her experience traveling with Frontier on TikTok, in which she and her friends can be seen fitting their bag into the baggage sizer. She later shared an update and claimed she was contacted by a Frontier Airlines attendant, who said staff are eligible for a $10 bonus for every passenger bag they check and collect a fee for.
A Frontier spokesperson told The Independent that the fee is "simply an incentive for our airport customer service agents to help ensure compliance with our policies and that all customers are treated equally."