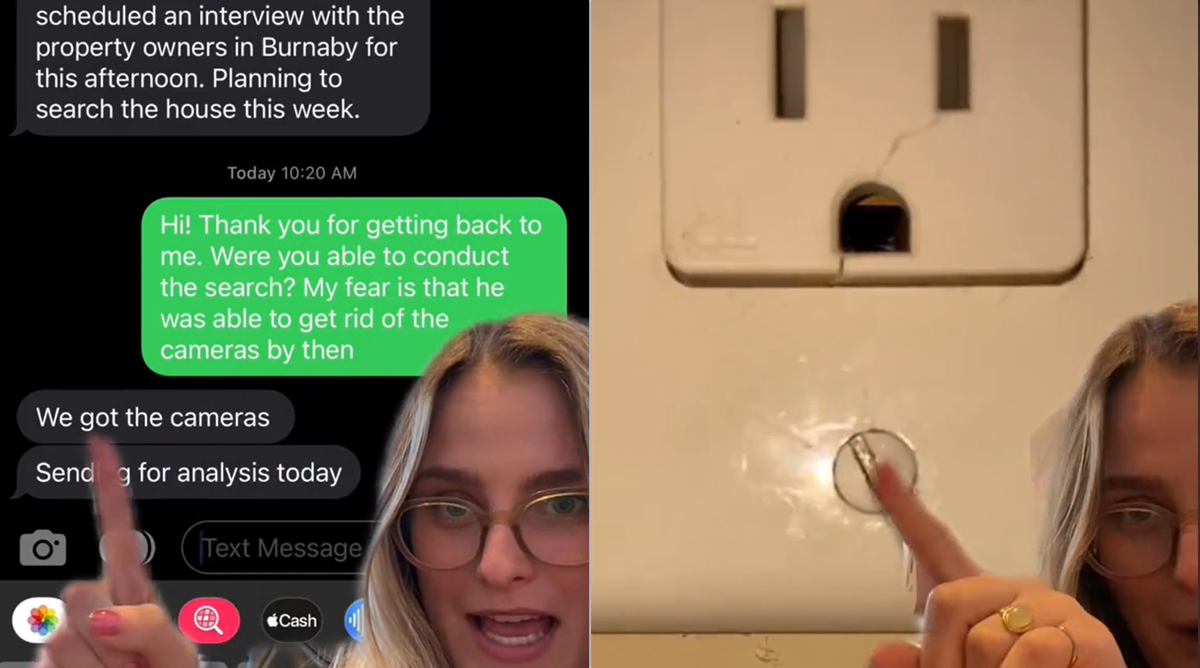 A woman has taken to TikTok to share her horror at discovering a hidden camera in the Airbnb she was renting with a group of friends.
Kennedy Calwell and 14 others were staying in VancouverCanada, to celebrate a 30th birthday when their "paranoid" friend said she had a feeling that there were cameras watching them, reports stuff.
Ms Calwell said that they initially thought her friend was "just being dramatic" but proceeded to check "every single showerhead, all the picture frames, doorknobs, everywhere in the house for a camera".
After finding a strange outlet that wouldn't fit any appliance, they took it apart with a butter knife. She said the wall socket "faced directly to the shower", and the group soon discovered there was a tiny camera in it.
"You can see in the top here there's nothing, looks totally normal. And then the bottom one, look at that little camera," she said in the video. The group contacted the police, who according to messages shown by Ms Calwell in the video, appear to confirm that there were multiple cameras in the property.
The friends are now waiting for results back from analysis of the cameras.
How to spot hidden cameras in an Airbnb
Ms Calwell joked on the video that she was "really embarrassed personally because of all the absolutely atrocious things I was doing in the bathroom the night prior".
"Part of me was not convinced it was real and then they found the cameras, which means we've been there for a night showering and things," she added, before asking for advice on what to do.
The video has been viewed more than 6.5 million times. Ms Calwell later wrote in the comments section that "the owners of the house claimed they didn't know anything about hidden cameras but they were renting the place out to someone."
The listing where the camera was found has been suspended from the home-stay site. A spokesperson for Airbnb told The Independent: "We ban hidden cameras and previously refunded the guest as we investigate this allegation."
Last month, an Airbnb owner in South Korea was left with a $1,570 (£1,260) bill after a couple took revenge on them by leaving the taps running for a month when they were unable to cancel their booking.