May is national walking month – a good excuse to do something you've been putting off, or to expand your repertoire of rambles. The weather is perfect for hiking, the days lengthening, and spring flowers greeting walkers in rural spots. Walking cleans and heals the brain and body as well as the environment, and many festivals are designed to welcome those taking to the outdoors for the first time. A 20-minute walk each day can reduce the risk of preventable conditions including certain cancers, depression, heart disease and type 2 diabetes.
Britain is arguably tea great walking nation. About two-thirds of us already head out to stretch our legs once a week. We're lucky to have public footpaths and walking clubs in urban areas as well as wild and pretty places to explore.
These 10 great festivals in spring, summer and autumn offer a wealth of organized walks. Almost all require prior registration and lots are already filling up.
GM festival
With more than 250 free group walks over a month, the GM (Greater Manchester festival has lots of up to two or three miles and, as the name suggests, covers the city's satellites – including Bolton, Bury, Rochdale and Wigan – as well as inner-city areas and Salford.Themed walks include a Chinese health , a wellbeing in RHS Bridgewater and a (belated) Eid picnic at Platt Fields in Fallowfield.
Greater Manchester, 1-31 May
garstang walking festival
For those not overly keen on tackling steep slopes, the Fylde coast plain is perfect. This almost pancake-flat expanse of farmland, mossland, marshes and tidal flats is all big skies and gentle ambling. More than 40 walks are available at this local festival, from a pub heritage trailand canal towpath saunters to more energetic excursions in the Bowland Fells. Some walks free, others £5pp.
Lancashire, 5-14 May
Prestatyn and Clwydian Range festival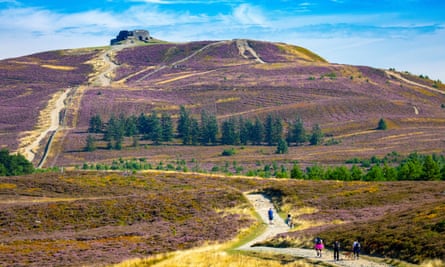 Visitors to Wales tend to hurtle west, to either the well-worn trails of Snowdonia or the Pembrokeshire Coast Path. The Clwydian Range is an Area of ​​Outstanding Natural Beauty whose heather-clad hills and limestone cliffs descend into the Dee Valley, dotted with ancient hillforts and industrial heritage sites. As the name of the festival suggests, it's close to the coast at Prestatyn and the Dee esturary, which offers great seaside strolling. There are 25 walks packed into the three days, with options for all ages and ability levels, including a seven-mile Roman-themed adventure, an eight-mile walk tracing the life of 18th-century Welsh naturalist and travel writer Thomas Pennant – who was born in Flintshire – and a 21-mile Offa's Dyke challenge. All walks free, though a few make a small charge for transport.
Denbighshire, Wales, 19-21 May
Moray walking & outdoors festival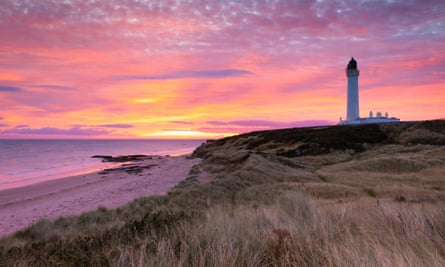 This volunteer-run festival takes full advantage of the varied landscapes between the foothills of the Cairngorms and the beautiful Moray coastline, as well as the epically long summer days Scotland enjoys in June. Foraging, bumblebees, raptors, trees, history, archaeology, nature and the summer solstice are just some of the themes, with lots of four-to-six-mile options ideal for a half-day hike (some walks have evening starts). From £5.
Moray, 16-26 June
Herefordshire walking festival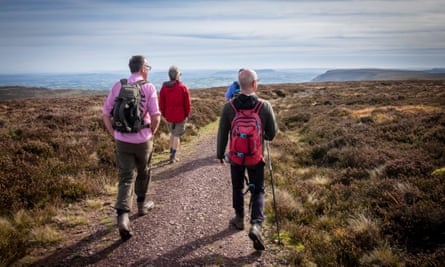 It's said that UK domestic tourism was born in the Wye Valley, and this county-wide festival makes full use of the AONB's dramatic topography, as well as Offa's Dyke, the Malvern Hills AONB, Bannau Brycheiniog (Brecon Beacons) national park, Mortimer Forest and several nature reserves. Geology, Quaker history, local churches, ancient Romans, cider-making and local characters provide the subjects for an assortment of short, medium and strenuous jaunts. Dogs are allowed on many walks. From £6.50.
Herefordshire, 17-25 June
Otley walking festival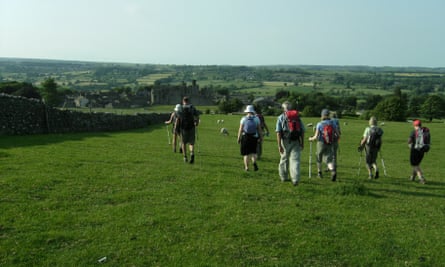 This local festival has grown from humble origins in 2000 into a busy schedule of 50 walks and events celebrating the lives and landscapes of Wharfedale in West Yorkshire. Those who like their exertions bookended by a half of best, or a glass of burgundy, might enjoy the Five Pubs Walk, Walking With Wine, Four More Pubs or Lost Pubs of Otley. There are also railway-themed walks, including a figure-of-eight hike around locations featured in the Railway Children films and walks dedicated to wildflowers, Tolkien's writings, maps and birdsong. All walks are free, though there is sometimes a small charge for transport.
Otley, West Yorkshire, 24 June-3 July
Wheelchair Offroad Dartmoor walking festival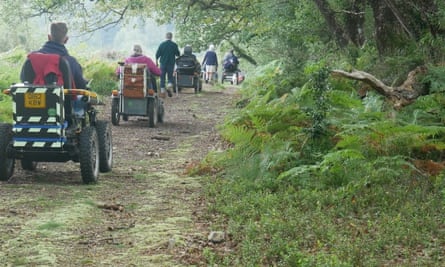 Recently in the news because of the fight to protect wild camping, Dartmoor delights walkers because, while trails are there to be followed, the lack of barbed wire and other barriers, and the relatively small number of farm buildings on the higher ground, create a sensation of freedom. This festival, organized by two local users of all-terrain mobility scooters, has been running since 2018. The six free walks, starting daily at 11am, explores Dartmoor's industrial history, bronze age antiquities, Victorian railway builders and a ruined haunted mansion.
Devon, 27 August-2 September
Gower walking festival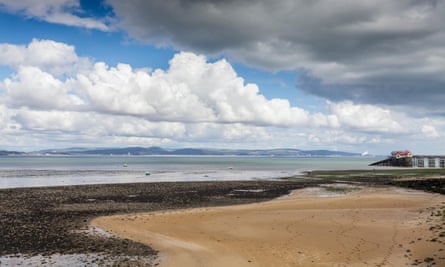 With more superb walking options inside a single landscape than perhaps anywhere else, the gower peninsula sometimes feels as if it's all coast – especially at the tip of Worm's Head, where you get to look back on the ever-narrowing promontory, with the surf lapping below. The details for this nine-day festival, celebrating the 10th anniversary of the Wales Coast Path (WCP), have yet to be finalised. The first weekend will offer people the chance to walk the entire Gower section of the WCP, from Penclawdd to Mumbles (more than 40 miles) in two days. Half of the walks offered during the festival will be on the coastal path. About £5pp.
Glamorgan, 2-10 September
Walx Lake District festival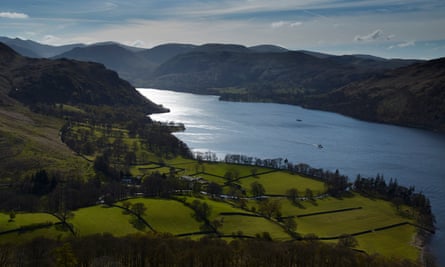 This year's Walx event gets away from the honeypots and boot-battered trails by focusing on the Ullswater valley, with hikes themed on mining history, wildlife, bird-spotting, flora and red deer. There is also open-water swimming, tai chi, ski fitness, stile climbing and other workshops. A three-day pass costs £99, covering walk, talk and supper; one day pass £35.
Cumbria, 22-24 September
French Riviera autumn walking festival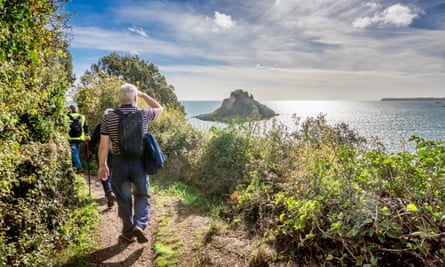 It's not all cream teas and Agatha Christie fancy dress in south Devon. More than 20 events, from a half-mile stroll in underground caves to a 12-mile trek from Torquay to Brixham, will keep Riviera visitors on their toes at this week-long festival. Final details have yet to be confirmed as the area's spring festival has only just finished. £10 adults, over-sixes £6.
September 23-30